Early on a December morning, as I glanced outside my window, the sky looked clear. Unusual for a winter day, I reckoned. No snow flakes on the windowpane or clouds in the sky, but my mind seemed misty with worry. Will I be able to complete the task I am setting out on, today? Will I know who killed?!! Who the murderer is? The murder mystery must be solved in 5 hours, albeit on a moving train.
Armed with my very able Honor 7X smartphone to capture clues of the murder, I left my quarters towards Victoria Station. Dressed in all black, I hoped I will blend-in with the others. Gliding in winter boots across Victoria station I knew no one was looking at me; at least I think so! Passengers expecting late arrivals of their daily rides, children strategising ways to get candy treat for breakfast, everybody seemed busy in their own clandestine world.
Searching about the location of meeting place, I asked a few strangers for directions and reached the spot only to be welcomed with a red carpet! "Goodmorning madam! May I see your ticket please?" asked a genial lady standing behind a waist length desk. Glancing at my ticket, she asked bewildered, "Are you travelling alone!" I answered "Yes". She must wonder, why anyone would travel alone on a luxury Belmond train traversing through the fine evergreen countryside of England while being treated with gourmet 5-course meal. I was soon assigned a seat on one of the last coaches and suggested to wait in the waiting room.
A VIP room as it was to be, there was a busy self-serve coffee area near the entrance of the waiting room. Inside, there were mostly couples or groups, but no one alone. There was a disturbing yet lively mix of loud laughter and a bunch of merry choir singers chirping away Christmas carols, vintage style. Several passengers were dressed in 60s grace adding to the vintage mood of the train journey to be.
While I waited patiently for the train to arrive and my task-at-hand to get into motion, my mind was buzzing like the waiting room and wouldn't be at ease. I looked around cordially at co-passengers of the luxury train around me, trying to find hints of the murderer. To my weariness, I mostly spotted elderly couples who seemed far from conniving. Good for them!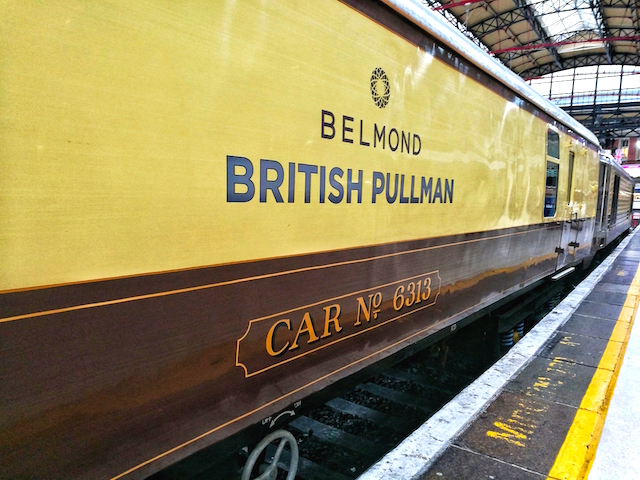 As the Belmond luxury train silently entered the station, we were politely signaled to board. There were no coach numbers, but names instead for each coach of the London luxury train. I walked nearly to the end of the train and found good old-world servicemen welcoming and ushering me to my seat on the Belmond luxury train themed 'Murder Mystery' for this day.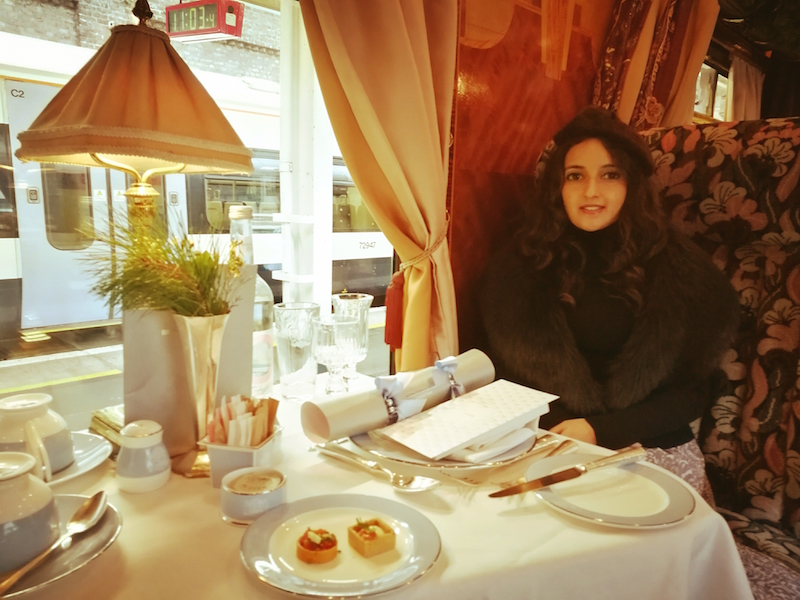 Victorian style sofa seats with walnut finish wood paneling and soft fabric curtains altered the 'mystery mood' a bit. There was just enough Christmas decoration on the train. Not too loud. Tastefully done tables with small lamps glowing with mellow lighting, 5 course cutlery and everything a fine dine restaurant would place on your table with epoch flair.
We, all passengers, were to be given clues in the train while suspects visited each coach telling us their version of innocence. Until that happened I kept myself busy admiring the menu.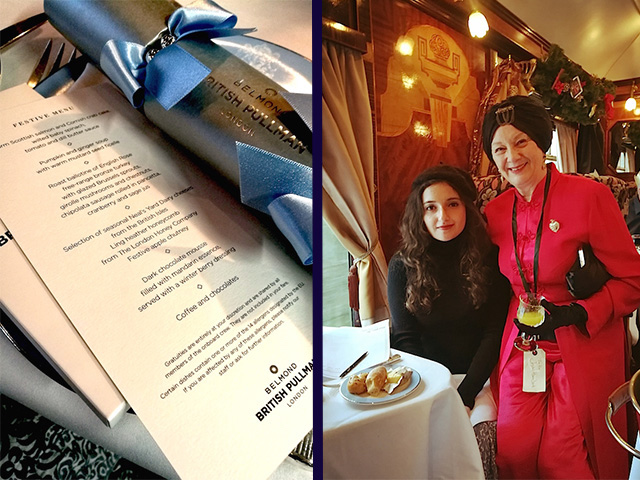 Scottish Salmon and Cornish crab cakes with wilted baby spinach atop tomato and dill butter sauce. To be followed by Pumpkin and ginger soup. Singing in the Christmas spirit on the menu was Roast ballotine of English Rose free-range bronze turkey with glazed Brussels sprouts, Girolle mushrooms and chestnuts, Chipolata sausage rolled in pancetta with cranberry and sage jus.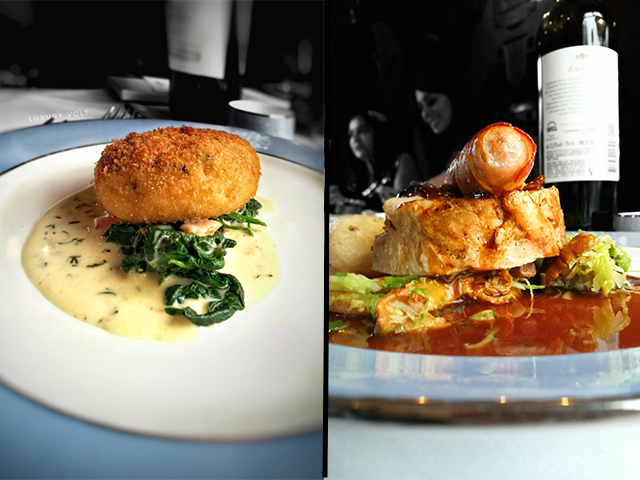 My favourite I knew was going to be a selection of seasonal Neal's yard dairy cheeses from the British Isles and Ling heather honeycomb from the London honey company.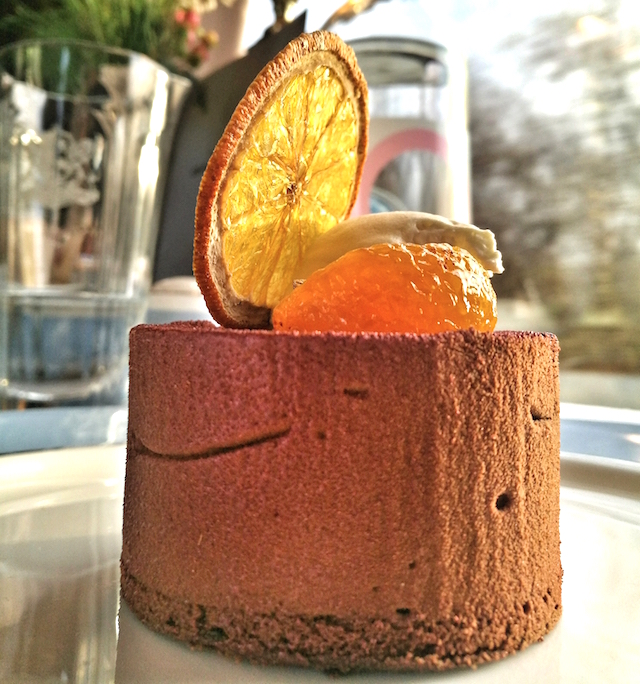 The menu looked promising with the finale of Dark Chocolate mousse filled with mandarin essence and served with winterberry dressing. To be supped with a bottle of wine, dedicated for each table.
Soooo…who wants to be a detective now?
But then one has to kill time between the meals, so why not!
All passengers were given a letter written by the victim (before he died) where his last wish was for us, the passengers to solve the mystery of his murder. He wrote a letter a few days before dying because he suspected that he was going to be killed sooner. After inspecting the letter carefully we were to work in teams or as individual detectives and write our theory of the murder whilst we listened to the stories of each suspect.
About 20 minutes out of London, Mr Butler walked into our coach, confidently telling the passengers about who the five suspects are for the murder mystery on train A) The butler himself, B) The nurse to the victim who was soon going to marry the deceased while he was alive ofcourse C) An estranged son D) An estranged sister E) A financial advisor (secretly out of town for urgent business). It was the butler who handed us the letter
After the butler narrated stories of his love and loyalty for his master, the notorious son walked by. He could barely talk with a straight face or manipulate a theory of his love for his father. The son did not have the temperament or intelligence to plot a murder. Then came the nurse who was too busy admiring the engagement ring that she alleges was given to her by the victim before demise. The victim's sister seemed as unimaginative and aloof as the son.
Suspects drilled, main course served, nearly every passenger in my coach emerged busy. Schemes and intentions of the murder filled the air, as did the aroma of hot food trays. Some well-cooked and some too good to be true.
I relished the desert most, even more than my astute concept of murder. It had a well-crafted chocolate mouse that spooned easily into a core of refreshing mandarin. Jitters from the moving train would slip the spoon away from the mousse, only to land in a pond of winterberry sauce on the side.
We were asked to give a name to our respective investigative teams. My team (with me as the only detective in it) was christened Agatha Christie. Easy!
There were several obvious clues that I being a very wise witted detective chose to plainly ignore and assume that the murder was nothing more than a 'Suicide'. Because A) The victim was killed using Cyanide which is a less painful way of dying. Which means he chose it himself. B) His immediate family members; namely his son and sister did not love him and rarely visited him. He lost interest in living C) He really did not want to marry the annoying nurse D) He foresaw his death and put in pen and paper.
Minutes after the consumption of a pungent dose from the cheese platter that was escorted with a brick of the finest honeycomb to go with what was left of red wine on my table, the announcement for an announcement was made. Everybody turned around as we heard the monarchal tone of the Butler. "We have a winner!" rather than we have found the murderer.
"Of all the entries that we received, we have a small number of passengers who have correctly calculated the name of the real murderer, not necessarily giving the right motive. From all the entries we have received, nowhere in the entire train have we received a theory as odd as this. "It was a suicide" he chuckled. Embarrassed to produce an incorrect answer and yet proud to be the only one with an exceptional theory, I wanted to jump out of the wood framed window. It was sealed. Plan B was to hold the head high like an ingenious.
5 Hours flew by, as did the beautiful green landscapes of sheep browsing acres. It was dark outside when we received our trio of dark chocolate, goodbye truffles. As the score of wheels leisurely approached the reserved platform for Belmond train, I hurried out to catch my next ride, a 9.5 hour-long flight back home. It wasn't going to be as entertaining as this one, I was sure.
All images taken with Honor 7X