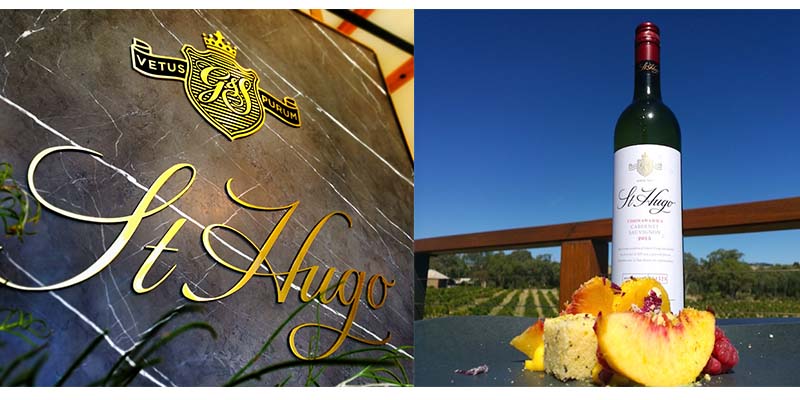 Many of us are familiar with the art of matching wine with food. The later being the hero of the marriage, almost always. A relatively new restaurant in the Barossa valley, is recreating the formula of food+wine by preceding preference to wine. St Hugo restaurant offers a highly spirited 8 course meal (read 8 glasses of wine!) that is designed mostly around the vineyard's spirits. I took my Honor 8 Lite camera phone along to capture the visual taste of the feast.
The view at the Chef's table is a 180 degree view of the kitchen. Behind the table is the sprawling vineyard. Seated at the Chef's table, I noticed little chaos in the kitchen. For a moment I assumed it is just going to be wine tasting with 8 different crackers and assorted cheese. One glance at the menu and my brain's food buds changed sight from crackers to succulent pork with crispy skin. It's a set menu that has dishes designed to match the notes and taste of St Hugo wines. I can safely name it among the 'must-try' and best restaurants in Barossa Valley.
"Our dish development always starts with the wine as the 'hero' or focus rather than any specific food. " explains Head chef, Mark McNamara
"To develop a dish our team of at least 6 chefs conduct an evaluation of around 80 flavors with the wine to find out which flavours work best (salty, sour, sweet, fatty, spicy, herbal etc)
Once the 'best flavors' have been determined, we graduate to looking at what single item the 'main item' or flavor carrier will be (this is what most chefs would call the hero i.e Waygu, Kingfish, Duck etc) in our case this could be poultry for one course, root vegetables another, or red meat, or seafood etc.
From this point each of our chefs are encouraged to create their own dish taking into account the defined flavors and this chosen item.
These dishes are then further evolved by the team working collaboratively until we arrive at the best possible combination of flavor and texture to enhance the particular St Hugo wine with each dish taking around 3-4 days to perfect."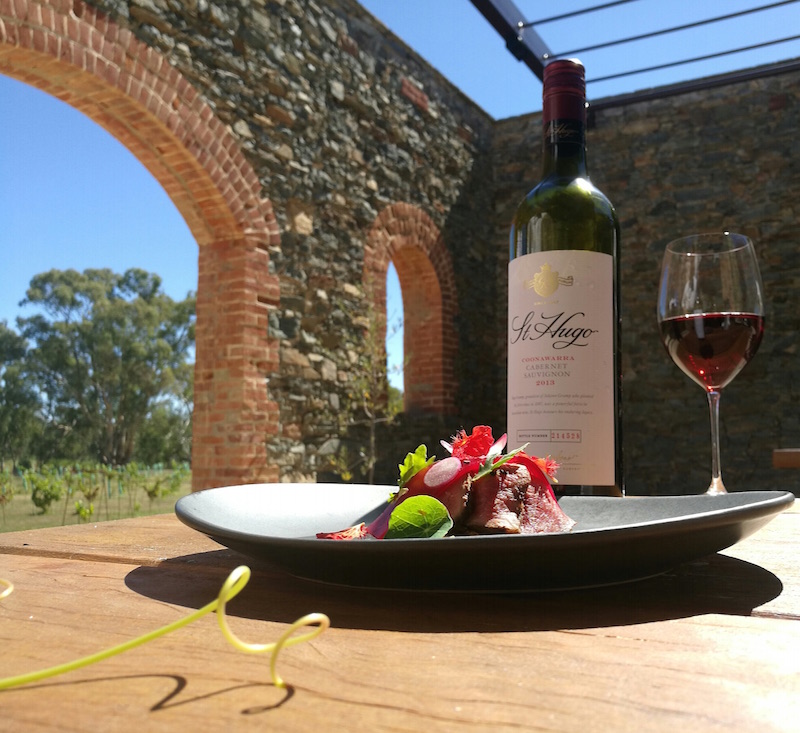 *Image shot with the Honor 8 Lite using no extra settings*
The three dishes, oh! I mean the three Wines that stood out for me with their matching dishes were..
2012 St Hugo Private Collection Cabernet Sauvignon with Waygu, Beetroot Broth and Radish Cake

2012 Private collection Rowland Flat Shiraz with Oyster Glazed Pork, salted stone fruit, miso and cocoa.

Gramps 2013 Botrytis Semillon with Stone-fruit, curd, citrus cake, and pistachios. I'll be honest I preferred the dessert to the wine.
Chef Mark explains how respective wines chose the food flavours of the dishes.
Waygu meat, Beetroot Broth and Radish Cake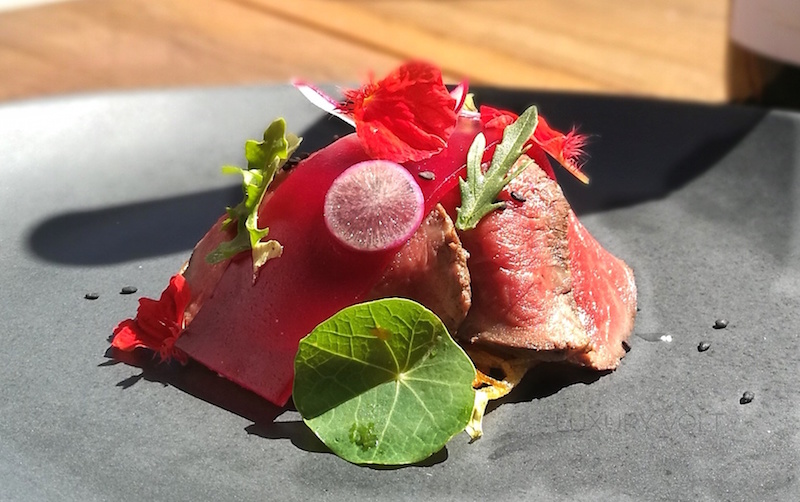 *Image shot with Honor 8 Lite in the gorgeous sun, using manual focus from expert mode*
2012 St Hugo Private Collection Shiraz Cabernet Sauvignon Wine taste: A powerful wine of ripe dark fruits, five spice and layered complexity, with measured oak barrel influence
A real challenge to match the prime flavors for our 2012 St Hugo Private Collection Shiraz, Cabernet Sauvignon were earthy sweet beetroot, pungent white radish, fresh mustard, fish sauce, shoyu and fragrant spices like clove, cinnamon and star aniseed.
We took an orthodox route to prepare a white radish 'remoulade' seasoned with a touch of wasabi and fish sauce which we paired with paper thin slices of seared Waygu beef, the finished dish was dressed with a light beetroot jelly, fragrant of spices and shoyu, shaved breakfast radishes and baby rocket leaves.
Oyster Glazed Pork, salted stone fruit, miso and cocoa.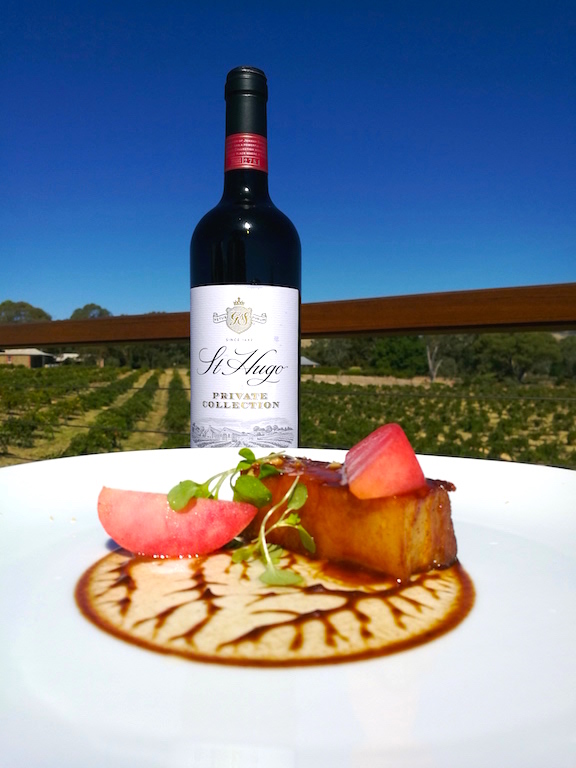 *Image shot with Honor 8 Lite in the gorgeous sun, using manual focus from expert mode*
2012 Private Collection Rowland Flat Shiraz Wine Taste: Supple, velvety tannins support rich dark fruits, with savoury overtones
Truly a dish that could never have happened without the flavors chosen by this wine the 2012 Private collection Rowland Flat Shiraz. In this dish we were given the task of pairing prunes, hazelnut oil, cocoa, white miso, vanilla and verjuice.
As this was the last savory course on this menu we were finishing with a rich item 'Berkshire pork belly' and we decided to braise the pork very gently until tender with the miso, verjuice, vanilla and a touch of cocoa.
Once the belly was cooked it was pressed and the juices were used to make a sauce by rehydrating the prunes, emulsifying them with a touch of hazelnut oil.
To serve, the pork was crisped all over on a hot grill and it was served with the sauce, some mild salad leaves and some salted sour plums.
Stone-fruit, curd, citrus cake, and pistachios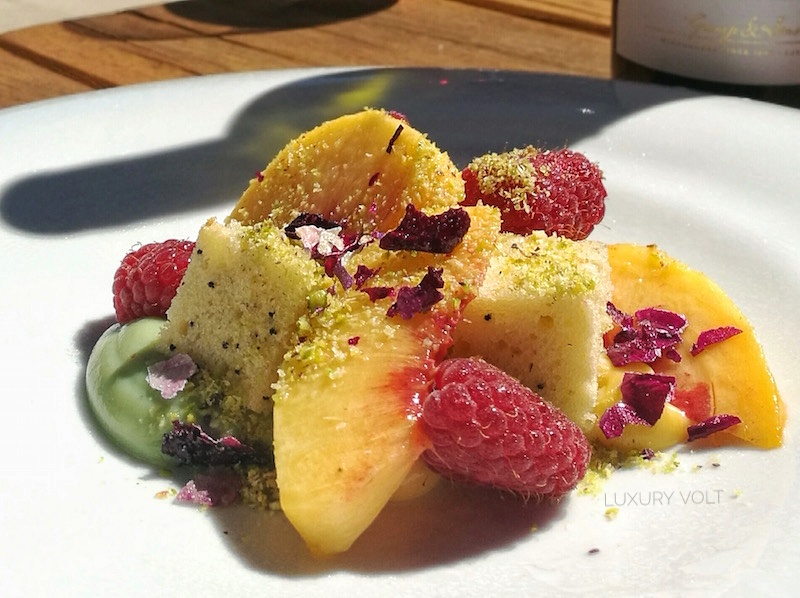 Gramps 2013 Botrytis Semillon Wine Taste: Luscious toffee, fig and orange blossom honey fill the palate. The rich fruit is counterbalanced with subtleties of oak and a soft citrusy acid which adds length to the palate, and gives an overall elegance and finesse to the finish.
Driven by the Gramps 2013 Botrytis Semillon, a rich intense sweet white wine, this dessert called for almonds, pistachios, floral notes and fresh stone fruits.
The result was a celebration of the season featuring fresh ripe peaches, a lime almond sponge soaked in a native hibiscus syrup, passion fruit curd and pistachio cream.
Almost trifle like to eat the addition of candied petals and shaved pistachios made this a delight to eat and almost savory when compared to the wine.
*Image shot with Honor 8 Lite using manual focus from expert mode. Post shot editing done to enhance colour saturation of the fruits and contrast variation. Honor 8 Lite is priced around INR 17,999, in India.*