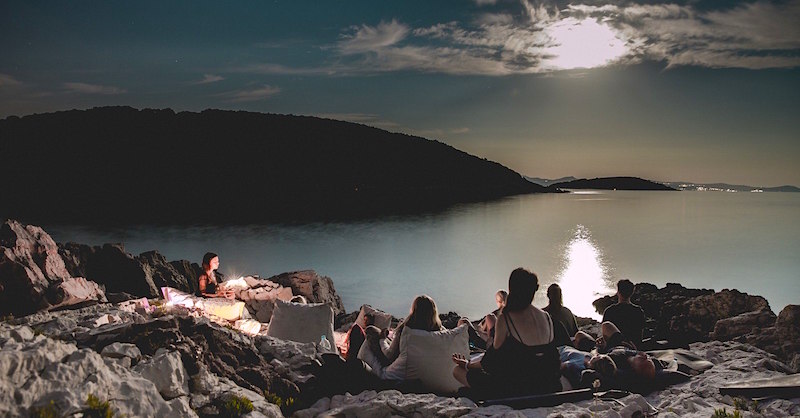 Rocky, sandy beaches, baroque architecture, beautiful sunsets on the Adriatic and few tourists to spoil the view! There are quite a few private islands in picturesque Croatia that you will not find in 'must see tourist places' list. Obanjan Island is one such place. Located a short boat-ride away from Split or Dubrovnik, Obanjan Island in Croatia will be open for tourists from summer 2017. Even Cersi Lanister and her Game of Thrones crew haven't shot here yet!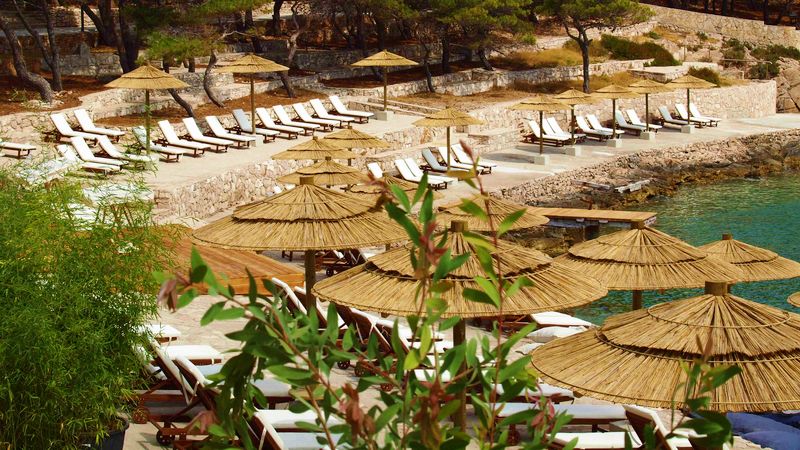 The island is believed to have its name from 'Belnaum', which means a public bathing space in Latin. But in the 70's Obonjan became the seat of the Croatian Scout movement and was given a new name – the Isle Of Youth. Over the years the island gradually transformed itself into a wellness hotspot surrounded by the glittering Adriatic sea, picturesque hills and lush forest pines. Pack in the night-long music and dance festivals, and you have your perfect getaway, sorted.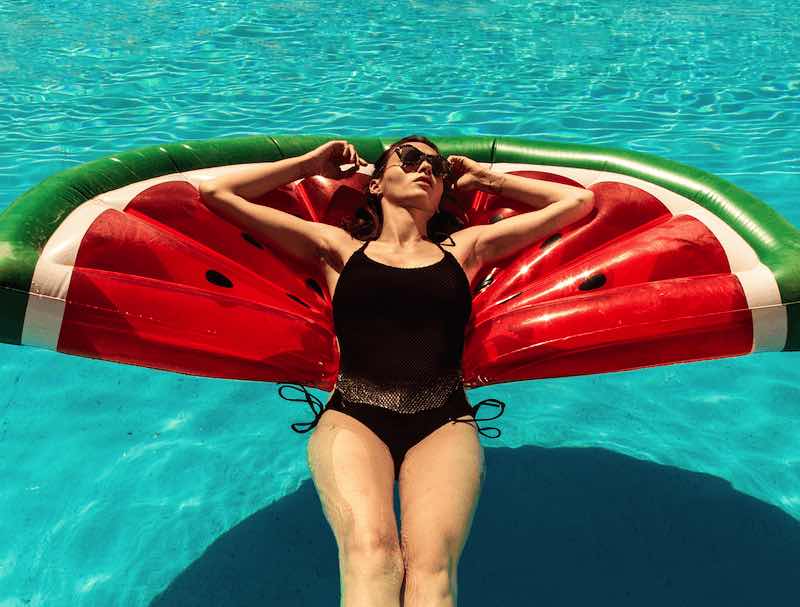 What to do: Wander down that path to little mysterious corners in the woods. Flap around to that undiscovered cove, on Obonjan and your curiosity will certainly reward. An array of special activities like yoga, workshops on health, art, cinema, etc., making music, DJing and island excursions, allows you to spend some quality time on the beach too. And it hardly takes two or three days to cover all of it. Convenient, much!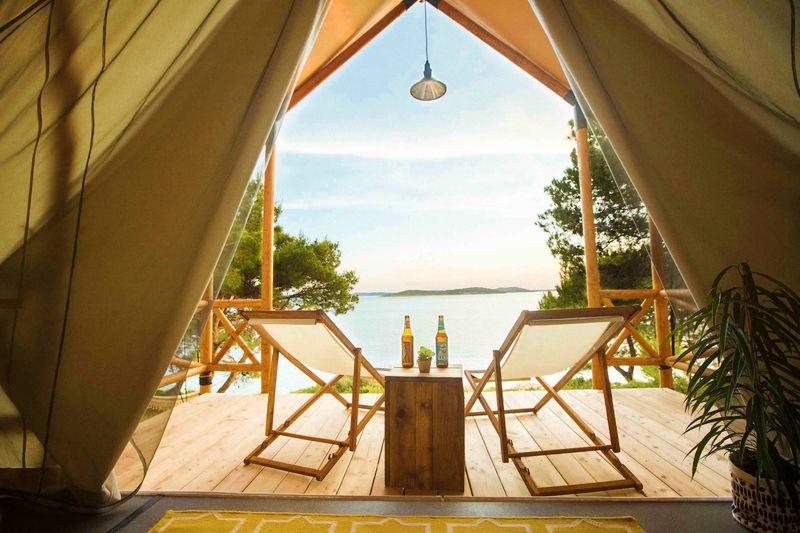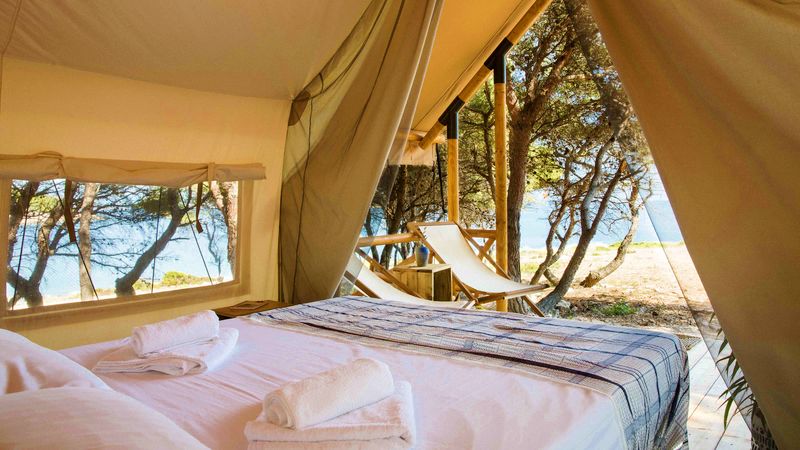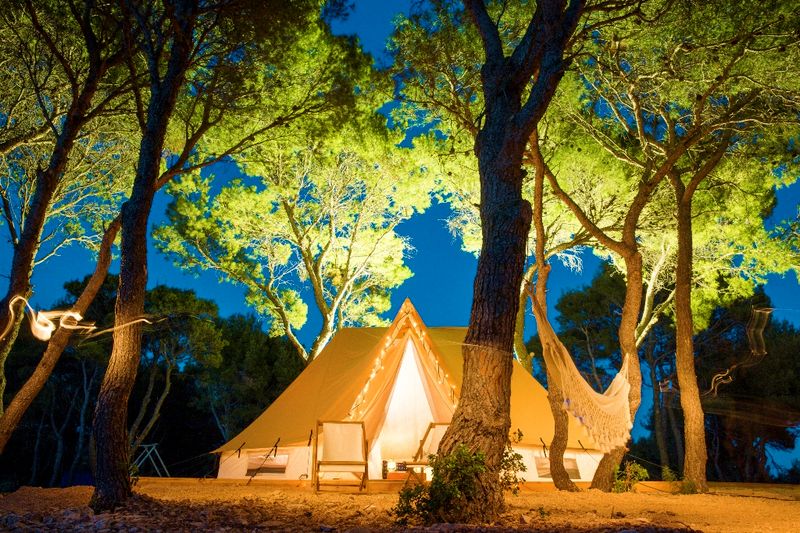 Best rooms at Obanjan Island in Croatia: Not all rooms promise a sea view, but they are all lockable! If you are worrying about the pirates..there are none around the private island! One can experience the luxury of living in natural surrounding without having to forget about man made comforts. Obanjan island has a few safari-style Forest Lodges. The rooms are priced around 230 Euros to 800 Euros for 2 nights. I would recommend the one bedroom forest lodge that will cost about 500 euros for 2 nights. It comes with an external terrace perfect for kicking back in the shade. There is one drawback that might be a big tick off for some and that is poor wifi signals. The property does not guarantee high speed internet in all rooms!
Most of the activities in Obonjan luxury island in Croatia are included as part of the room rent, except the wellness treatments and island hopping. There are mainly two categories of stay options: The Bell Tents and the Forest Lodges. Choose to stay either in the Classic or Deluxe category tents. The deluxe rooms are for two persons and the classic option can house upto four guests.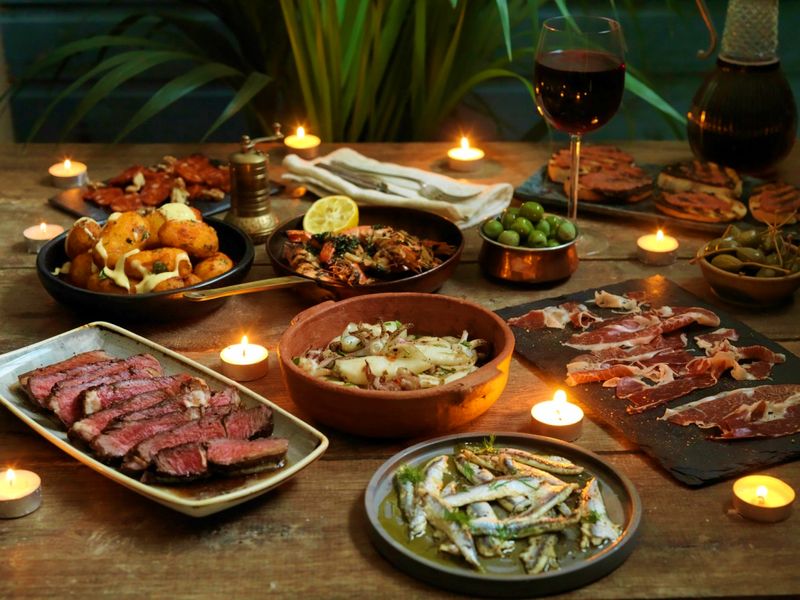 What to eat:To wet your whistle, Obonjan match the food with an enviable selection of beverages in an assortment of bars and cafés. Food and beverage options are galore in this luxury private resort in Croatia, Obonjan. They are essentially organic menus that complement the yoga and spa treatments that are a must-experience at the island. This luxury hotel private island boasts of two restaurants, The Kitchen by the pool and 'Bok'. Bok is a pizzeria and a juice bar located closer to the pine forest, . Every restaurant has vegan and gluten-free food so you do not compromise on your health while you holiday there.
How to get there: Obonjan can be reached by ferry and private taxi-boat services. The easiest way for international travellers is to reach Split or Zadar or Dubrovnik International airports in Croatia. Then drive or fly to reach Sibenik town, from where you get boats to the luxury island in Croatia. As you sail across the Adriatic from Šibenik, Obonjan sneaks up and surprises like a billionaires secret hideaway.
*Words by Oindrila Mukherjee
Secret Islands in Croatia
The Good
Exclusivity, Privacy
Peaceful
The Bad
Poor Wi-Fi
Value for Money