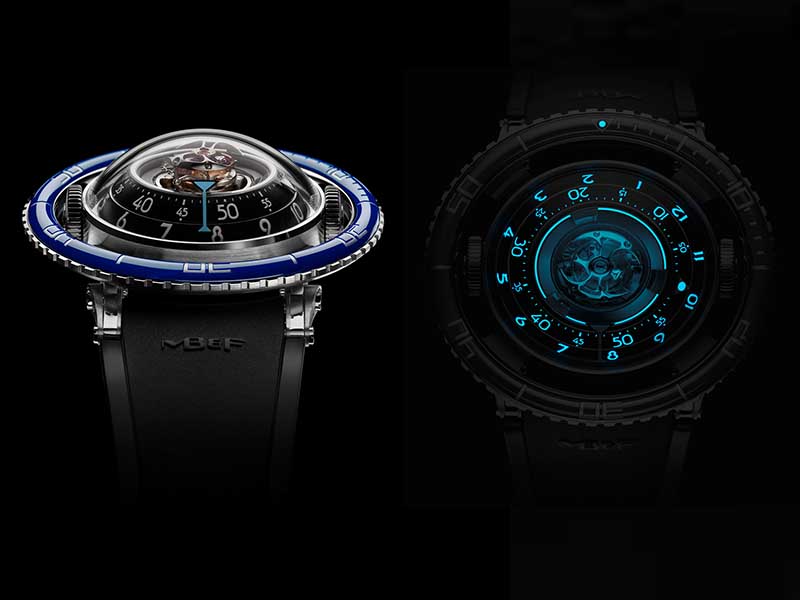 As strange as he headline reads, it is true! Maximilian Busser, founder of MBandF watches is the man in context here and the sexy wrist watch is the MBandF HM7 Aquapod. Every launch from theMBandF factory is a marvel to look at and so is this one. Launched at SIHH 2017, HM7 Aquapod is inspired from the distinctive eccentricity of the Jelly fish.
On a sunny day, at the beach, when Mrs Busser (wife ofMBandF founder) was swimming in the waves, away from the hassles of a daily routine, little did she know that a Jelly fish would target her to become an inspiration for a novelty at SIHH! Inspired by the stinging incident, Max knew it was time for him to create the next big thing fromMBandF.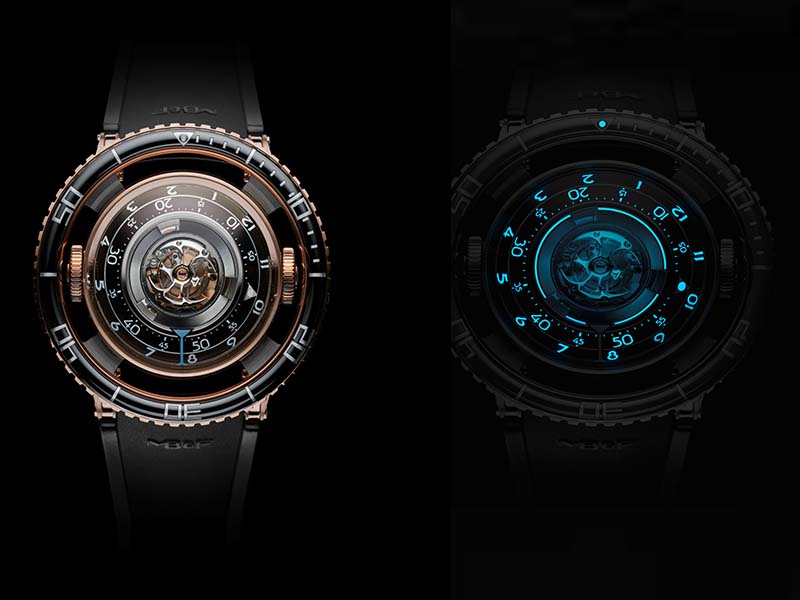 Now let's dissect the mechanical Jelly fish that MBandF has created to tell time, starting from the predominant dome. Sitting dauntlessly in the centre is the 60 second flying tourbillon. Unlike most creative watch makers, MBandF makers do not forget the primary task of a watch and that is to tell time. One close glance at the watch will easily reveal the method of reading time on it. The hours and minutes are indicated by two aluminium or titanium spherical discs.
To create the glow around the primary region of the watch, 3 panels of AGT (Ambient Glow Technology) are used around the flying tourbillon. As seen in the picture, this method allows time to be read easily in the dark while imitating the night glow effect of a Jelly fish.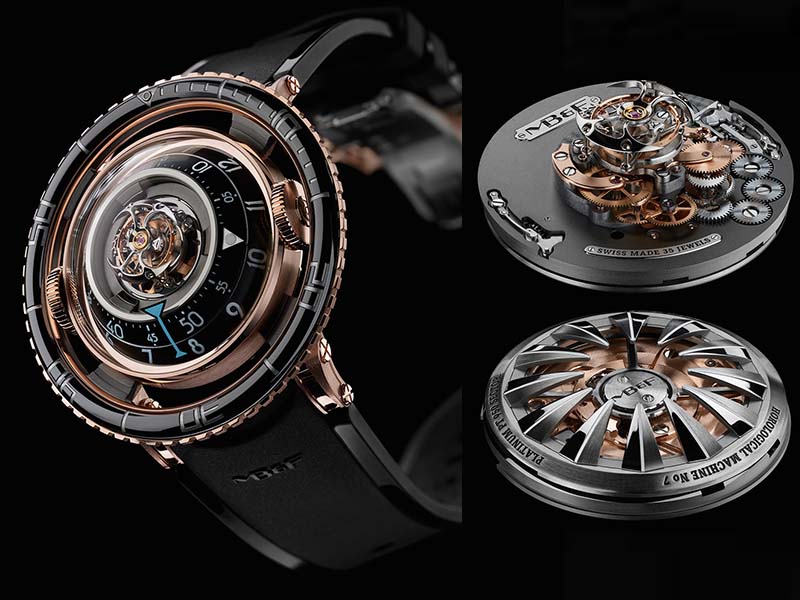 There are two crowns on opposite dies of the dome. The crown on the left side of the luxury watch from MBandF is for winding in mechanical power and the one on the right hand side is for setting time.
A true 'Aquapod' watch should have ideally been a dive watch. How fascinating that would be! But the HM7 Aquapod is content with being a water resistant watch upto 50 meters. Strangely though the HM7 has a rotating bezel to indicate lapsed time, as in a regular dive watch, but then remember you cannot dive with this watch. Unlike every other dive watch, Aquapod's bezel isn't attached to the case. The ornate bezel floats apart. Hmm.. I wonder why that is !?
The back of MBandF HM7 is beautiful too. The winding rotor's tentacles are crafted from a solid block of titanium. the sector below is made of Platinum.
MBandF HM7 Aquapod, an SIHH novelty is available in grade 5 titanium or 5N+ 18k red gold. Both Titanium and red gold watch are fit to be stinging pretty on a big wrists because it measures 53.8 x 21.3 mm. This luxury new Swiss watch launch 2017 can serve time with 72 hours of power reserve.