Is it a creepy idea to keep a human skull in the pocket as a fashion statement? Well not if the skull has running fluid in it! I mean if the skull has running fluid in it that tells time with an ingenious time telling mechanism. At one of the world's most important watch event, SIHH 2017 in Geneva, HYT is bringing all its skeletal art work to play! So what exactly is HYT launching in 2017 luxury watches?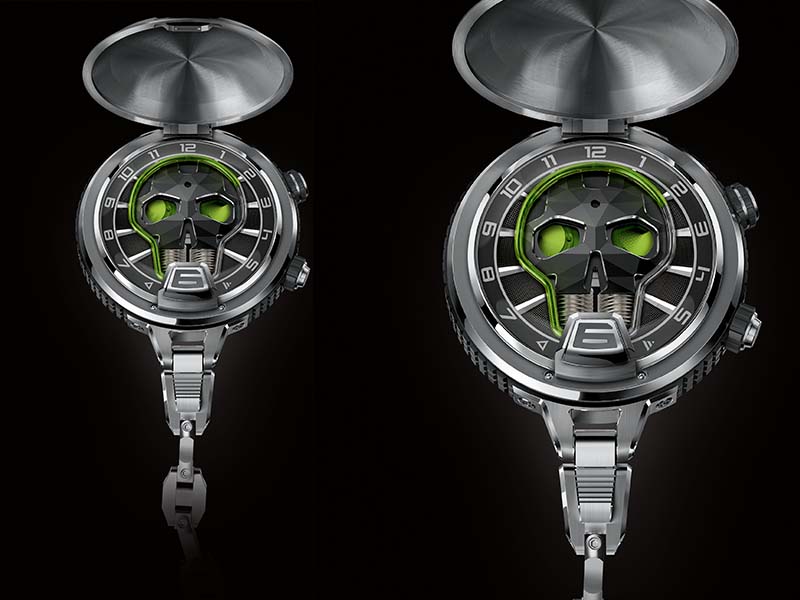 HYT Skull Pocket will be one of the new watches by HYT at SIHH 2017. The HYT Skull pocket takes the brand's signature and contemporary style of watch making to the golden epoch! At a time when watch wearers are going 'smart', HYT has decided to go vintage with a pocket style watch! HYT's signature style of watch making is the use of fluid to tell time. This green skull watch, too, uses liquid to indicate hours.
The module in the SIHH 2017 HYT Skull Pocket watch has two LEDs positioned underneath the rider at 6 o'clock. The watch works by converting mechanical power into electricity. The mechanical power from the winding of the crown is converted to electrical energy that bathes the Skull Pocket in a soft blue light, and gives the green liquid its fluorescent glow, to indicate time!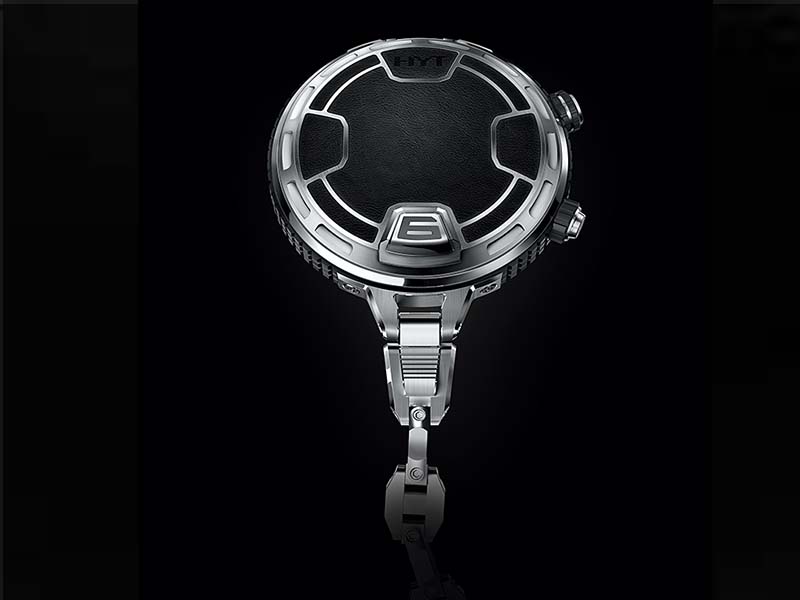 The wearer can read the time by pushing the crown placed around 4:30. A barrel spring is loaded when this crown is turned. Pressing this push-button crown turns the micro-generator at speeds enough to bring in electric energy that illuminate the LEDs that indicate time. But this light will last for about 5 seconds.
This luxury pocket watch is rather big at 59 mm diameter case. The pocket watch case is made of titanium and black DLC titanium. In place of the lugs, HYT has developed an exclusive cover system to protect the dial. Articulated by a hinge at 12 o'clock, it is triggered by the iconic rider at 6 o'clock, which has become one of the brand's aesthetic hallmarks.
The HYT Pocket Skull watch cover can be fully customised. It features an engraved pattern with leather inserts, and can be fully customised.
At night, the light emits instantly, in soft blue glow. This light covers the case and causes the coloured liquid charged with fluorescent dye to react. But how does one read the time of this fancy watch? The time can be read intuitively around the circumference of the skull. There are ofcourse Arabic numerals indices filled with SuperLuminova. The seconds are displayed in the left eye and the power reserve in the right eye.
ALL THE DOPE FROM SIHH 2017