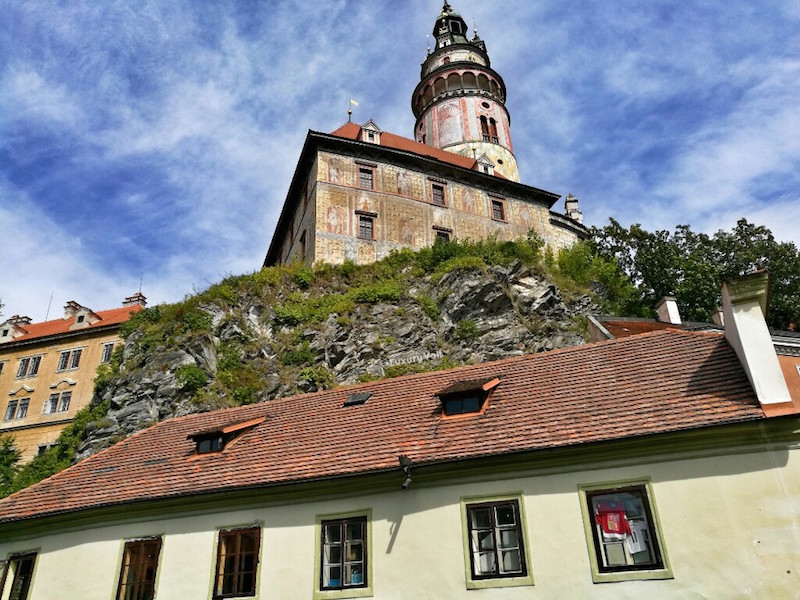 It is no hassle at all waking up at the break of dawn, when in Cesky Krumlov. Chirping birds, playful toddlers giggling and gossiping in a foreign language and clear sunrays are inviting enough for any late sleeper to jump out of bed.
Cesky Krumlov is about 3 hours drive from Prague. This little countryside-town is located very close to the Czech Republic – Austria border. The drive from Prague to Cesky is smooth and busy with no traffic and lots of gazing green fields. Though not as pretty as our hindustani sarsoon ke khet!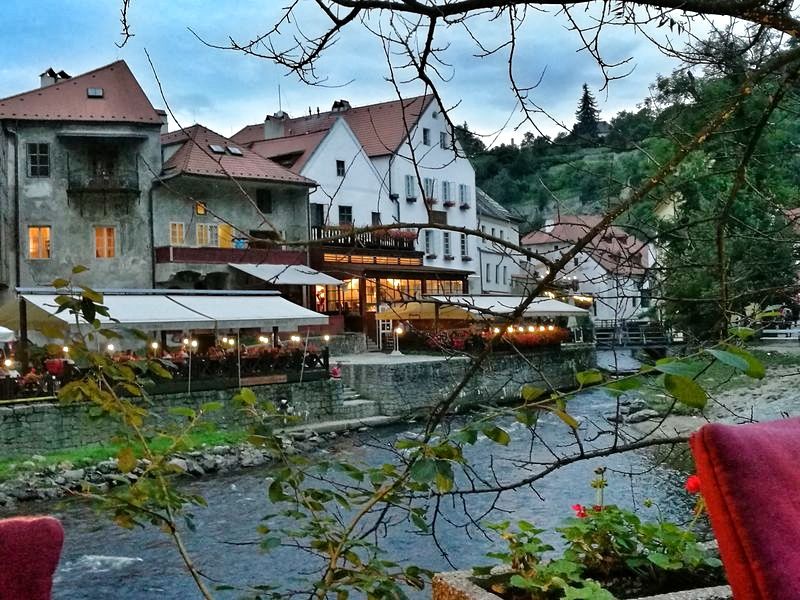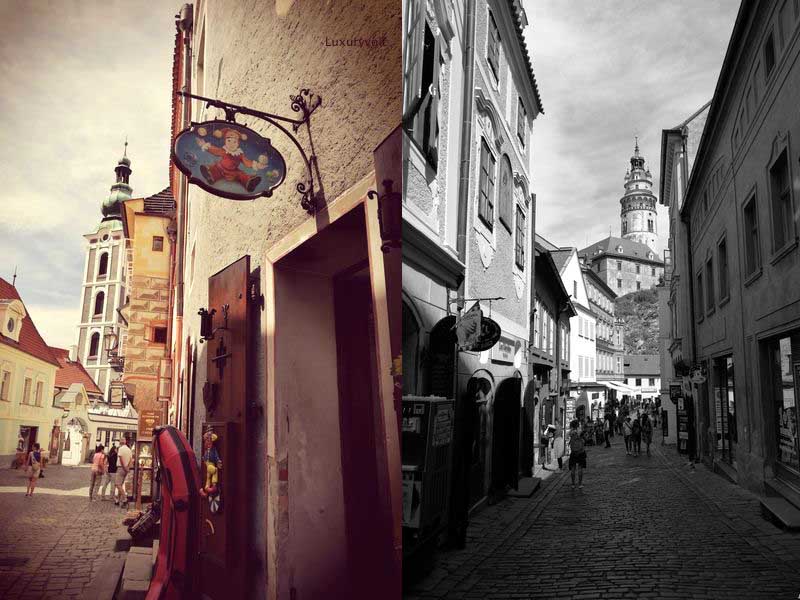 Cesky Krumlov is a ridiculously small town! Perhaps as big as half of Greater Kailash one! I chose to stay a night here as a stop over for my journey from Prague to Hallstatt, which is another small town in central Austria. When I arrived close to lunch hour, Cesky Krumlov was pretty busy with tourists. Hardly any space to walk on the narrow cobblestone streets! Thankfully the Czech Republic tourist rush faded away by tea-time because there are few Czech-bound nomads who stay overnight at Cesky Krumlov.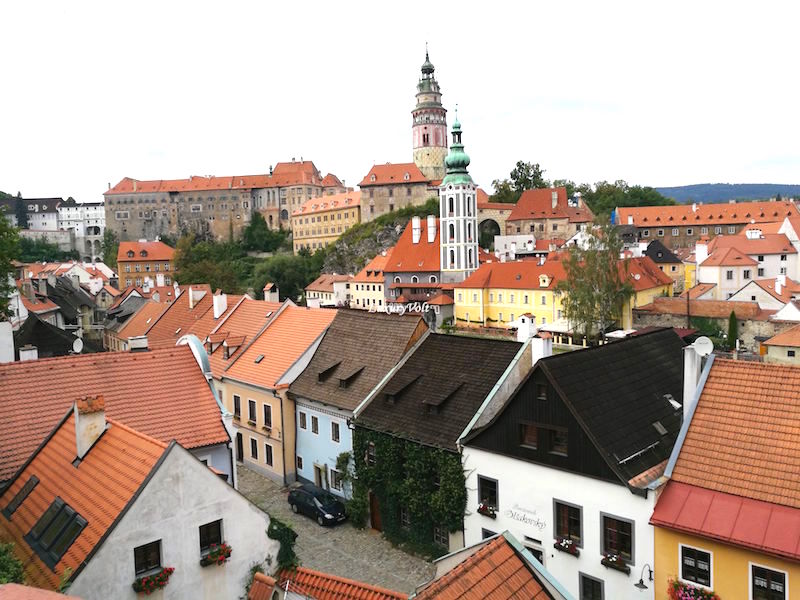 It is during the sunset time when the city's architecture comes to life. Just a few kilometers walk away from the main gate is a tiny gravel covered terrace, open for the public. This is where the most panoramic views of the city can be captured. All instagram locations worth many likes 😉 I came across similar pictures of Cesky Krumlov on Google before deciding to pay it a visit. Believe me! The vibe and sceneries of this little town in Europe are way better than the impression you get from these pictures!
Cesky Krumlov is like those little toy towns shown in animation movies. From a distance the city is filled with small gothic style huts with hints of baroque architecture on some high towers. There are also hints of renaissance architecture. Cesky Krumlov is an interesting mix of cultures that perhaps dominated the city since it was found in the 13th century!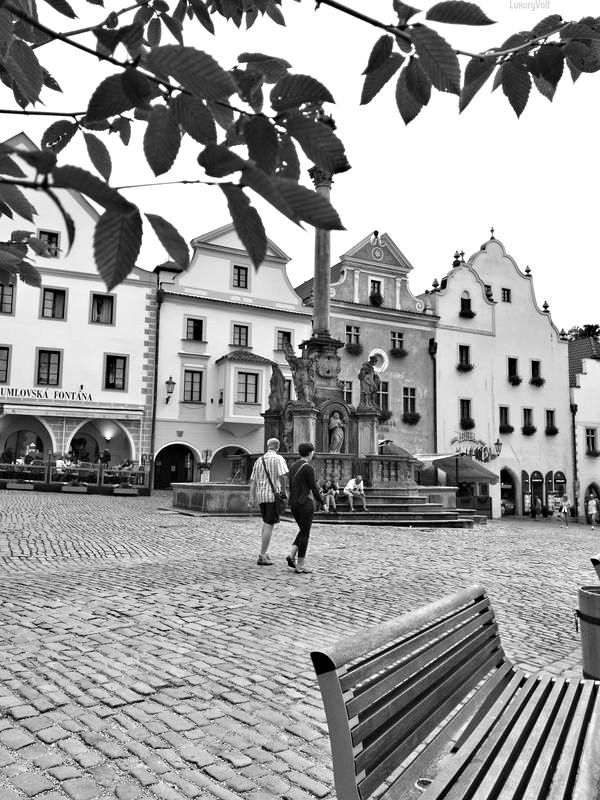 Come night and the city filters out the massive tourist crowd with visibly few locals. By about 11 PM, you will see no soul on the narrow market roads. This is also the spookiest time to visit the Castle, if you can sneak in!
The Cesky Krumlov castle can be spotted easily with this dominant renaissance pastel painted tower, evident from any part of the city. It also makes for a characteristic landmark to identify the city of Cesky Krumlov.
How to blissfully spend 24-48 hours in Cesky Krumlov?
Take a walk around the city's main market area and discover several restaurants and cafes and little pretty nooks and corners to admire the authenticity of this little Czech town.

Hike up to the top of the Cesky Krumlov Castle. Most of the Castle visiting areas are free to visit without fee.

Take a quick tour of St Vitus Church built around the 14th It is not grand like the big churches in Prague and Barcelona. However, it is worth a visit for the very ancient artwork that still holds the walls of this centuries-old-church, together. Really! Get ready to get Goosebumps with the amazing stories and paintings of this beautiful quaint church in Cesky Krumlov!

Visit the little shops around the city by lanes with adorable hand crafted wooden toys and collectables.

Spend an entire day either fishing in the Vitava river or go swimming with the fish or rafting in the clean chilly waters!
What to eat in Cesky Krumlov?
The most sinful meal in Czech Republic is fried cheese! Fried cheese can be found in almost all restaurants in the central market area. There aren't many fine-dine restaurants in Cesky Krumlov.
I would recommend savouring simple meals with local sea creatures cooked to perfection at the Hotel Dvorak. The outdoor restaurant has blissful views of the river flowing under the adjoining bridge and noise from joyful teenagers with their rafting kits.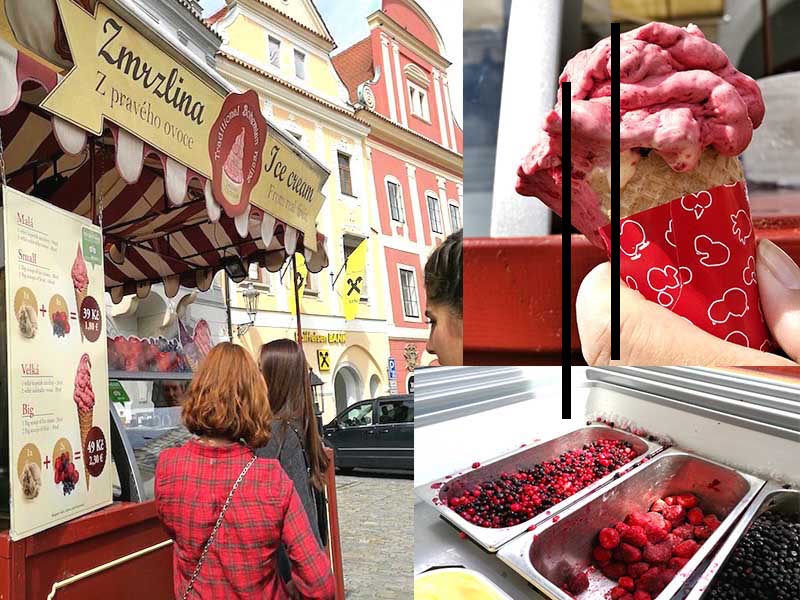 Get the Hostel vibe at 'Traveller' hostel, located in the by-lanes of Cesky Krumlov city. 'Traveller' is also one of the few restaurants that remain open for dinner till late night. Most restaurants shut by 9 PM even in summers!
A must have for anyone setting foot in Cesky Krumlov is the freshly prepared ice cream by this guy. Choose your berries from the frozen cart and he will churn out a fresh scoop of just berries and milk right in front of you. It is healthy and super delicious!
For breakfast, I would recommend the 'Crepe' place, just a few steps away from the central square. It has the most delicious Crepes in 50 Km radius!
How to reach Cesky Krumlov from Prague?
Take a shuttle or rent a car to drive down. The route is pretty simple to follow. I would recommend hiring CK Shuttle cause I did and was pretty comfortable during the ride. The drivers are nice and talk as much as you want them to i.e. if your driver speaks English! There are shared shuttles and private shuttles. Both are very well priced.
Where to sleep in Cesky Krumlov?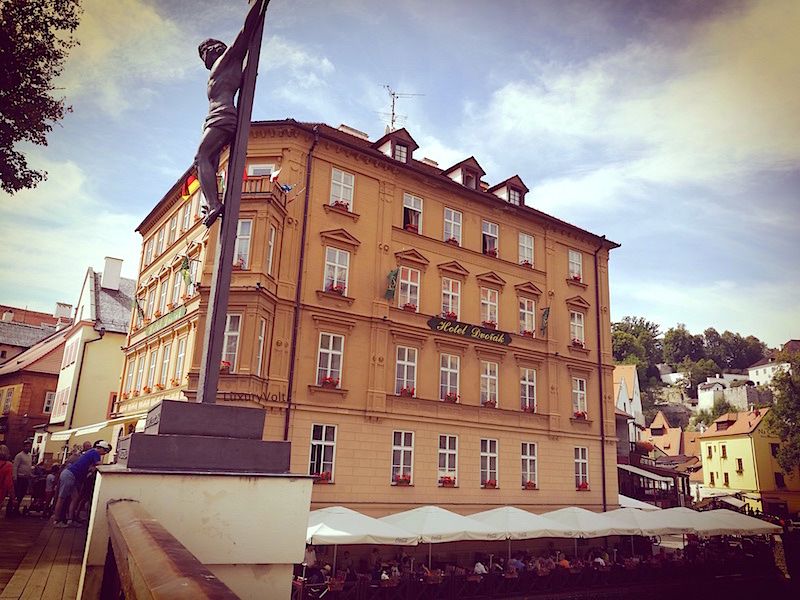 The Dvork offers the most beautiful views of the Cesky Krumlov castle from its rooms. It is also one of the few luxury hotels in Cesky Krumlov. I would also recommend travelers to check out BnBs if staying away from touristy by-lanes is a pre requisite.
Do not expect 5 star treatments from ANY of the hotels at Cesky Krumlov. Expect a quite location to sleep with some of the best views of the cityscape and that's all! Not one luxury hotel will offer value for money you spend there. A very good reason to choose lesser priced hotels and Bnbs when staying at Cesky Krumlov.