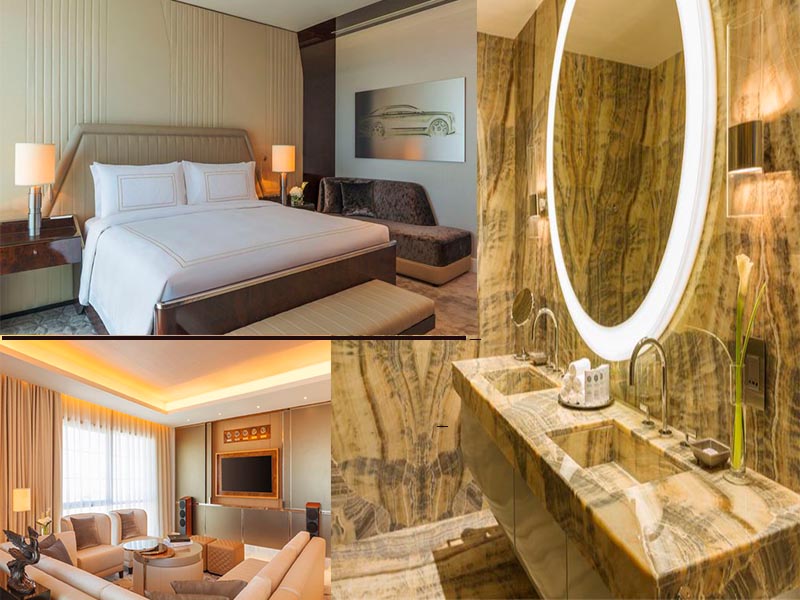 For the love of Bentley, those who own the car can always spend a night in it! But how do you get the 'Sleep in a Bentley' experience without owning one? Bentley now has a special suite at the St. Regis, Dubai that is inspired by its new Bentley Mulsanne car.
News Points
Bentley collaborates with St. Regis Hotel, Dubai to create their acclaimed 'Bentley Suite' for the middle-east.
Inspired from the Bentley Mulsanne, the one-bedroom suite features exquisite handcrafted design and décor.
Features include an LED chandelier inspired by the Mulsanne's headlights, and a sliding wall with hidden TV Screen and 5 Breitling clocks.
Guests are provided with a Bentley Mulsanne for their personal use.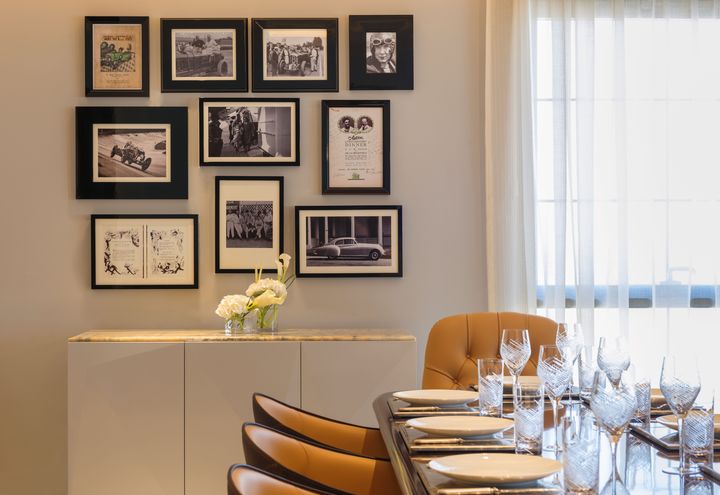 Bentley has extended their fabulous hotel-suite line with the addition to the St. Regis, Dubai. A combination of luxury and refined elegance has resulted in this one-off masterpiece. Other Bentley hotel-suites include ones at St. Regis New York and the St. Regis Istanbul.
This one-bedroom Bentley Mulsanne suite consists of a living room, dining area and a large foyer area. A special retro-fitted study area also features, prominently. The suite has floor-to-ceiling windows providing stunning views of the hotel garden. Bentley lavishness even extends to the stunning bathroom, walk-in wardrobe and dedicated dressing area.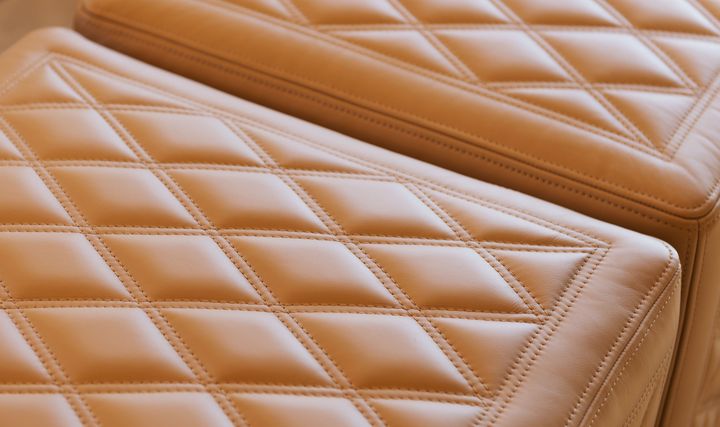 The 195 square-meter suite is drenched in luxury and high quality materials. Cream and neutral paint theme, marble flooring and wood and leather trimmings throughout scream opulence. Living room features a beautiful LED chandelier inspired from the Mulsanne's headlights. Right below that is a gorgeous 12-seater smoked fiddleback veneer dining table.
Other furnishings of Bentley suite in Dubai, includes a fluted linen leather sofa along with two camel hide ottomans. The Bentley design influences can been seen in the diamond quilting on the leather furnishings. It extends to a carved rug vaguely reminiscent of the matrix grille on the Mulsanne. Bentley's Hidden delights concept inspire a sliding wall feature hiding a TV Screen and 5 Breitling clocks inside.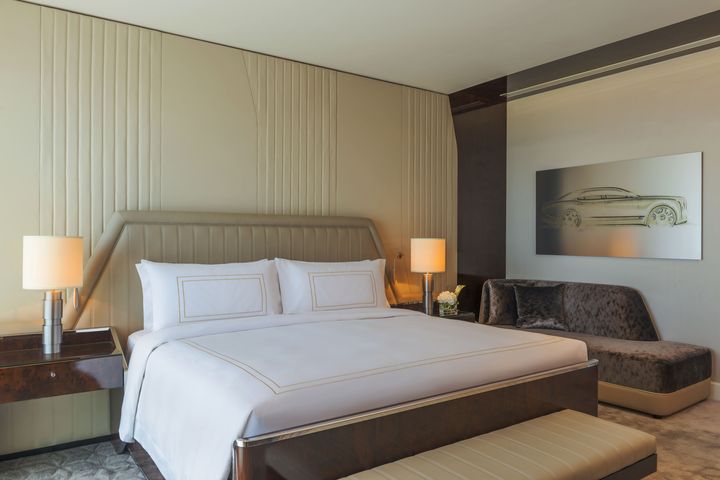 St Regis Superior Bentley master bedroom includes fluted Bentley leather walls and textured carpets inspired by the Mulsanne matrix grill. Bedside tables made out of Burr Walnut are inspired by the Mulsanne Speed wing emblem.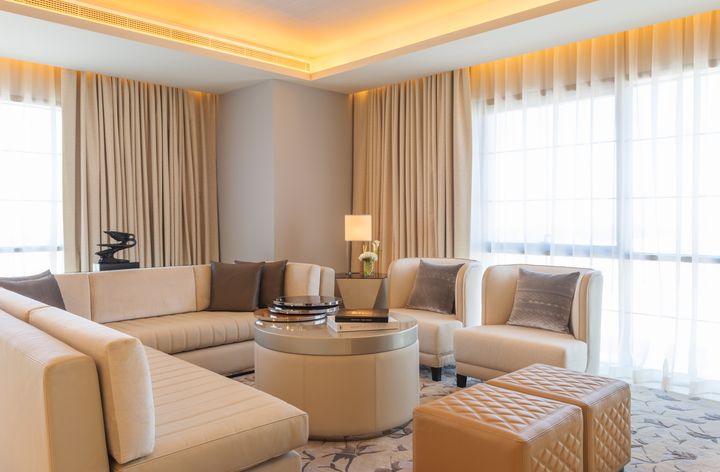 The suite's exquisite study area enlivens with veneer walls and a silk carpet. A luxurious sofa sits pretty with cushions having Bentley seatbelt detailing. Other features include a custom-made multi-compartment coffee table featuring Bentley ice lacquer and porpoise hide tray detail.
If you are in the mood for some sight-seeing, you will be provided with a Bentley Mulsanne for your personal use. Now that is some serious hospitality. Say Marhaba Dubai, and book your stay soon before the Queen of England can!
*Blog Priyam Jha