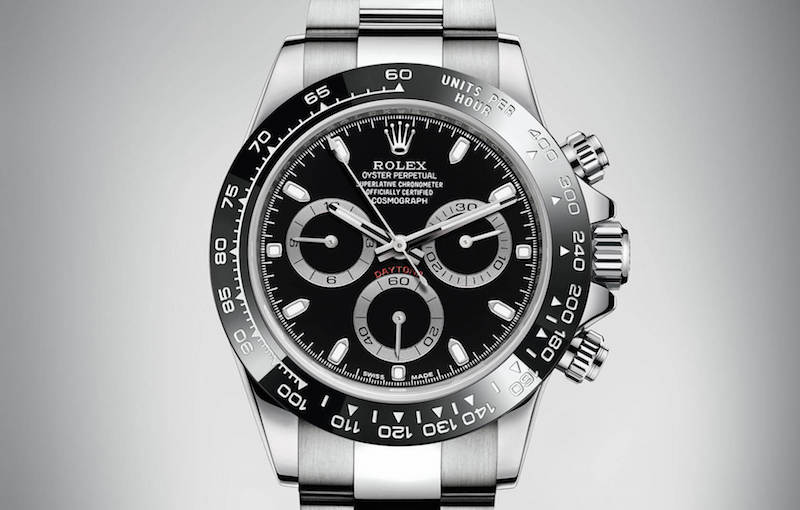 Daytona fans have been waiting for this, since 2014. Rolex did not launch any new Daytona in 2015, which was pretty surprising. Predictions of a new Daytona were rife in 2016. Nobody knew there would be 4 of them, this year at Baselworld 2016! More importantly, 2 of the 2016 Daytonas come with Black ceramic bezel. The 2016 Oyster Perpetual Cosmograph Daytona watches in steel come with classic black ceramic bezels for the first time! Something Daytona fans have been waiting to see. And who gets to wear the Rolex daytona Black Ceramic first? Roger Federer!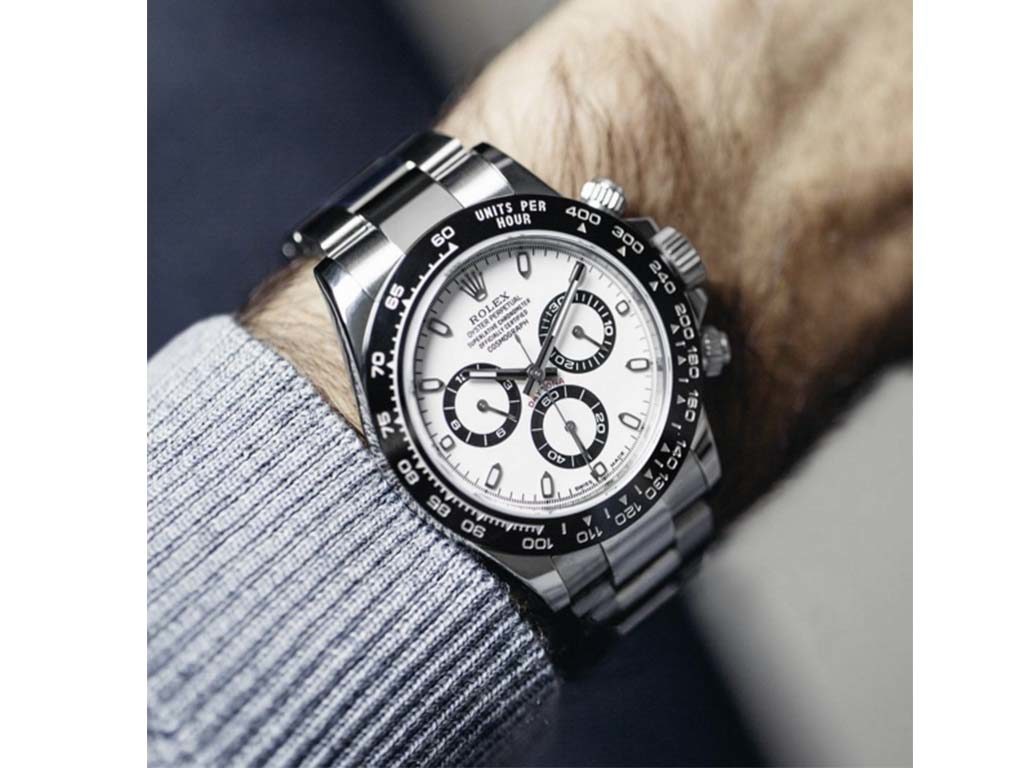 Not many want there to be drastic aesthetical or functional changes in the Daytona. What usually gets Rolex buyers excited are new alloy or metal combinations. And that is exactly what Rolex delivered, at Baselworld 2016, 2 Rolex Daytona Black Ceramic watches!
News Points
Rolex introduces 4 new Rolex Daytona 2016 watches at Baselworld

2 of the 2016 Rolex Daytona watches come with Black ceramic bezel. A first time combination of Steel with black ceramic bezel with new tachymeter scale by Rolex. Steel is the most preferred metal among Rolex Daytona fans for the Daytona collection.

Other 2 Rolex Daytona 2016 watches come in Yellow and White gold.

Rolex Yellow gold Daytona comes with Green dial at 2016 Baselworld . 2016 Rolex White gold Daytona comes with a stunning blue dial.
Baselworld 2016 Rolex Daytona Black Ceramic Bezel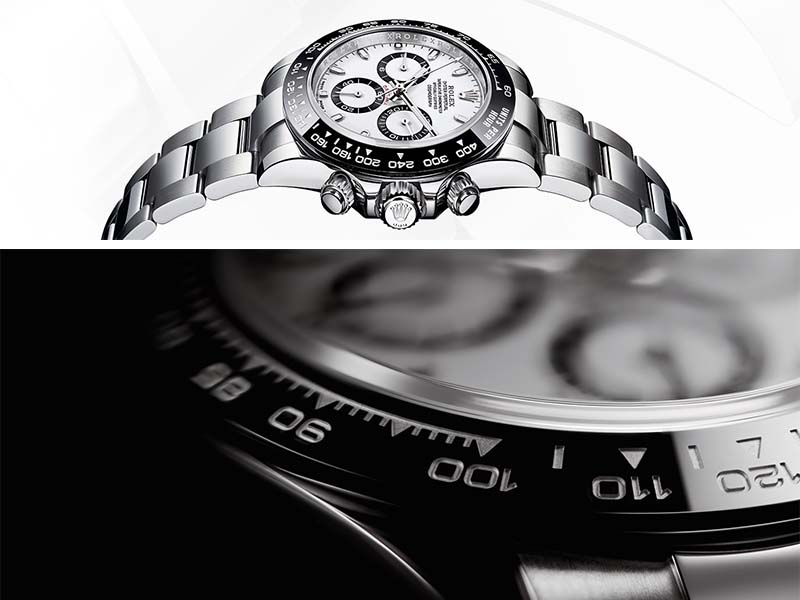 The selling point of the new Cosmograph Daytona is definitely its bezel. One is immediately reminded of the 1965 Rolex model that was fitted with a black Plexiglas bezel insert. With high-tech ceramic being the most sought after material in watches and touted for its anti-corrosion and UV damage-proof qualities, the Daytona works great with it.
What we liked about the striking black bezel is the excellent legibility of the engraved tachymetric scale. This time, Rolex has used a thin layer of platinum in the numerals and graduation, deposited through a PVD process. It brings the readings to life against the stark background.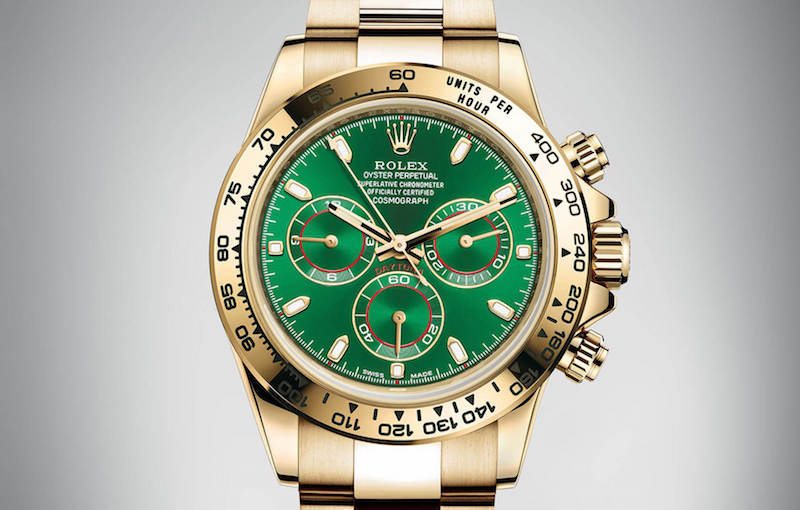 Rolex Daytona Calibre 4130
In its heart, the new Rolex Daytona Black Ceramic is all robust and tough. Calibre 4130 is an in-house self-winding mechanical chronograph movement. The components were reduced, the reliability is better than before. The oscillator features a blue Parachrom hairspring made by Rolex in an exclusive alloy. An asset for high energy races and extreme sports.  Bring on the shocks and temperature variation! This Daytona can stomach them all.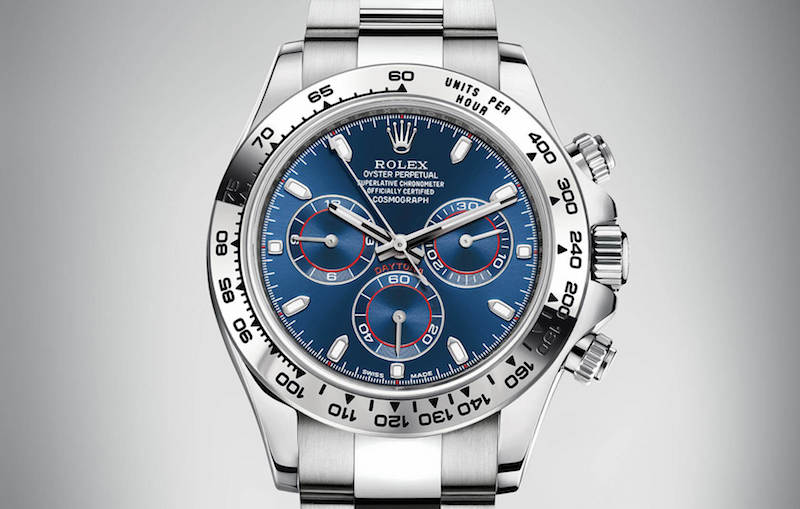 Rolex Daytona Black Ceramic Case
Like the other watches in the line, the new Cosmograph Daytona is fitted with the reliable Oyster case. True to its name, it is guaranteed waterproof to a depth of 100 meters protecting the high-precision movement within. Even the winding crown is fitted with the Triplock triple waterproofness system for extra effectiveness
*Blog by Anushya and Shilpa