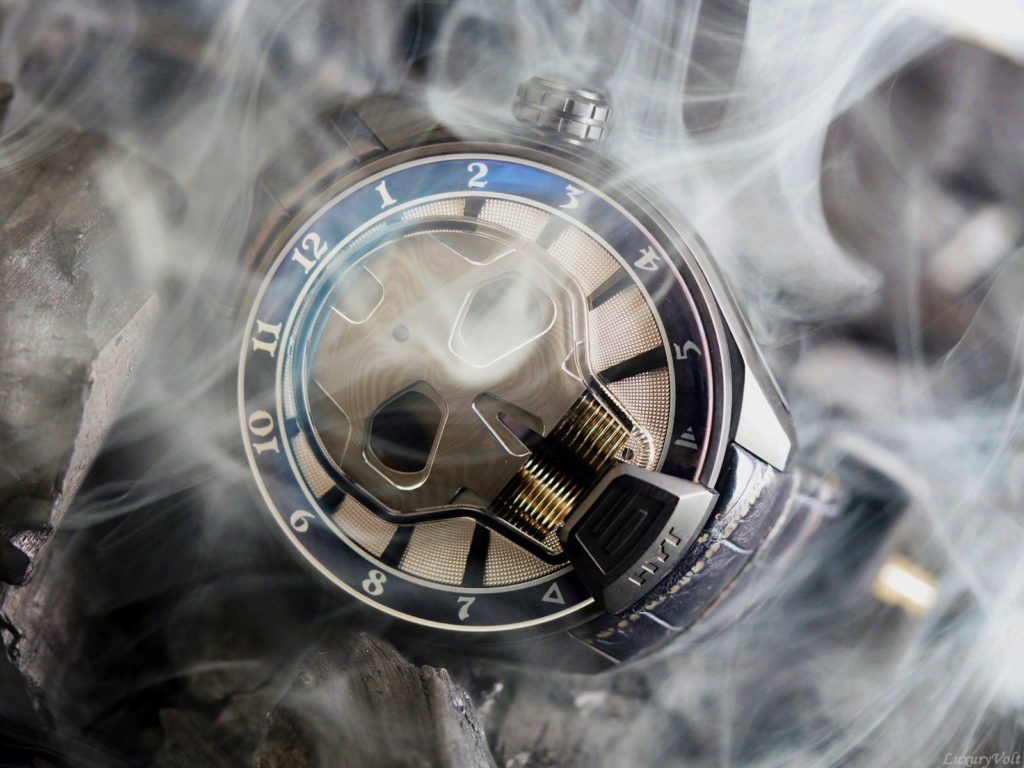 Is it not evil to make a breathtaking watch and then also make it nearly impossible to read time on it? Well, it is this evil that HYT wanted to achieve and so it made the Skull Bad Boy. HYT 2016 Baselworld new watch is as unusual as the brand can get. The all black HYT Skull Bad Boy tells time using black liquid . The watch looks pretty cool. What's not so cool about it, is that it is very difficult to read time on it, in the dark because of the black liquid that runs around the capillary to tell time. The black liquid produces no luminosity in the dark making it very difficult to read time.
HYT Baselworld 2016 watch Bad Boy Skull is available in a limited edition of 50 numbers. Ref. : 151-DL-43-NF-AS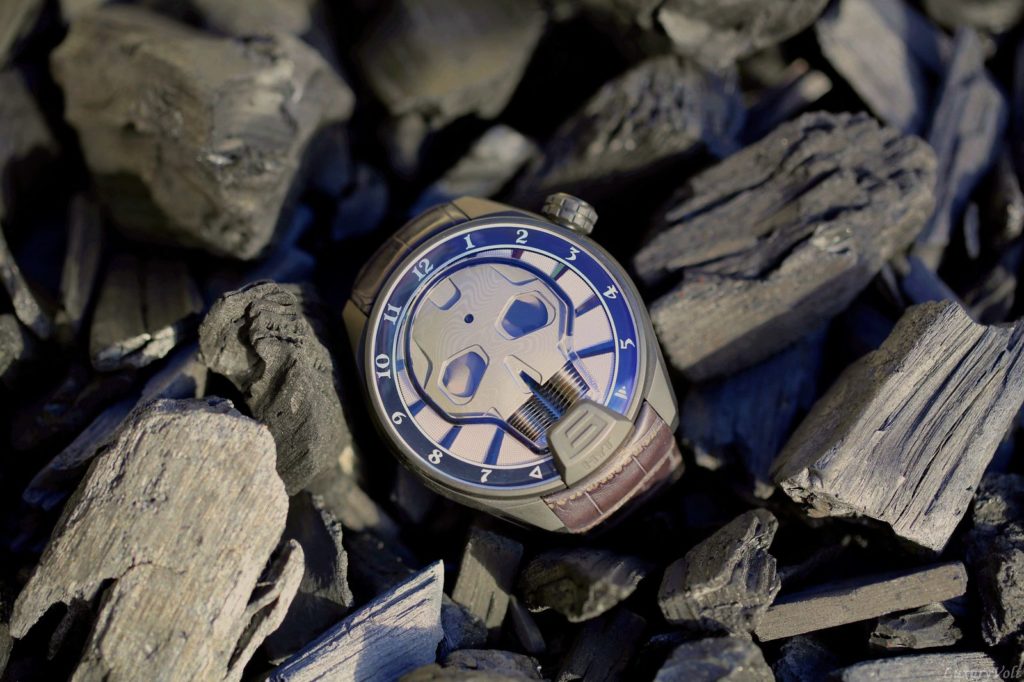 In fact, the inspiration for HYT to develop this watch is this black liquid that took 12 months to develop! Why 12 months? Because aspects like viscosity, UV resistance and many more had to be considered while making the liquid that runs around the watch
"It was a deliberate decision", explains Vincent Perriard, CEO of HYT. "There were other solutions which would have made the piece visible at night. But if we wanted to play with the darkness inherent to the Skull Bad Boy, we had to go all the way. Night is part of the world of shadows and darkness. Perfectly in tune with the spirit of the skull".
I honestly feel that some sort of luminosity factor would have worked great for the HYT black watch. Why shouldn't a bad boy be able to keep track of time even at night?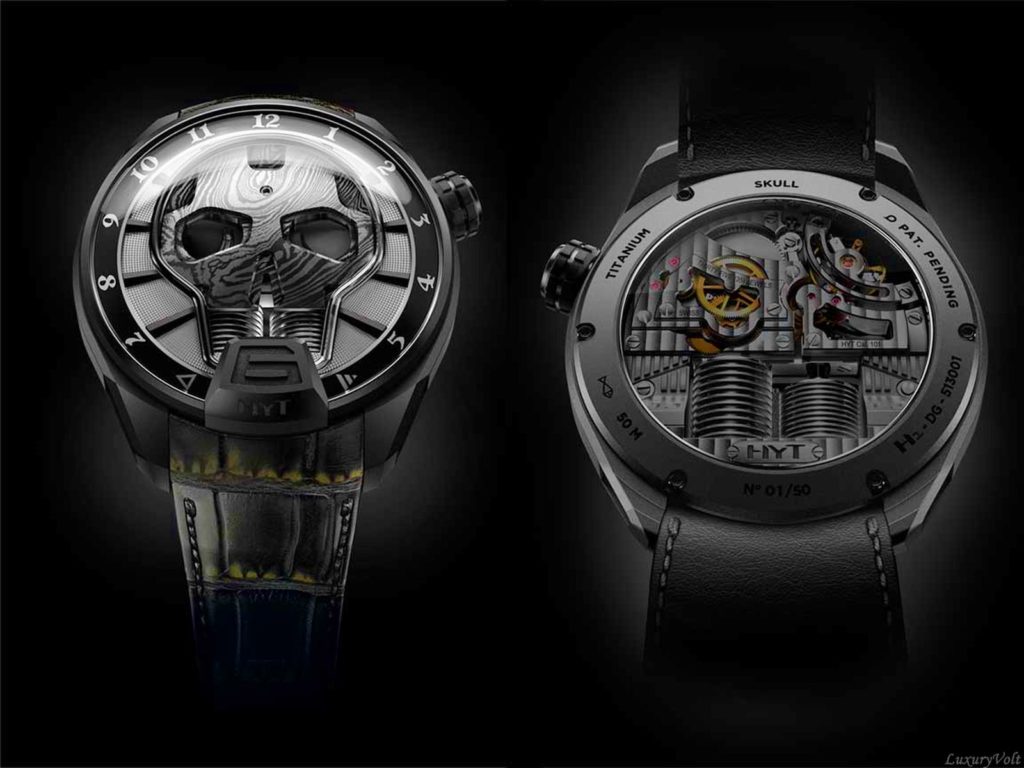 The hero of 2016 HYT Black watch is the black liquid. Which is why the metal used to construct the skull was carefully selected to compliment the black liquid. HYT has used Damascus steel. This kind of steel is used for Samurai swords. Damascus steel is mixed with Carbon to bring the blackish flavour to the Skull. The skull is an ever-changing interplay of its two component materials. HYT Skull Bad Boy's steel colour is an eye-catching grey, whilst the black colour of the carbon is revealed by a chemical abrasion process.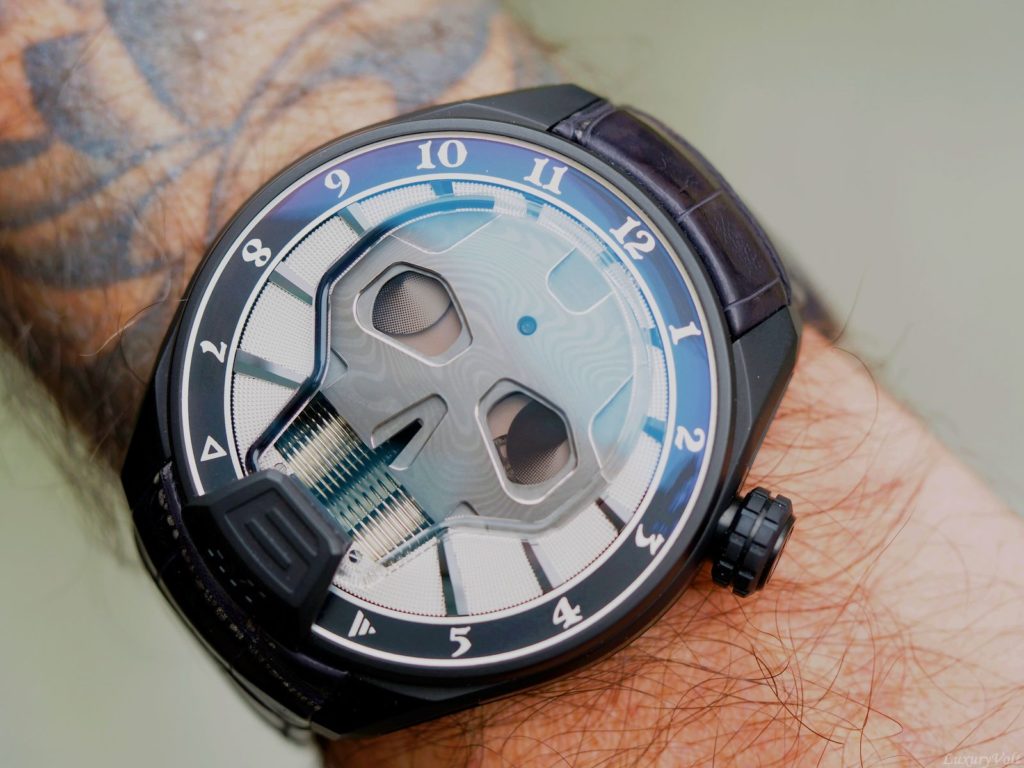 Numbers on dial are written in gothic font. The idea of gothic font is great but I feel the way this font has been used, it takes away from the majestic feel of the watch.
2016 HYT watch dial is massive at 51 mm diameter. Well, nearly all HYT watches are made for bigger wrists. The strap used to connect the all black dial is made of buffed alligator skin with hints of slate grey.