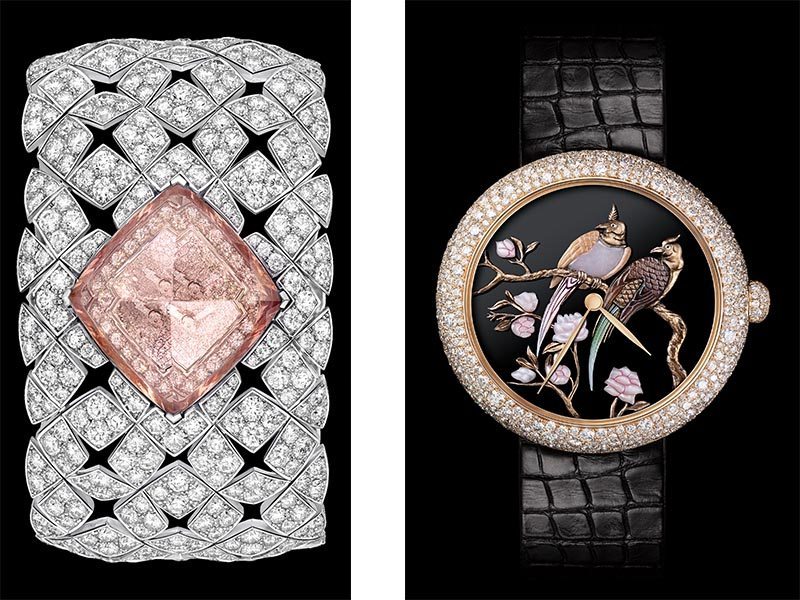 The buzz before Basel is usually not this entertaining. New secrets, new boy friends and a couple of new Premieres! Chanel has released first look of nearly a dozen gorgeous watches that the luxury brand will launch in 2016. All of these will be showcased first at Basel during the watch fair in March.
News Points
Chanel 2016 Baselworld collection flaunts two new diamond loaded watches with secret dials, 6 mademoiselle Prive, 2 new Premier wrap arounds. 

Chanel 2016 Baselworld women's watches will also see 3 new additions in ceramic J12 series
There are two new boy friends (we mean watches named boy friend) in the new glittering lot of Chanel collection.
1) Chanel Secret Watches for Baselworld 2016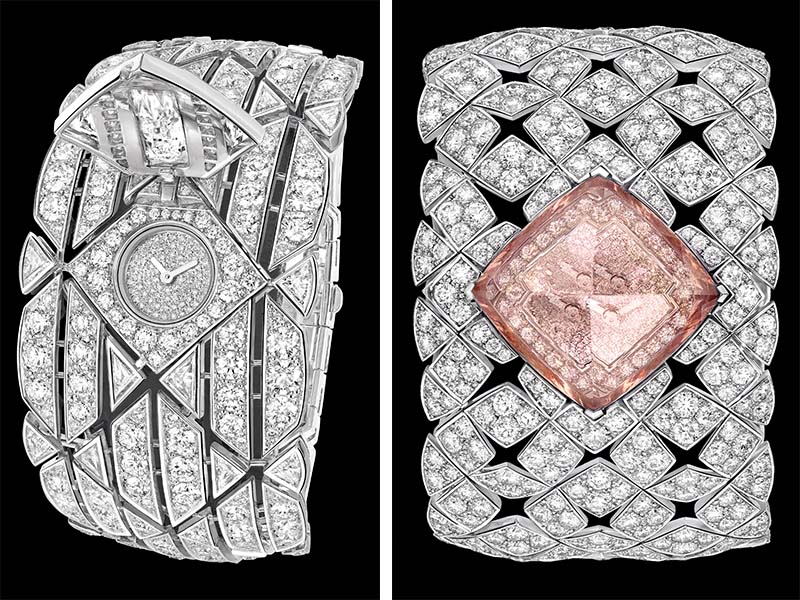 Chanel has introduced a Diamant Secret Watch and a Signature Secret Watch with Pink Sapphire morganite adore you for getting the weight of dollars of his pocket with two Chanel buys ! A supple cuff in 18K white gold with a quilting design composed of rounded squares sparkling with diamonds. At the centre, a 43.66-carat pink morganite pyramid reveals a secret dial when pressed.
2) Chanel Watches for Ladies 2016: Premier Rock Colours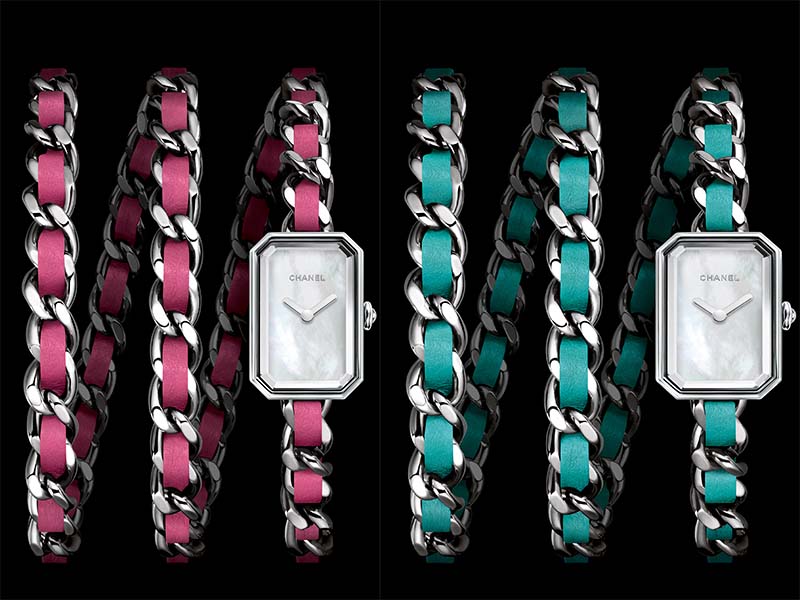 First watch created exclusively for women in 1987 by CHANEL, inspired by the octagonal shape of the N°5 bottle-stopper and that of place Vendôme, the Première is an icon. Since 2012, with the Camélia Flying Tourbillon caliber, the Première has entered the world of High Complications. The Pink ribbon watch will be limited to 1,000 pieces. It is made in steel case and a mother of pearl dial. The turquoise colour strap watch is also limited to 1000 pieces. Both new Chanel wrap around watches will be available in s, xs, m and large sizes.
3) J12 Mirror watch from Chanel 2016 Baselworld Collection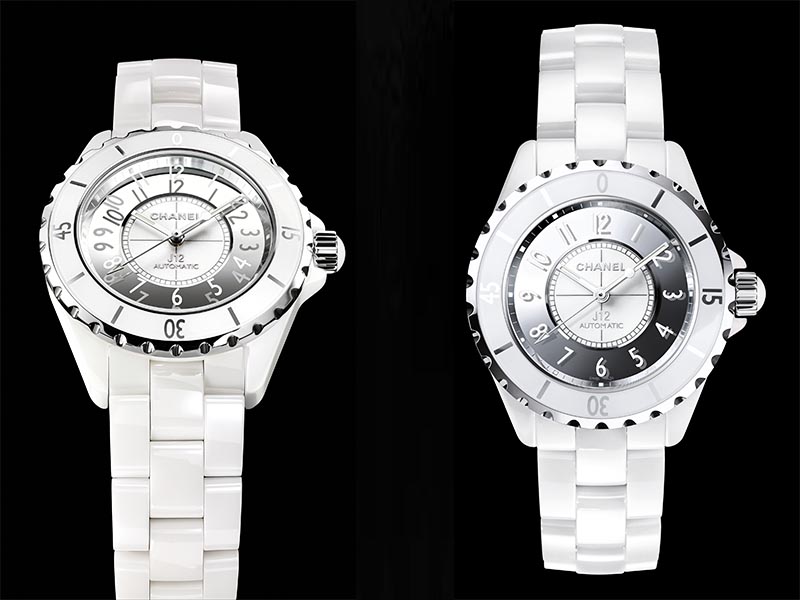 J12 has been a favourite for many because of its allergy free ceramic make. This year J12 will get a truly new and unique edition with the J12 mirror watch. In 2016, CHANEL introduces the J12 Mirror on a white bracelet, its numerals seemingly hovering on the dial's mirror. The watch reveals its uniqueness with each movement of the wrist, sparking reflections of light. This watch is made in white high-tech ceramic and steel. Mirror dial with white laquered center, white numerals under the sapphire glass. The watch will come in 33 and 38 mm dials
4) Chanel Boy Friend with Diamonds and without!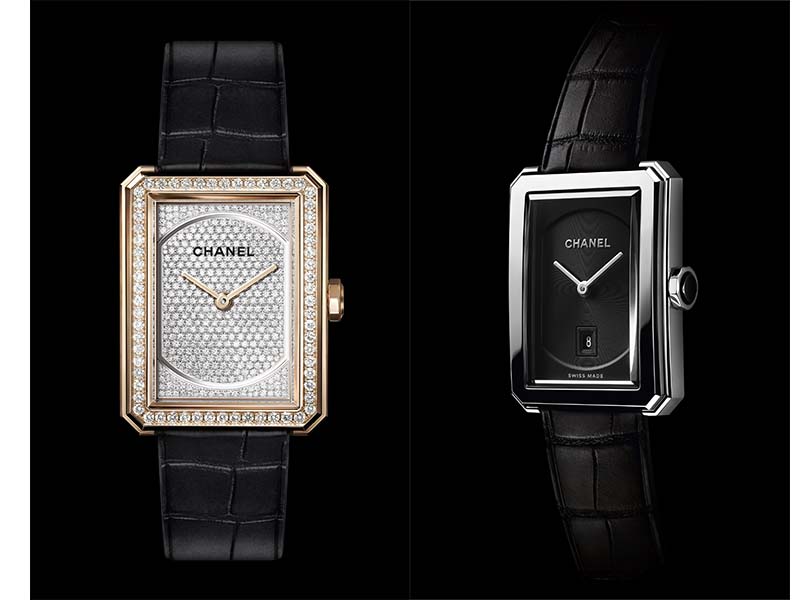 Let's just concentrate on the one with diamonds. Lots of em! There are two versions, white gold and yellow gold. Both come with 64 brilliant-cut diamonds on bezel and Dial set is studded with 382 brilliant-cut diamonds (~1.45 ct) 18K Gold crown set with 7 brilliant-cut diamonds (~0.05 ct).
5) Chanel 2016 Ladies Diamond Watches : Mademoiselle Prive Coromandel Glyptic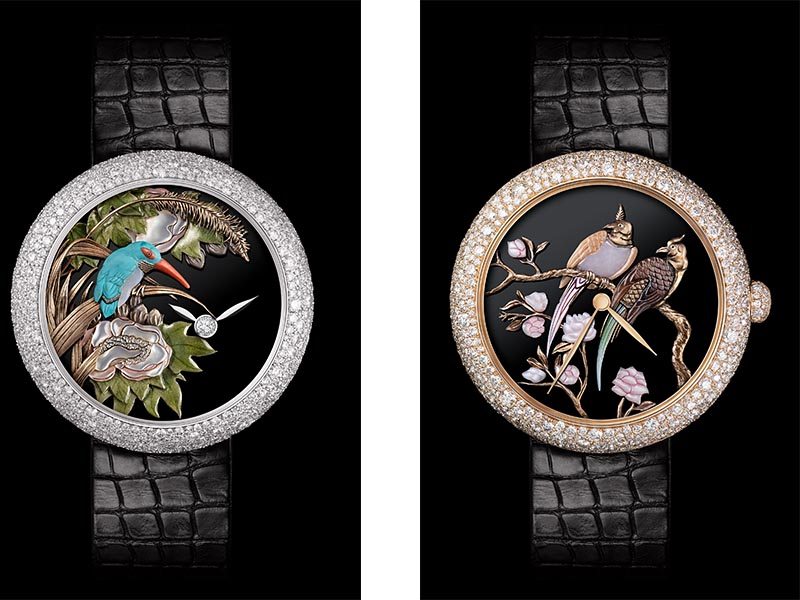 Halo of diamond love. What's new this year is that Chanel has added some more pretty and delicate artwork on the face of it's dial. Chanel maisons have used the glyptic, which is an ancient Egyptian jewellery technique. It is the art of sculpting semi-precious gemstones both in intaglio and relief. In the Mademoiselle Privé 2016 collection, the glyptic gives the watch dials inspired by these renowned Coromandel screens, a unique depth and realism. In coral, turquoise, cornaline and lapis lazuli, the birds of the glyptic appear as though ready to take flight. Represented in an onyx miniature, they alight on fine branches in sculpted gold. Each dial is unique and requires more than a hundred hours to produce.