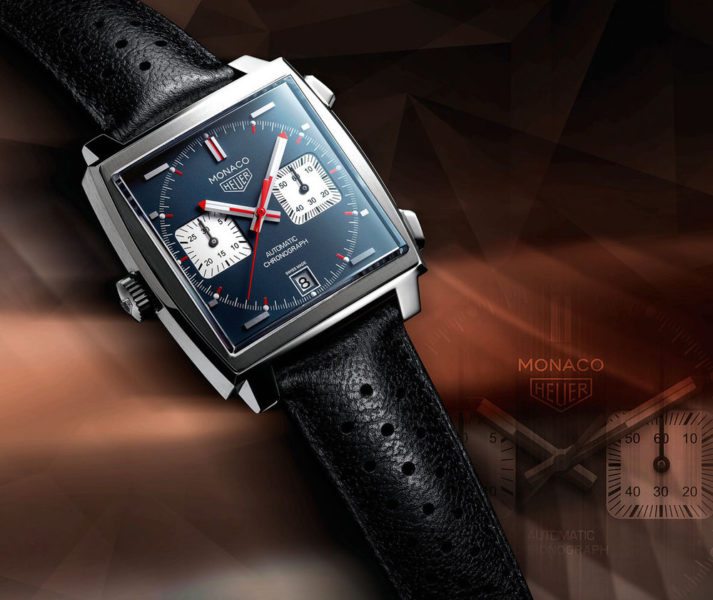 If you are in the market for a new chronograph, then look no further. Tag Heuer Monaco 2015 is one of the coolest watches you can own. Tag Heuer has reissued Monaco Calibre 11 Chronograph (Ref. CAW211P) the original Monaco, released in 1969. Yep, we're talking about the square blue watch from Tag. This is a true re-edition watch in every sense. It is the first time that the reissue of the famous original is seen in regular production.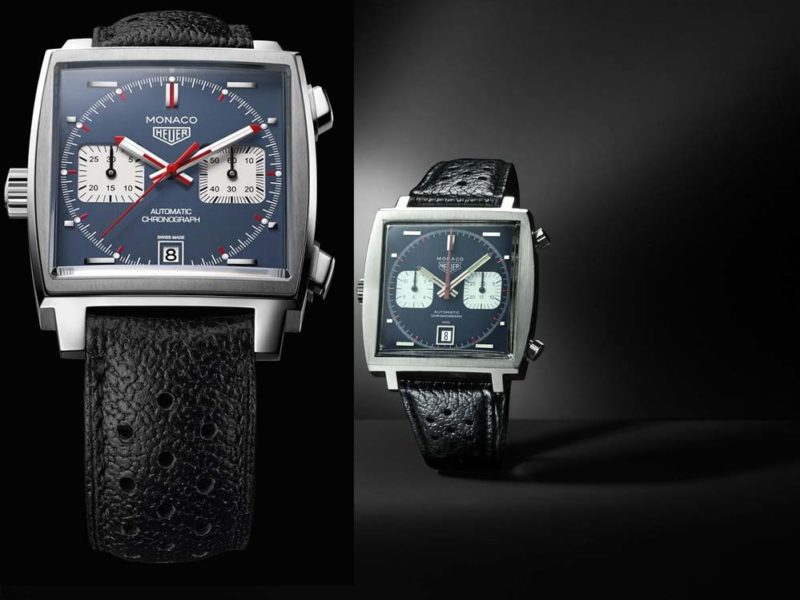 Tag Heuer Square Blue Watch: Tag Heuer Monaco Caliber 11 Chronograph (Ref. CAW211P)
Comparing with the original timepiece, the 2015 edition has a slightly different design of case and pushers. But, the cushioned case with brush finishing and short lugs keep the essence of the original, alive. The striking blue dial with red accents and the two sub-dials in rounded square shape, gives the watch a stylish look. Look that will never go out of trend. Yet, what sets this 2015 edition apart from the previous reissues are the horizontal metal indices. They, along with the 'Heuer' logo, change the whole tone of the watch and yet allow it to successfully represent the original square blue watch.
This is Tag Heuer's royal baby. Back in 1969, it was launched to honour the Monaco Grand Prix – the famous Formula One motor racing event, held in Monaco. It is considered one of the most prestigious automobile racing competition in the world. During the time of the launch, the Heuer Monaco was a watch like none other. Made in a large square-shape, the case itself was unconventional in nature. It is powered by a self-winding chronograph movement. Interestingly, the crown was placed on the left side of the case, denoting the luxury of not having to manually wind the watch. A true vintage watch lover will be glad to know that the Tag Heuer square blue watch Monaco 2015 edition have retained all these elements. Further, it comes with a sapphire crystal glass on rear side which lets you view the movement.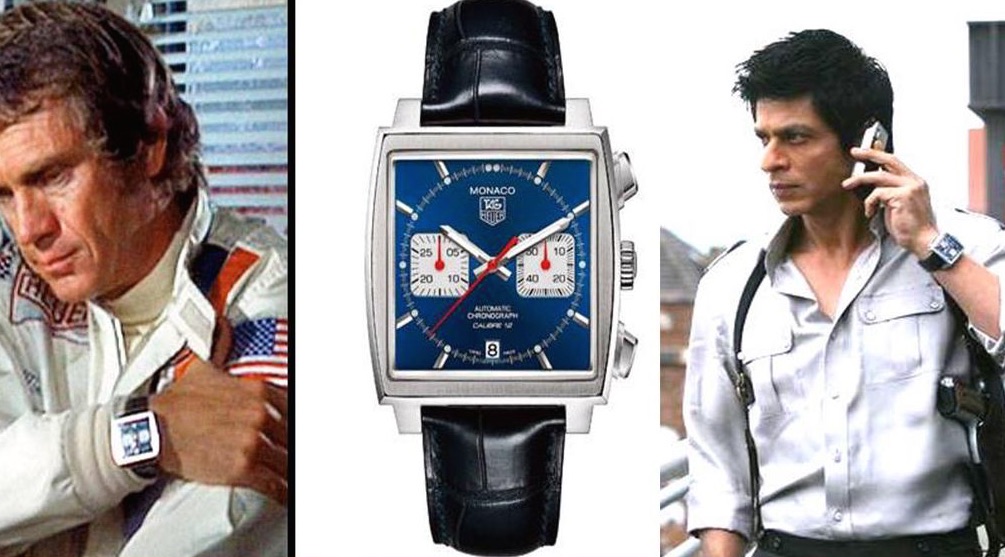 The Calibre 11 mechanical movement under the hood may not be the most superior or elegant chrono movement. However, the modular movement carries historical significance for Tag Heuer and its legacy. Dubois Depraz was the original supplier of the module, and Tag Heuer decided to continue the partnership with them, for this reissue. The 39 mm steel case comes attached with a perforated calfskin rally-style strap.
The 'cool' quotient of the Monaco watch was taken to a whole new level by Steve McQueen. When the well-known American actor decided to sport the Monaco 1133 watch in his 1971 movie Le Mans, the watch became a symbol for manly men all around the world. The Tag Heuer Monaco Calibre 11 Chronograph 2015 edition is a direct descendant of the same style icon. Wear a white driving suit with the watch, and you might just end up looking like Steve McQueen. Also seen in the photograph above is Shahrukh Khan sporting the Monaco edition watch in a Bollywood movie
*Words by Yogen Bobde