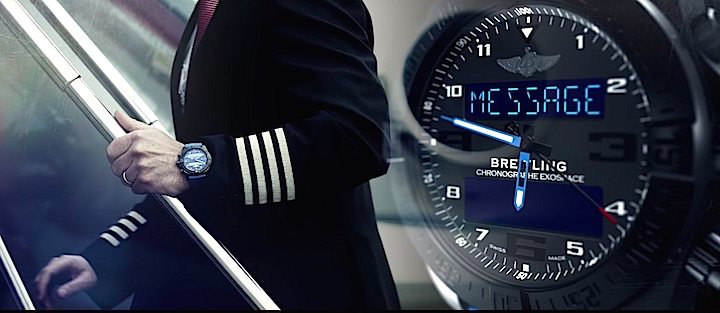 Do you remember the Breitling connected watch, B55, shown during Baselworld 2015? The Breitling Connected (smart) watch has a new sibling that is smarter, has learned from big brother's mistakes or misses and promises to give a better experience as the new generation watch. Breitling has launched the 2016 Breitling Smartwatch, Exospace B55, which the brand still prefers to call 'Connected' instead of 'Smart'. Afterall it is the phone in service of the watch and not the other way round, when it comes to Breitling. With this updated version of its smartwatch, Breitling can be counted in the league of Swiss companies that are ready to make products with the 'smart' factor and continue to grow in this sector.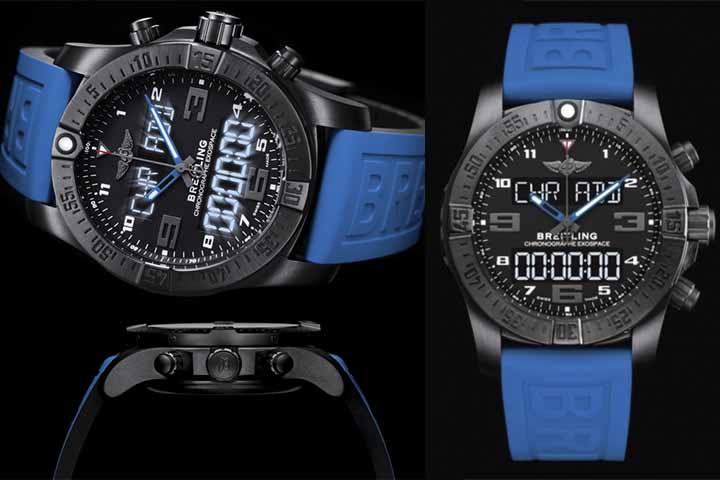 What's new in the Breitling Exospace B55? It now shows notifications from a smart-device, which the earlier versions did not! Breitling Connected B55 (2015) only connected function with the phone (particularly iPhone) was that it allowed the phone to record the users flight time, lap time data & change time, night mode, location change. What the 2016 Breitling smartwatch Exospace B55 offers in addition to these functions is what every other smartwatch offers; Notification like reminders of appointments, incoming email, sms, whatsapp or identify caller's name/no. All of these are displayed on either of the two digital screens on the watch. Don't understand why Breitling did not add these features nearly a year back, when it could have, effortlessly!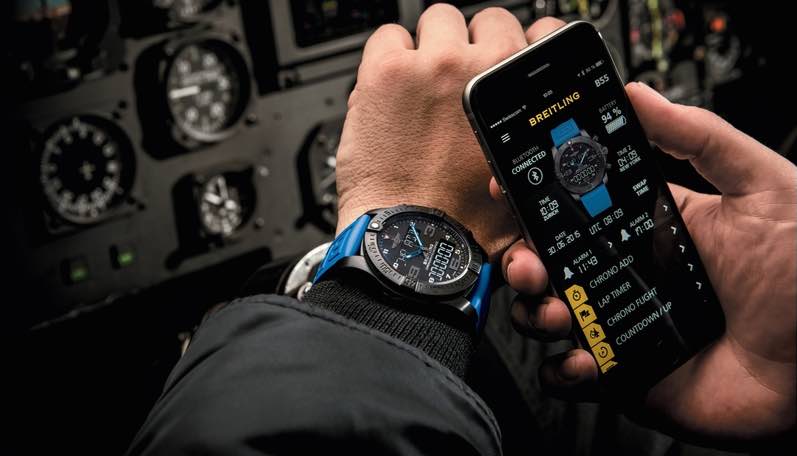 Breitling Exospace Smart-watch 2016 also has the usual set of awesome pilot watch functions like a true Breitling. It looks and feels just like the Connected B55. Full hands-on review blog here. The hands on video review is also available ..
The new 2016 Breitling smartwatch sports the same built. Titanium dial case with a twin strap made of sturdy rubber. The dial is surrounded by a rotating bezel. This compendium of innovations houses an exclusive Caliber B55 with analog and digital display, equipped with a range of original functions tailor-made for pilots. These include an electronic tachymeter, a chronograph recording up to 50 split times. A countdown/countup system that is useful in enabling a sequence of countdown and timing operations. Like older sibling, the Breitling 2016 smartwatch Exospace B55 can be controlled from its crown, the usual way. On the opposite side of the crown is a magnetic charging point. Wait, did I mention Breitling smartwatch is water resistant to 100 meters!