This year's Only Watch auction, the sixth edition of the charity event, raised more than $11 million for Duchenne Muscular Dystrophy. It is a genetic disorder which causes progressive muscle degeneration and weakness, and as many as 44 of the best watch brands participated to support the cause. Each watch brand produced one special timepiece which would go under hammer, and all the proceedings from the event would be used for the scientific and medical research of this life-threatening disorder.
Being a charity event, the bidders were, of course, all the more gracious. But a wristwatch going for more than 100 times its retail price is as shocking as it gets. Let's take a look at the Top 4 watches which were the highlights of Only Watch 2015
Patek Philippe Ref. 5016 in Steel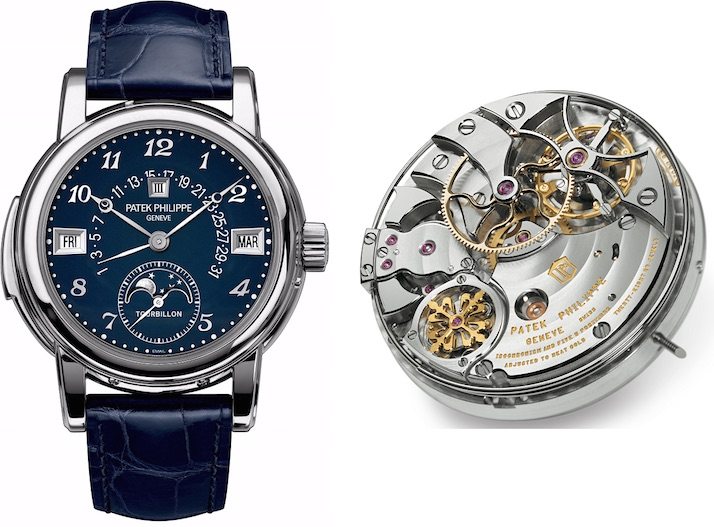 The Grand Complicated Patek Philippe Ref. 5016 in Steel has officially become the most expensive wristwatch ever sold at any auction (full article here). The beautiful blue enamel dial watch went under the hammer for a staggering 7.3Million CHF or US $7.26 Million. Interestingly, it was already predicted to surpass the previous wristwatch (Patek Philippe Ref. 1527) that held the same record at 6.3Million CHF. But to buy a watch at that price, the bidder must have a big heart for charity!
The Patek Philippe most expensive watch Ref. 5016A includes a retrograde date hand, a Perpetual Calendar, a Moonphase and to complete any grand complication, a Minute Repeater. And just when you think that this is a vintage Patek, to command such a big price remember this is the Only Watch auction so there won't be a vintage watch here! This is actually one of a kind Patek built exclusively for the Only Watch auction!
Richard Mille Tourbillon RM 27-02 Rafael Nadal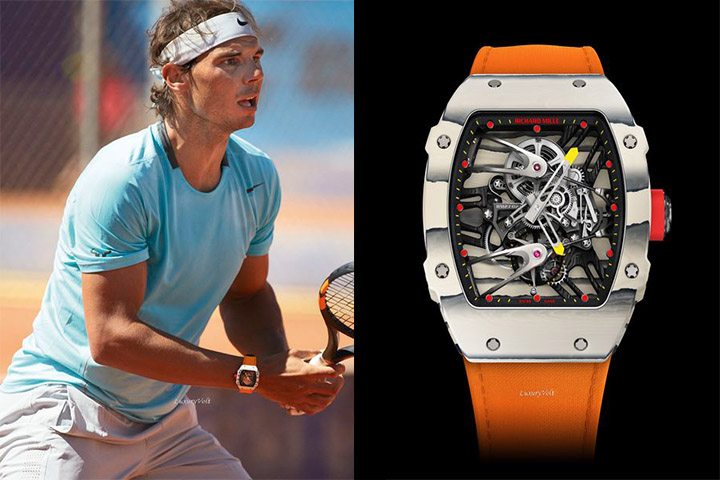 We rarely see Tennis players wearing a watch while actually playing an important match. Tennis is all about focus and concentration, and anything nudging the wrist continuously is a distraction. In a sport like tennis where the movements are very quick, jerky, often the body experiences heavy vibrations. These movements are not good for mechanical watches that are mostly delicate and built with tiny balance springs, levers and gears.
This Richard Mille Tourbillon RM 27-02 is a prototype of the watch that Rafael Nadal has worn during, games, showers and saunas and what not! Made in a carbon quartz-case, the wrist watch is extremely light-weight (the movement weighting as low as 3.35 grams). Also, a tourbillon is fragile and incorporating it in a sports watch which can bear all these shocks, is a huge achievement!
For all these reasons and for the Only Watch that this Rafael Nadal watch Richard Mille Toubillon RM 27-02 is, it was brought for US $650,000 at the auction.
F.P. Journe Tourbillon Souverain Bleu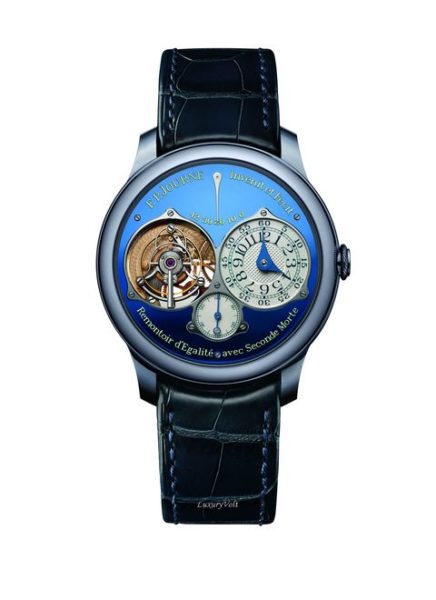 F.P Journe is one of the smaller independent watchmakers but nonetheless, one of my favourites. This was not only the first time F.P Journe had participated in Only Watch auction but also, the first time a tourbillon made entirely in a Tantalum case made it to the auction room. Tantalum is a a very rare natural material that is known for being scratch resistant.
F.P. Journe Tourbillon Souverain Bleu with retail value for US $170,000 was sealed to be sold for US$550,000 – three-times the retail price. The watch is a unique piece made in Tantalum, a metal difficult to work with, but gives a nice blue hue complimenting  the blue dial of the watch. F.P Journe watches are renowned for their movement, which are made in 18K rose gold, and this watch is no exception. The manually wound in-house movement can be seen peeping out from the cut on the dial. It showcased Journe's tourbillon featuring a constant force device and dead beat seconds.
Most expensive Tudor Watch: Tudor Heritage Black Bay One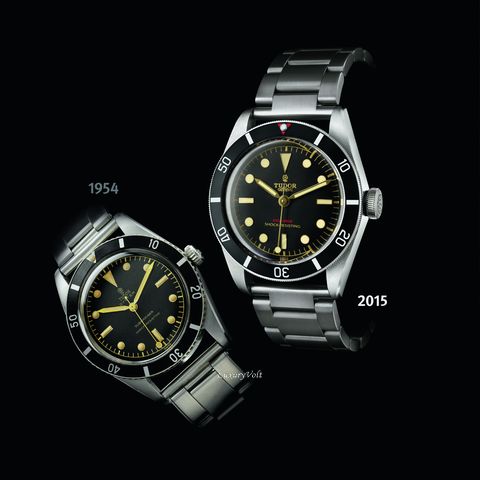 After talking about Patek's and Journe's of the world, one might question the inclusion of Tudor in this list. However, the 'Tudor Heritage Black Bay One' has proved otherwise, selling at more than 100 times its retail price. Bidding for this watch from the sister brand of Rolex was closed at the call of US $375,000!  This black watch is similar to the Tudor Heritage Black Bay Black (Ref. 79220N) released couple of months back. Except few differences like the hands, the bezel markings, dial, the watch is almost the same and it retails for around $3,000. Then what made it the Tudor Heritage Black Bay One so valuable in collector's mind?
To start with, it is the only unique piece ever made by either Rolex or Tudor (owned by Rolex). This alone can raise the price by 5 to 10 or even 20 times. Further, the aesthetic changes made to the watch, gives it broader appeal. But, a simple three-hand watch with literally no complication, going for that much of wealth is a miracle worth benefiting a good cause.
Some of the other highlights include a World Timer from Louis Vitton selling for 130,000 CHF, an Ulysse Nardin piece that plays the famous "We are the champions" going for 120,000 CHF and a skeleton-dial Vacheron Constantin fetching 140,000 CHF, all well above their estimated prices. Almost every brand raised thousands of dollars for Duchenne Muscular Dystrophy, making this auction the most successful till date!
Words by Yogen Bobde