A big leather coat is mostly first imagined to be part of the flip flapping, mysterious attire of an 80's detective. Mercifully, the sartorial love for leather is rising among men's fashion designers. Fashionisters of circa 2015 do not have to take inspiration for a stylish and warmer winter from a leather-laden detective any more. Here's our lowdown on the best leather apparel to lust this winter 2016 from the finest mens wear designers.
Leather Outfits for Winter 2016: Ada and Nik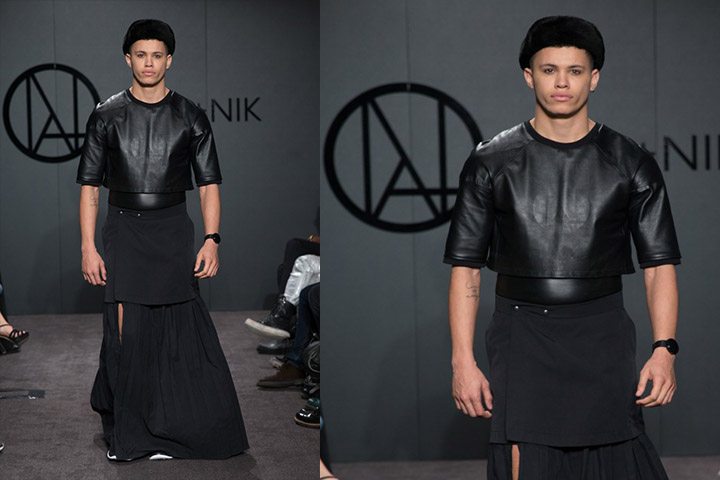 Enter Ada and Nik. Duo fashion designers made headlines by building a leather jacket. What's the big deal about making a leather jacket !? Their Leather jacket has an inbuilt camera, to capture life of a fashion forward man without conscious interaction with the gadget! This twitter friendly jacket was built earlier this year. Their autumn winter 2015-2016 collection has cuts that are even better than that piece of news! Christened 'Noir Desir', the men's collection by the London based designers is about dark matters. Leather is an apt material to dawn dark in the most glamorous way!
Ada and Nik have played well with their geometry skills to produce looks that are totally reformed. This look by Ada and Nik is a keeper for the winter wardrobe. It's like a wearable, subtle-Ninja top for the 21st century guy. A multi fabric layered leather, variable look.
Men's Leather Jacket for Winter 2016: Balmain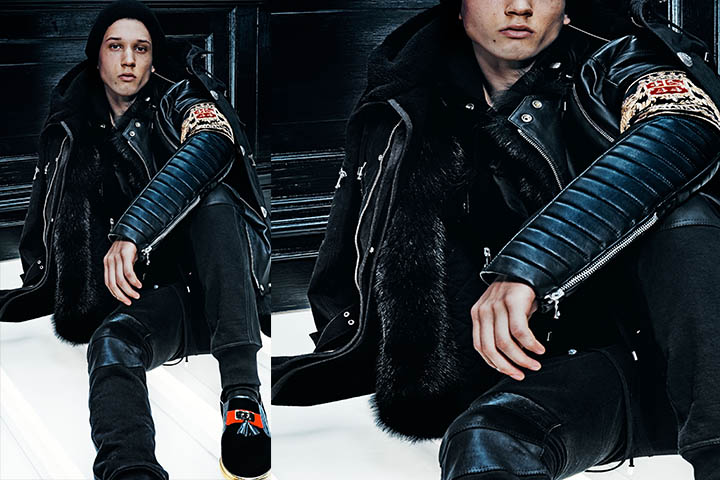 Care for a bold and brash look that's also warm on the inside? Designers of the much sort-after brand, Balmain have set a high standard for anyone who wishes to invest in men's 'haute couture'. There isn't one fashion forward male celebrity in Hollywood who wouldn't want to be seen in a Balmain outfit from the Autumn Winter 2015-2016 collection.
Our first favourite look is a leather monster. A jacket that has everything; padding and fur and zippers and an embroidered tattoo. The palette is jet black. It is a decadent leather jacket that fits perfectly in this decade and might be sturdy and cool enough to pass on to your next generation. 2015 classic? Never happened, until Balmain introduced this jacket! Olivier Rousteing the creative director of Balmain is all of 29 years! He has already dressed some of the most stylish icons in the fashion industry namely Kanye West, David Beckham, Jay Z & Jared Leto.
A slice of leather is also added to the well-fitted, narrow trousers. Balmain's leather jacket with those trousers is a sumptuous mélange of warmth and glamour.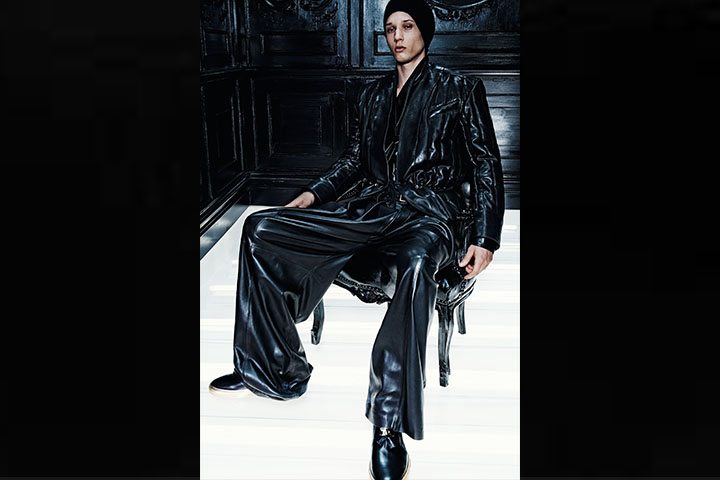 Let's shift focus to a look that can be best described as 'Fluid Leather'! One's got to have a bucket of courage to carry this one off. Imagine what a disaster this concept would be if it weren't in the very able hands of the designer team at Balmain. Leather pants are synonymous with discomfort. Remember that scene from Friends RomCom when Ross Gellar had to apply talcum powder on his legs after wearing leather pants at his girl friend's house? Everyone has seen that episode and so has Olivier's team. Leather pants can be made comfortable to wear and so proves the lustrous pair of leather trousers by Balmain. Look at that flair! Those intelligently cut pair of feisty pants make the look. Now, scratch your head and think who will it look good in them.. Somebody with long legs? Umm.. How about Darth Vedar?
Luxury Leather Jacket for Winter 2016: Maison Margiela, John Galliano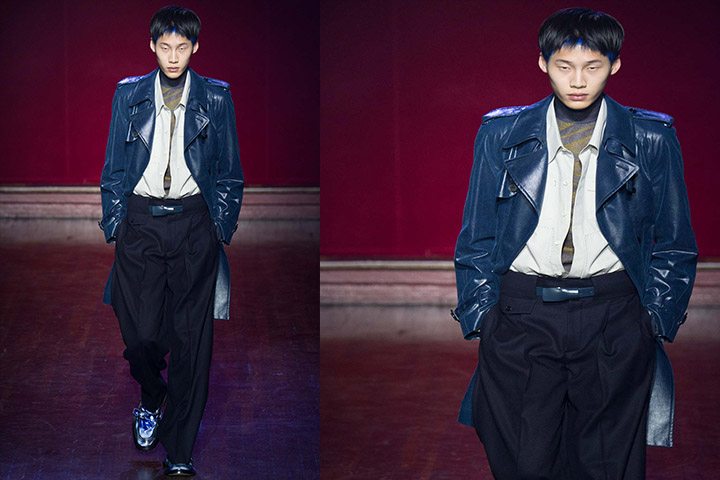 Donning a sleek blue leather coat, this model is strutting down the runway for Maison Margiela. If you are aware of the past creations by the very very popular John Galliano, you'd know what to expect from this collection. The blue leather coat has the classic trench coat aesthetics, but altered to complement the awesome young colours. Garbed in a white summer shirt and a warm printed inner, this look is so chic that it will sizzle on any metrosexual man. It's effortless, not loud at all and yet triumphant.
Luxury Leather Jacket for Men, Winter 2016: Ermenegildo Zegna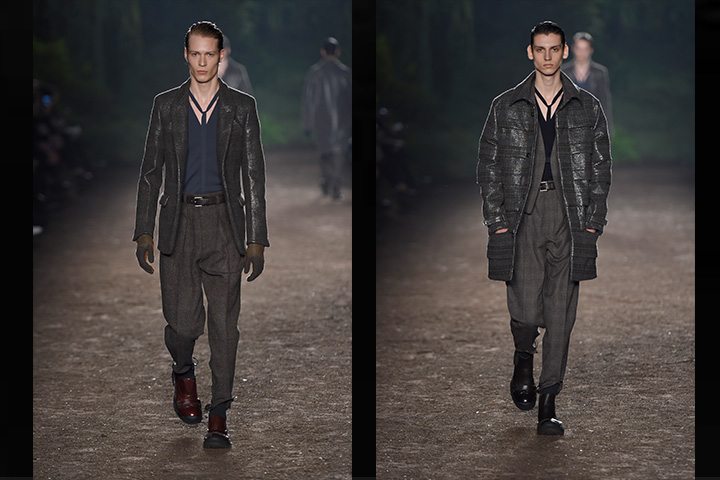 Lastly, it's the Ermenegildo Zegna Winter 2016 collection on our list. This brown blazer for men redefines the glistening splendor of leather. Guess what? It is not leather! Zegna's collection originates from a concept of 'Eco- sustainability'. The shiny leather like effect comes from a complex fabric alloy – Plastified needle punched Harris Tweed! Zegna has used recycled plastic on this single-breasted jacket. The jacket is clubbed with single pleat cavalry trousers with elastic stirrup detail at hem. Dominating colours are those that appear so often in our immediate natural environment. Whatever era this reminds you of, it's worth buying now!
 *All images by respective brands.