In the new Bond movie, Spectre, James Bond seems to be having a big party! Three Bond girls, over a dozen villains and two special Omega Watches! Usually, the special agent is expected to be content with one of each. But, well, this is 007 circa 2015 so why not load him with more glamour?
If you aspire to be as lucky, as James Bond, the only aspect of his big treasure from movie Spectre that you can actually replicate are the two Omega watches; Omega SeaMaster Aqua Terra 150M and Omega SeaMaster 300 watch. Let's first introduce you to Omega James Bond Blue Watch, the Seamaster Aqua Terra 150M. We can tell you more about it than Mr Bond or Q can !! Here's our wrist-on review and pictures of the James Bond watch…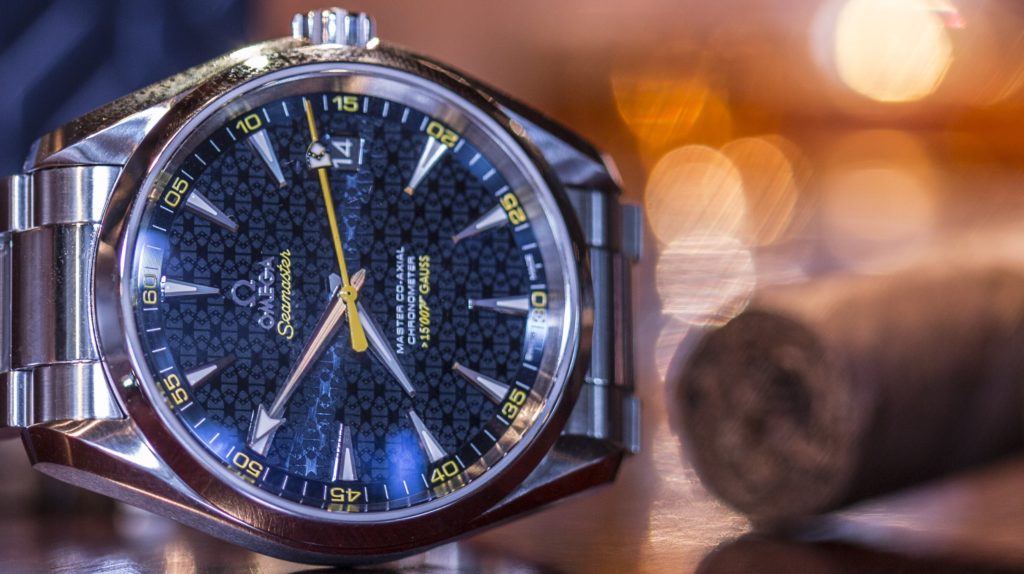 Why 'Bond' with this Watch?
Notice the unusual pattern on the blue background? Omega has imprinted a special pattern, on the watch dial to represent 'Bond family Coat of Arms'. COA is a pattern seen on victory shields. In the past, COA were used by armies, & knights to identify countries or regions. The coat of arms is also to be found near the tip of the 'yellow central seconds hand' of the James Bond Spectre Omega watch. All your friends who have watched the movie Spectre will know how special your watch is. That James Bond COA pattern is hard to miss!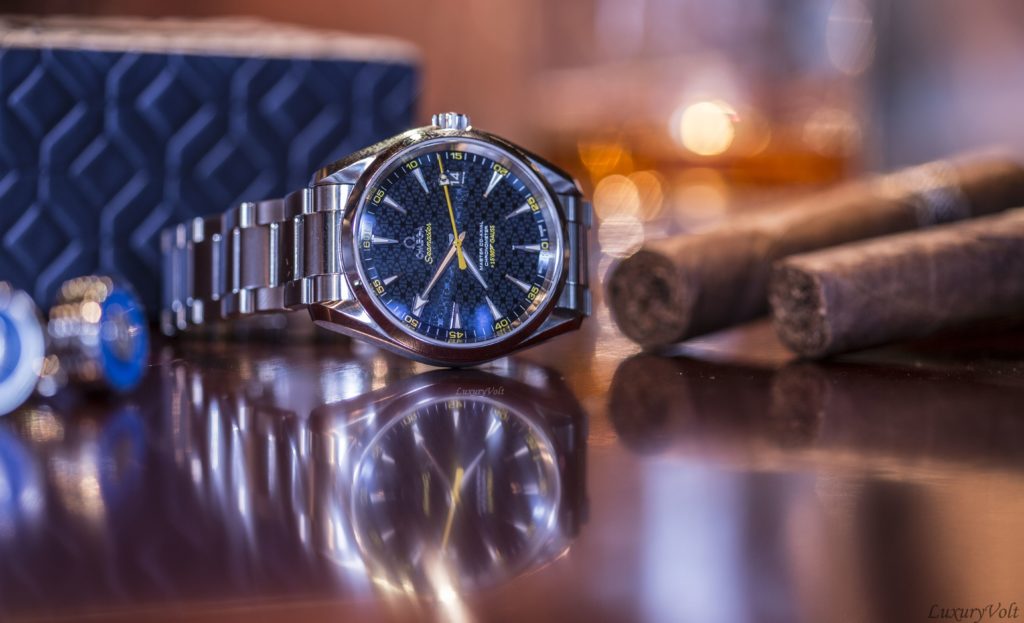 Seamaster Aqua Terra 150M is powered by the newest OMEGA Master Co-Axial calibre 8507. James Bond watch is resistant to magnetic fields greater than 15,007 gauss. Why is that important information?
Here's why…The tiny parts that make the watch machinery which help in telling time, accurately, tend to be effected by magnetic and gravitational forces. Omega's master co-axial movement is designed to withstand the effects of magnetic fields measuring over 15000 gauss, so that the time ticking on your mechanical watch is as accurate as possible! 
Omega Seamaster Aqua Terra watch runs on an automatic movement with 'James Bond' engraved on the rotor centre. This watch does not even need a battery to power it!
 James Bond Blue Omega watch is water resistant up to 150 meters. Bond can flaunt this metal on his well built body and swim with it. However, diving with it might not be the smart thing to do!
James Bond Omega Watch 2015 comes in limited edition of 15,007 pieces. Ironically, making over 15000 pieces of a watch doesn't quite make it 'limited'!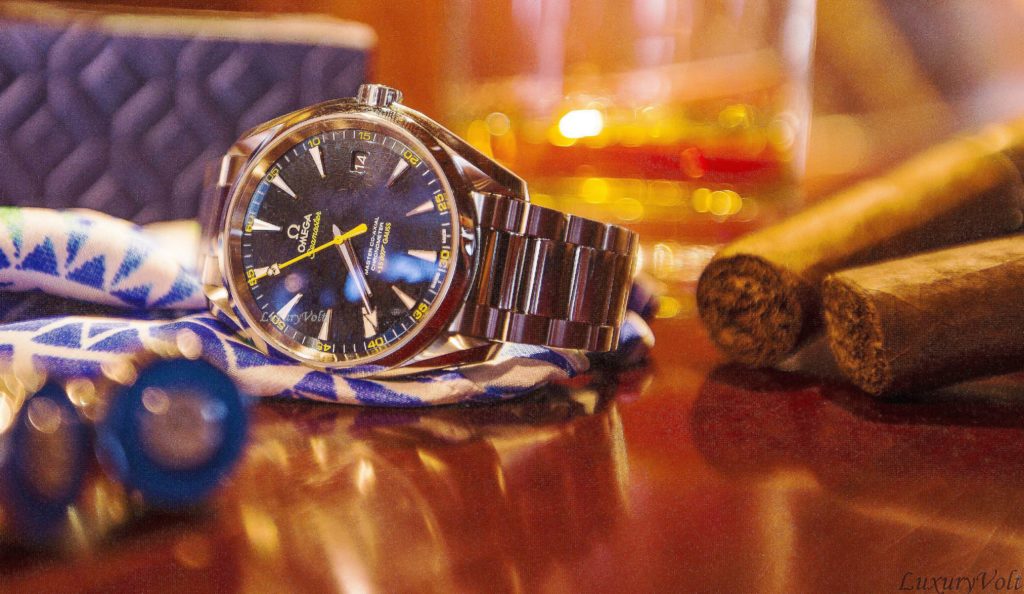 Blue dial watches with a Steel or Platinum metal are rather common. From the face of it, how is Bond Omega Blue Watch different from other blue dial watches?
For one, the dial size of this watch is perfect at 41.5 mm. With this medium dial case, aptly sized – small lugs and stainless steel link bracelet; The entire watch piece looks like it is made out of a single block of metal. There is noticeable uniformity in its design. And that makes the Omega watch, worthy of playing both as formal or casual wrist game. Omega James Bond Blue Watch will suit medium and small wrist size but might not be quite right for a large wrist.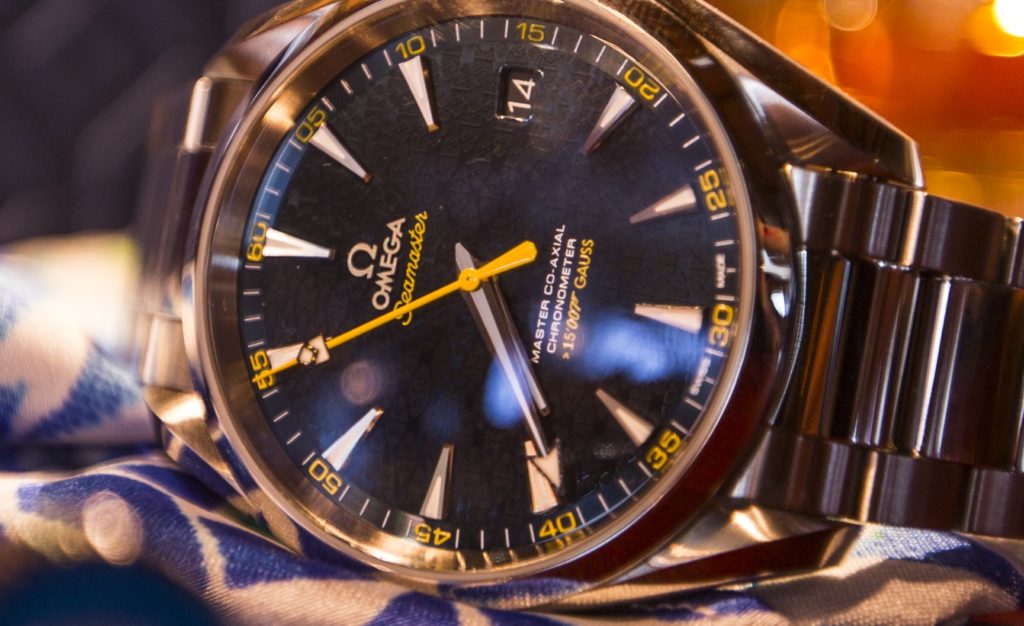 Unlike most watches for men in 2015, this one does not have any 'Ceramic' in it. I like that this watch isn't trying too hard to make a statement. It's beauty is in it's simple aesthetics. This Omega James Bond watch is one of the few watches made for the Bond franchises that represent the 007 logo, most subtly (seen near 6 O'Clock).
The Omega Seamaster Aqua Terra watch series is one of the most successful watch series from the brand. The James Bond Aqua Terra watch will stand out even among its siblings in the Aqua Terra family because of the unusual bright yellow accents, beautifully used above hour markers and on the seconds hands. Hour markers have the necessary super luminova that will shine bright in poor light.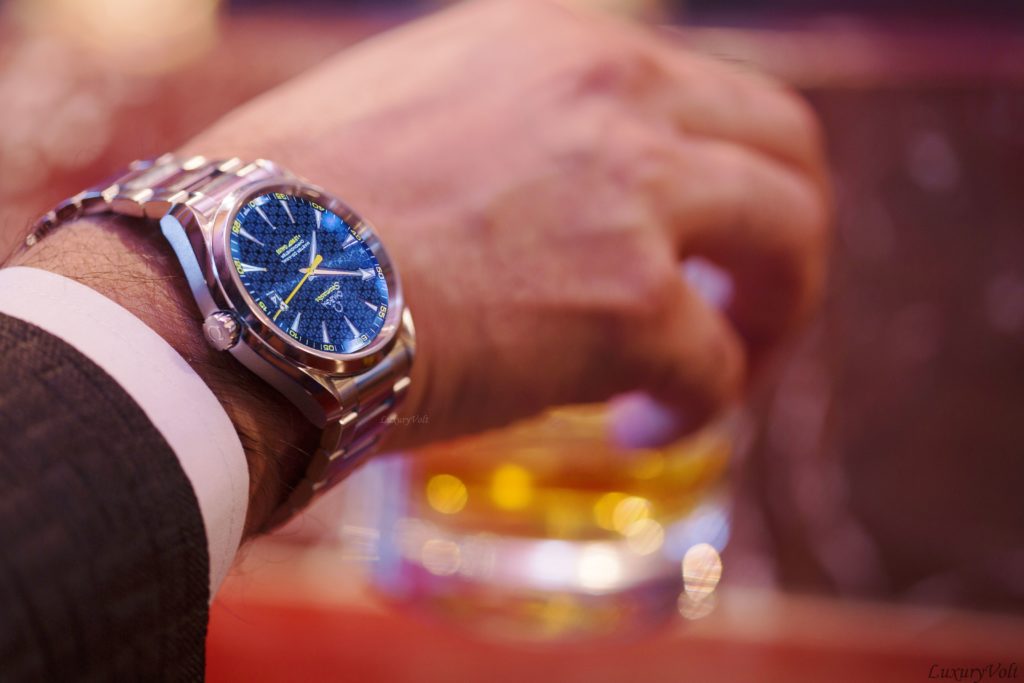 I have kept the best part about this watch to tell, at last! A limited edition James Bond watch is expected to be expensive. This Omega James Bond Blue dial watch price is 405700 INR or around 6500 USD. That is indeed well priced for an Omega watch.
Location Courtesy: The Leela Ambience Hotel, Gurgaon