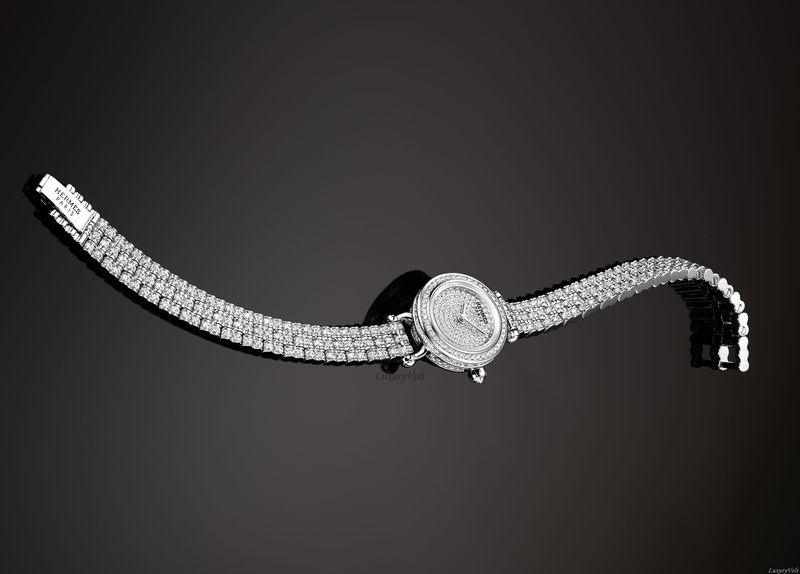 For the love of vintage! Hermes might not call this ladies diamond watch as inspired from the mid 90s, but it isn't difficult to notice the obvious. The Paris fashion brand has launched the Hermes Faubourg Joaillerie watch for this festive season. There is nothing in this Hermes watch that we haven't seen before!]. Yet, it is alluring! Why? Because sometimes in our search for something different we forget that beauty and attention can easily be achieved with simplicity.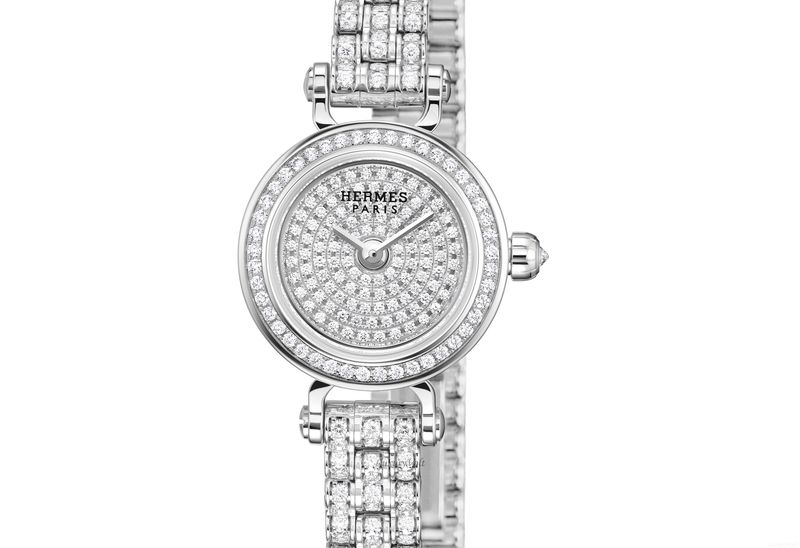 Hermes Jewellery watch has an effortless design. A round dial sprinkled with diamonds on the face and on bezel. Accompanying the diamond-studded dial, is a delicate bracelet with three rows of diamonds. There is nothing complicated here!
The Hermes Faubourg Joaillerie watch encircles the wrist with a slim gold mesh adorned with a cleverly orchestrated parade of 652 diamonds.
The face of this jewellery model slowly but surely came to life under the nimble fingers of the gem-setter. The stones first composed a beautiful pattern on the dial before melting seamlessly into the soft curves of the 16.3 mm case. To accentuate the feather- light, airy nature of this watch turned jewel, the artisan created subtle depth effects by leaving slender interlacing gold patterns free of any gem-setting. Then it was time to address the bracelet.
Working on a white gold canvas, he pursued his patient work by setting no less than 388 diamonds on bracelet with infinite precision, repeatedly readjusting them until the bracelet became a perfect extension of the watch. Hermes Ladies Watch Price is 5,135,400 INR.
MOVEMENT
Type Diameter Thickness Jewelling Functions
DIAL
Quartz, Swiss made 11.30 mm (4 7/8''') 2.5 mm
5 jewels
Hours, minutes
White gold (1.23 g)
set with 112 diamonds (0.17 ct) Rhodiumed hands
CASE
Shape/dimensions Material
Quality diamonds
Crystal
Water resistance
BRACELET
Round, 16.3 mm diameter
750 white gold (8.87 g)
set with 152 diamonds (0.53 ct) Top Wesselton V.V.S « Extra white » to « Plus extra white»
Glareproofed sapphire
3 bar
750 white gold (24.67 g)
set with 388 diamonds (1.76 ct)
Blog by Ryna Harper