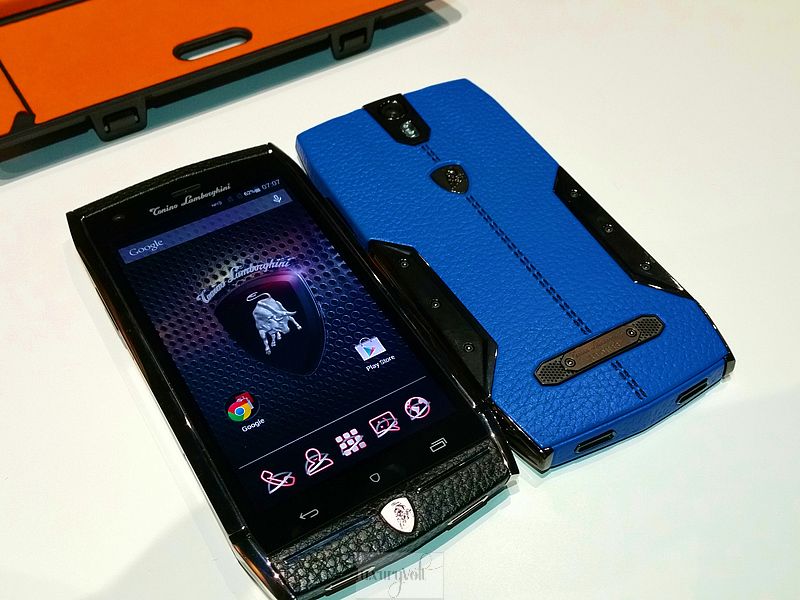 I was skeptical of Tonino Lamborghini's venture in the mobile phone market when they launched their first 'luxury phone' with an outdated Android OS, in 2013. The hardware was clunky and did not quite live upto the name of the brand. Now nearly a year and a half later Tonino Lamborghini launches its second luxury Lamborghini phone. A device that is starkly different from the first. It is well worthy of the raging bull logo and a luxury to own.
Vertu luxury phones, at last, have a worthy competitor in the luxury phone market, the Lamborghini 88 Tauri. Tauri means the star constellation that represents 'Taurus' or the 'bull'. Lamborghini design team has come a long way from their first Android luxury phone. Unlike its predecessor, the new Lamborghini luxury phone is much sleeker, smarter and sexier. Lamborghini phone 2015, 88 Tauri will set you back by 6300 USD or nearly Rupees 4 Lakh.
I took a closer look at the Lamborghini phone and spend some hands on time with it, at Baselworld 2015. Tonino Lamborghini design team has put in a lot of effort in every little aspect of its new luxury phone.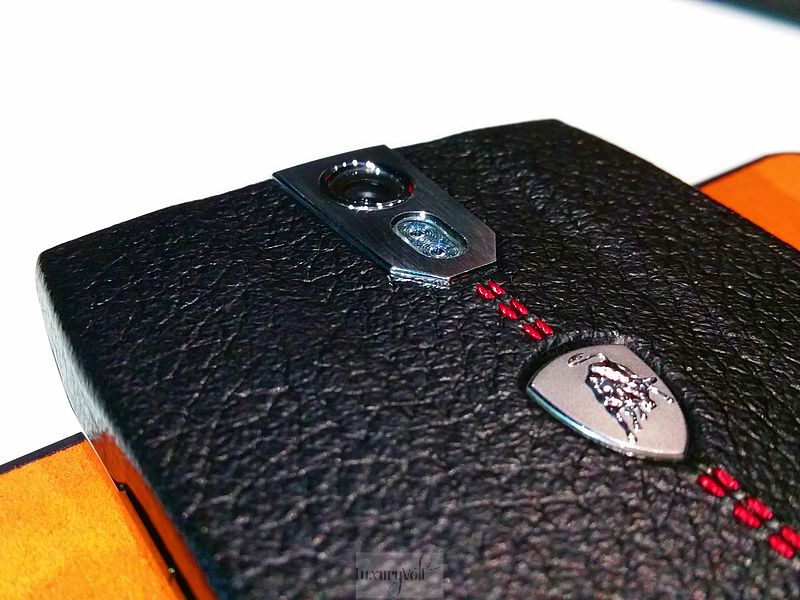 Leather is stitched and fitted across the back cover and used minimally, on the front side. Back side has a 20 MP snapper with dual LED flash. Front side has a mega 8 MP camera for better selfies.
Top side of phone has the 3.5 mm audio jack held firmly to the phone with a dressy steel band.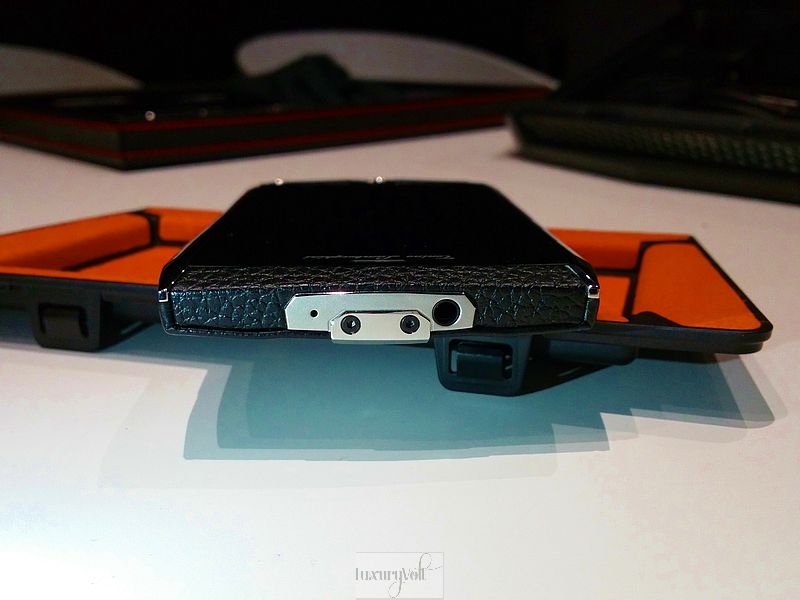 Bottom side displays a couple of speakers imitating the grills of a luxury sports car.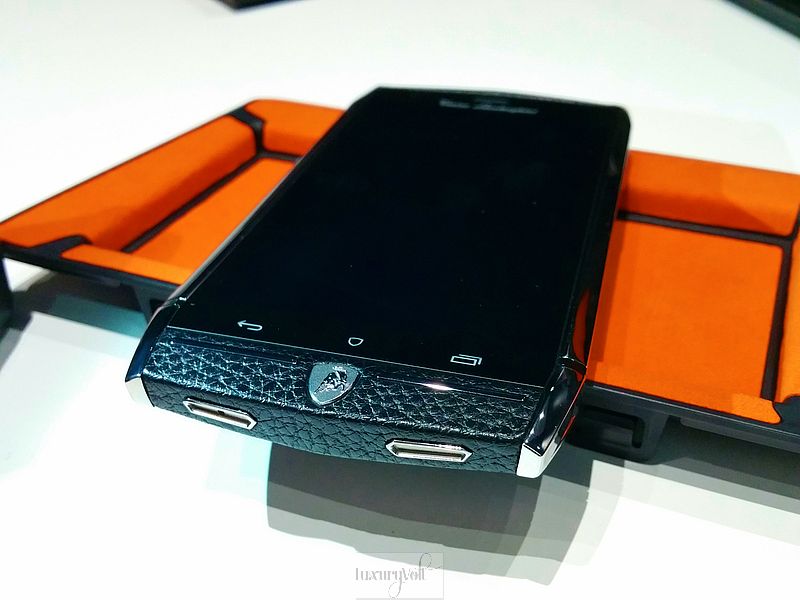 What impressed me the most was the work put in, on the side spines. Both sides have slots for either dual sims or micro SD card. Look at the doors constructed to protect the sides. The hinges do not use rubber, like most phones with locked back cases do for the side-slot-doors.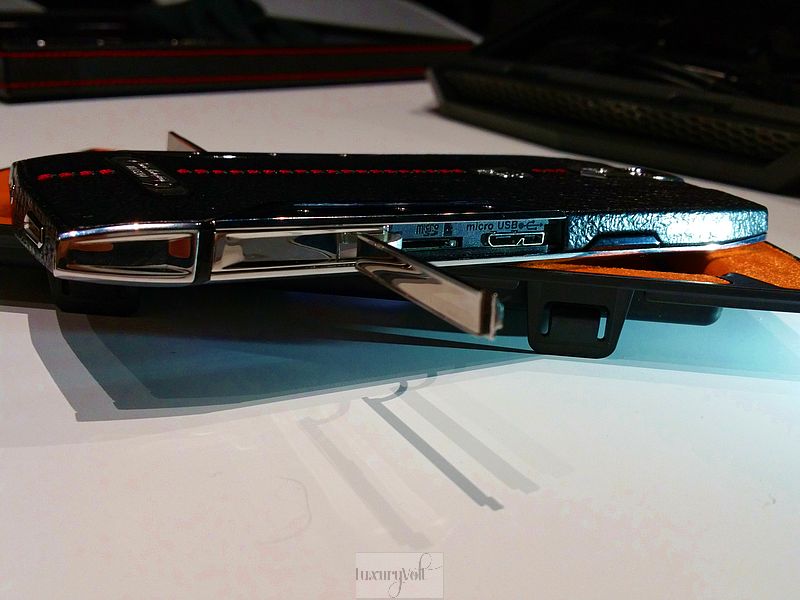 The new luxury phone 2015 feels a bit heavy but that is because of the steel casing. Perhaps the brand could try using Titanium in its next device to make it lighter.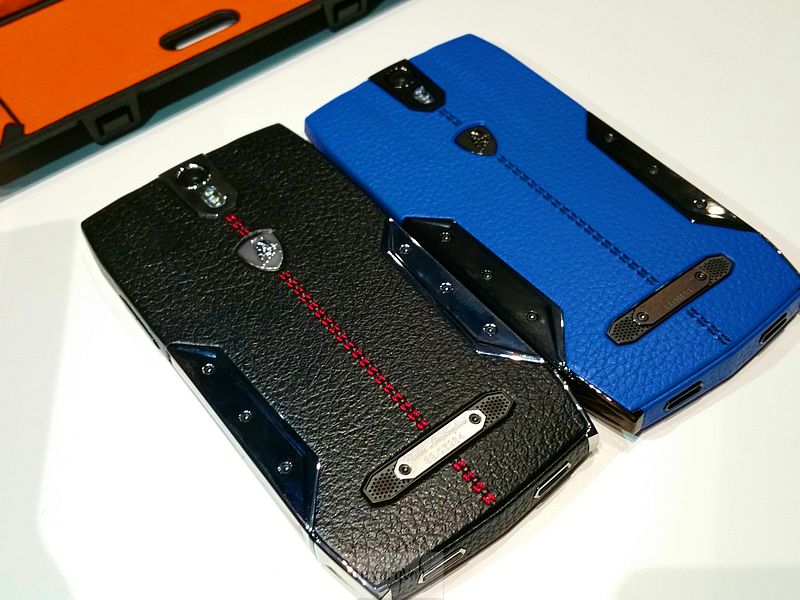 Lamborghini phone 2015, 88 Tauri comes in four colour combinations with steel or yellow gold. Blue leather Lamborghini phone, black, brown, orange & red colours are the other options. All are tagged with the same price sticker. Lamborghini phone 2015 price is 6300 USD.
Tonino Lamborghini 88 Tauri phones will be limited to about 2000 pieces, for each colour. New Lamborghini phone 2015 is already available for sale across Lamborghini's flagship stores. It is also available for sale, online.
Lamborghini luxury mobile 88 Tauri boasts of all the big spec numbers that an avant garde smartphone is expected to have.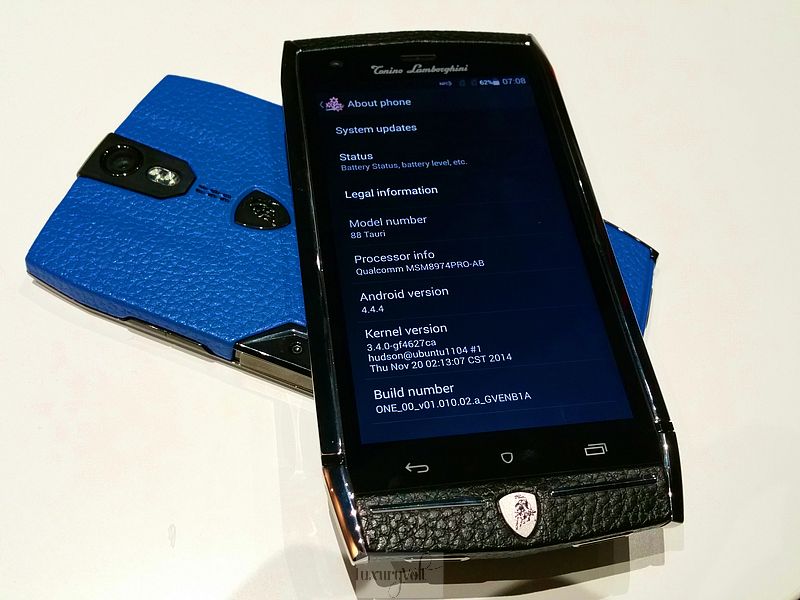 The new Lamborghini Tauri phone comes with roaring insides. Android 4.4 (update available soon), selfie camera has an 8 MP snapper. Don't worry about draining out that battery with your selfie spree as this luxury android phone has a full tank of 3400 mAh battery. This stunner of a handset runs on one of Qualcomm's best processor 801 with a quad core processor clocked to 2.3 Ghz.
Adding to a great engine of the luxury phone 2015 is the 3GB RAM. Inbuilt memory is 64GB. Enough to store a few high def. movies. But if you like to carry your entire collection around, then you can easily expand the phone's memory with external hot spot that will take upto 128 GB.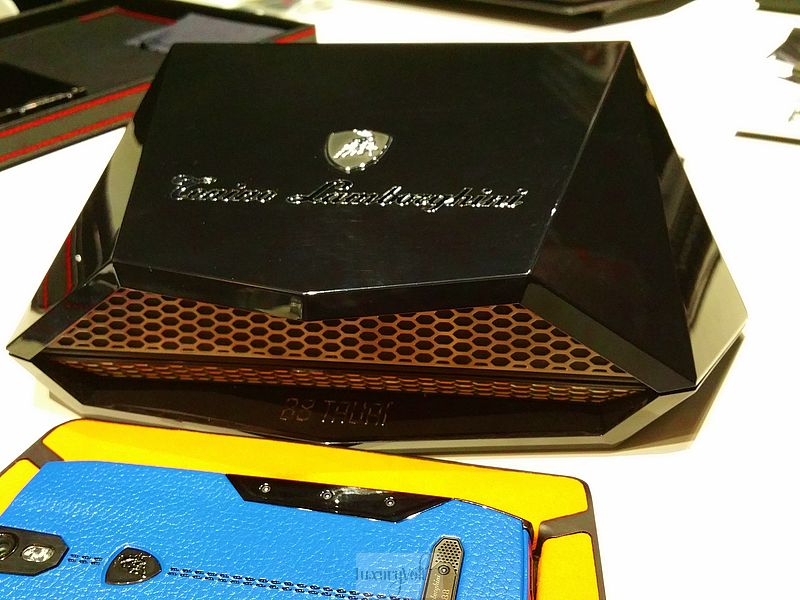 Lamborghini smartphone Tauri comes in a snazzy box that depicts the bonnet and grill of a Lambo. Inside are 3 different charging plugs and the usual fair of headphones and USB cord.
Specifications Lamborghini Phone 2015 88 Tauri
High performance: Qualcomm SnapDragon 801, 2.3 GHz, 3 GB RAM
5" Full HD Display, Gorilla Glass, Anti-finger coating
All networks connectivity – LTE
Cameras: 20 MP / 8MP
Dual active SIM
WLAN, Bluetooth 4.0, NFC
GPS, A-GPS
Onboard flash memory: 64 GB
High capacity battery: 3400 mAh
Steel casing with Leather decoration
Gold Metal and Brown Leather