Hublot hit a jackpot by becoming the official timekeeper of FIFA World Cup 2014. The swiss watch brand scored a massive audience reach that no other watch brand has, with one sponsorship. This time's football world cup broke all records as the most watched Men's sporting event final, of all times thus gathering Hublot a lot of publicity. For 2015, Hublot will target fans of the next big most popular sport in the world; Cricket. Hublot has become the official time keeper of Cricket World Cup 2015. The swiss brand, launched Hublot Cricket watch for the big event, in India, home of defending champions of Cricket World Cup.
Like the football world cup, Hublot's tie-up with Cricket world cup will not just be about branding. Hublot has taken this opportunity to produce a limited edition Classic Fusion Chrono Cricket watch.
Below in the picture is World Cup 2011 winning team player Harbhajan Singh, and Hublot's BA, sporting the King Gold Hublot Cricket Watch, for LuxuryVolt.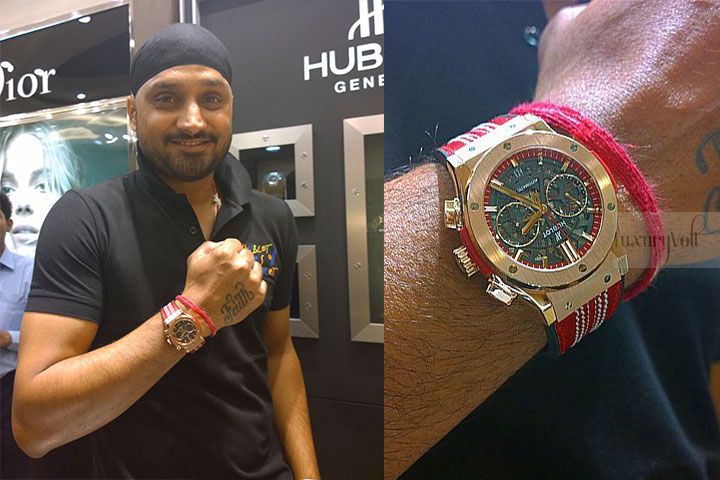 Hublot's Football world cup watch was out and out designed for the game of Football. It's exterior aesthetics exhibited the host country's flag colours. Inside the watch, Hublot integrated a chronograph, engineered, specially to track time of a football match i.e. with two half times.
But Hublot's Cricket watch is very different from the Football watch. It's a pure Classic Fusion Hublot watch where 'Cricket' dominates the design more than the watch movement. Most distinctively, the strap. Hublot Cricket Watch strap is inspired from the red cork ball, used in Cricket. White stitching on the red strap completes the Cricket watch's sporty look.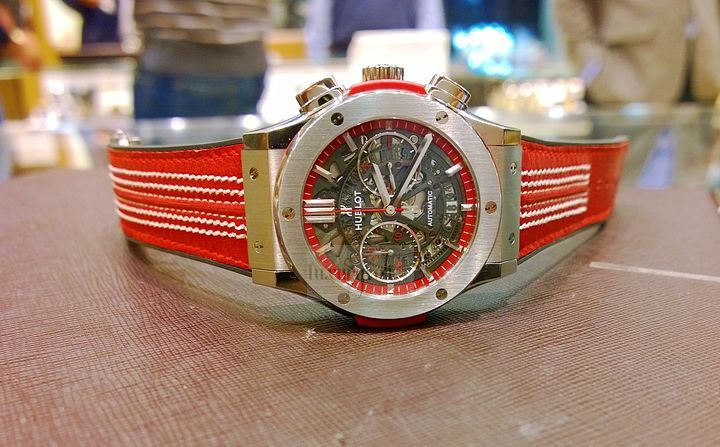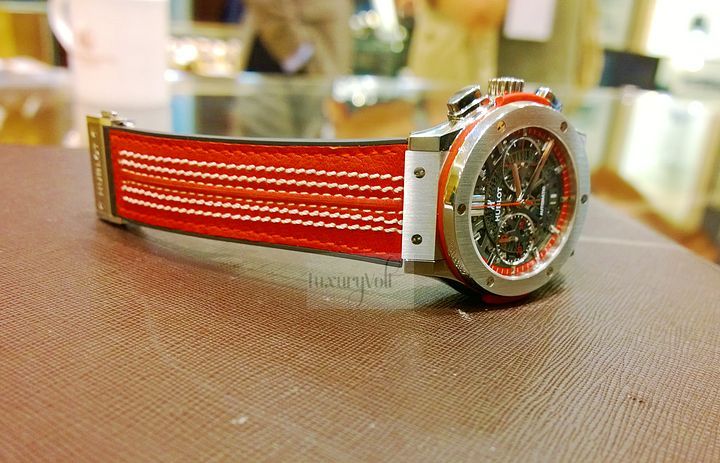 Hublot red watch bears on its dial, four distinctive signs directly referring to cricket. On the dial, you can see at 12 o'clock a triple applique in reference to the stumps which are placed on the wicket, which is the name for one of the two sets of 3 wooden poles defended on the field by the batsmen. The hands on both counters are shaped like the cricket bat, which is reminiscent of a short paddle and made from willow and rattan. The case-back bears the exclusive symbol of the ICC Cricket World Cup 2015 in transfer form on the sapphire crystal.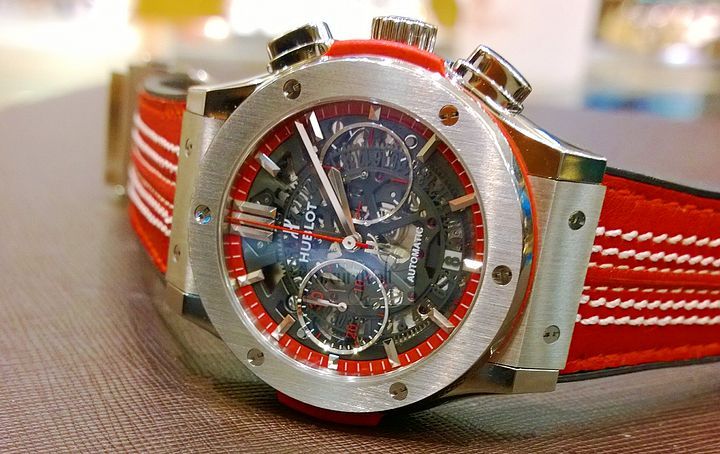 Hublot Cricket Watch is made in two metals; Classic Fusion – Diameter 45 mm in King Gold or Titanium. Price of Hublot Cricket Watch in Titanium is 18'300 USD or 14'100 EUR. Price of Hublot gold Cricket watch is 40'100 USD 30'900 EUR.
There already are many Cricket lovers, waiting to buy this watch. But remember,  you need not be a cricket fan to fall in love with the triple saddle white stitching on strap! Hublot Cricket watch will be available for purchase starting mid of February 2015, closer to the opening date of Cricket World Cup.
The ICC Cricket WC will be jointly hosted by Australia and New Zealand.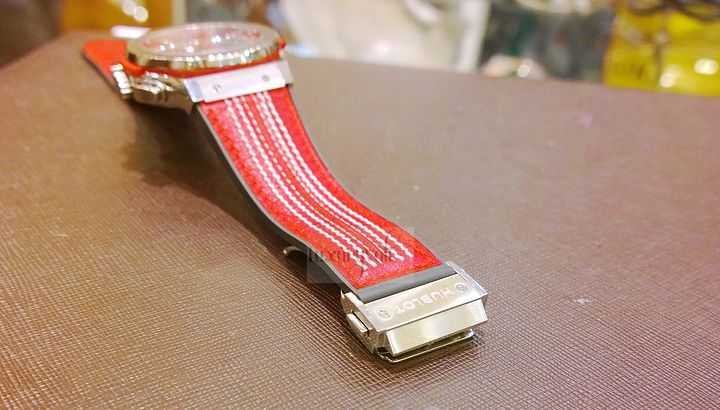 Specifications for Hublot Cricket World Cup Wrist Watch
References 525.OX.0139.VR.WCC15 (King Gold version of 100 numbered pieces) 525.NX.0139.VR.WCC15 (Titanium version of 250 numbered pieces)
Case Classic Fusion – Diameter 45 mm in King Gold or Titanium
Bezel King Gold or Titanium with 6 H-shaped titanium screws, polished & locked Crystal Sapphire with interior/exterior anti-reflective coating
Crown King Gold or Titanium with Hublot logo
Push-pieces King Gold or Titanium
Case-back King Gold or Titanium, sapphire crystal with interior anti-reflective coating
Exclusive symbol of the ICC Cricket World Cup 2015 in transfer form Dial Sapphire with faceted, polished ruthenium indexes
Triple applique at 12 o'clock in reference to the wicket
Hands Faceted, polished ruthenium, hands on both counters shaped like cricket bats.
Movement: HUB 1155 Hublot Aero mechanical self-winding chronograph White date disc at 6 o'clock
Components: 207 (60 jewels)
Power reserve: Approximately 42 hours
Water resistance: 10 A TM, i.e. approx 100 metres
Strap: Red calfskin stitched onto black rubber, with triple saddle stitching in reference to a cricket ball. Supplied with a 2nd white calfskin strap.
Clasp: King Gold or steel deployant buckle
Hublot will be launching its new Ferrari watch in 2015. Know more about it from my interview with Ricardo Guadalupe, CEO, Hublot.
*Images: Shilpa Dhamija