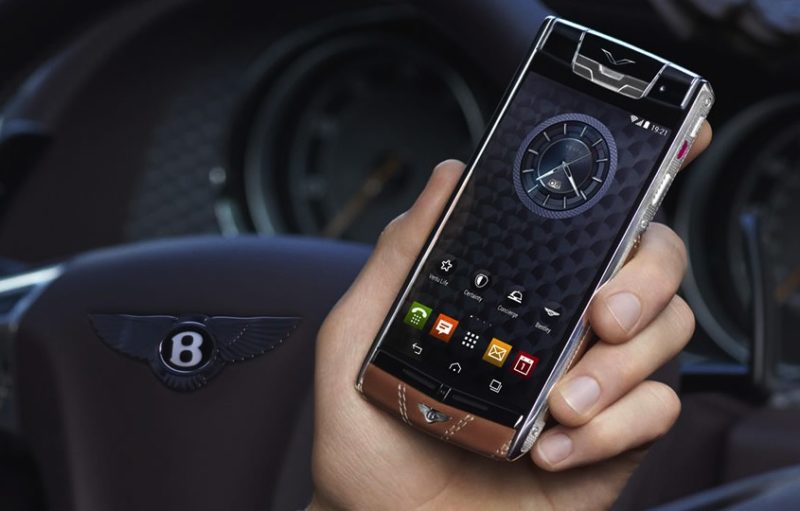 Vertu Bentley phone is finally here! Vertu has launched nearly 4 new devices in one year. That's a first. Vertu Bentley mobile phone, too is powered by Android OS. The latest Android OS is now Lollipop but Vertu Bentley comes with the Android 4.4 Kitkat version. Vertu Bentley phone price is €12,500 or USD 15864. Vertu Bentely phone price in India is INR 970000 approximately.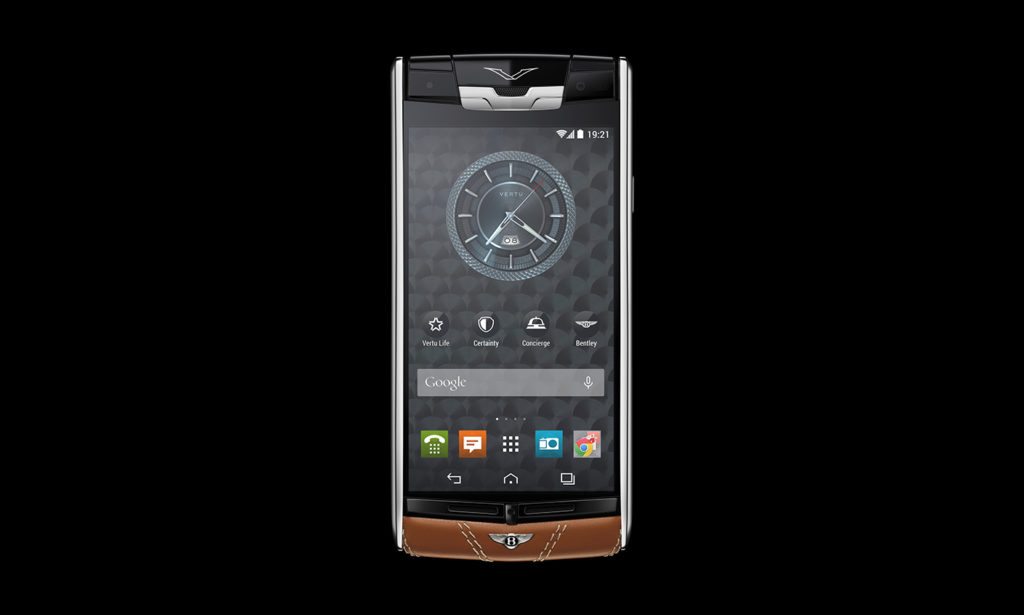 Out of all the devices launched by Vertu in 2014, Vertu Bentley mobile phone is by far the most unique and luxurious. Like all other android luxury phone launched by Vertu in 2014, Vertu bentley phone, too is powered by a qualcomm processor. It is easy to notice that Vertu Aster, Vertu Signature Touch  & x have nearly identical technical specifications like processor, battery life and software.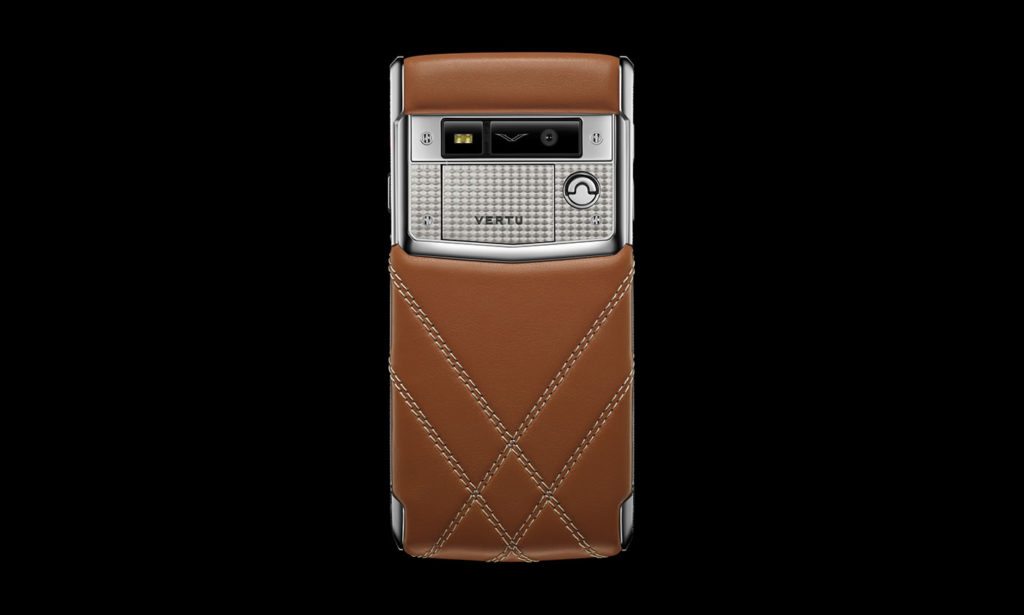 Vertu Bentley phone will be available in most Vertu stores from October 2014. This device has been made in collaboration with designers from Bentley. The 'Vertu for Bentley' smartphone is swathed in quilted calf leather, in the classic Bentley shade of Newmarket Tan, and stitched with a diamond pattern.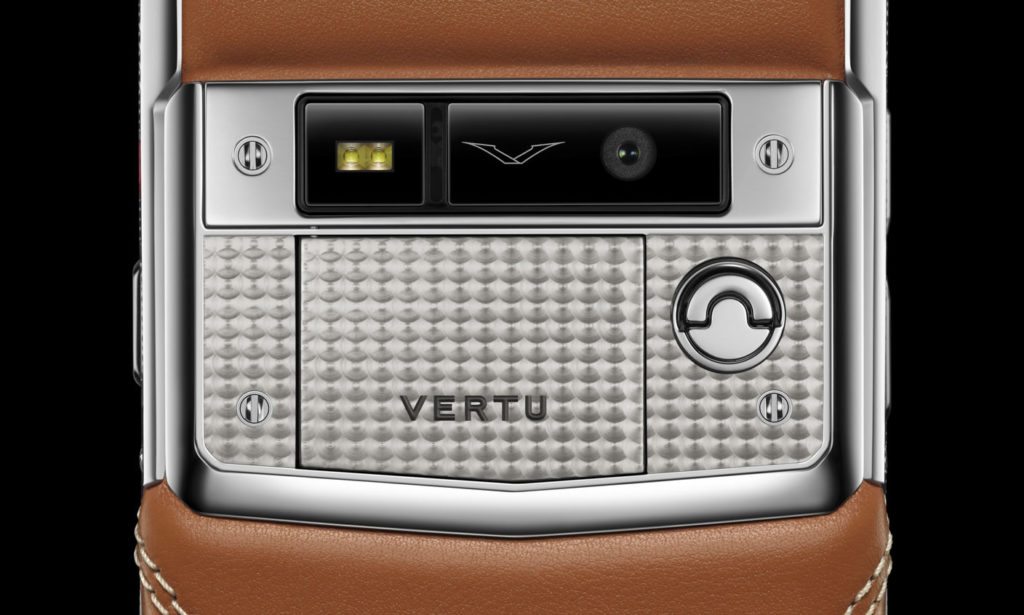 Phone body is made entirely in Titanium metal, like other Vertu devices. This detailing in Vertu Bentley phone design on the side rails is complemented by an engine-turned pattern on the handset's titanium back plate, which opens to reveal the engraved signature of the craftsman who meticulously constructed the phone, from start to finish, at Vertu's headquarters in Church Crookham, England.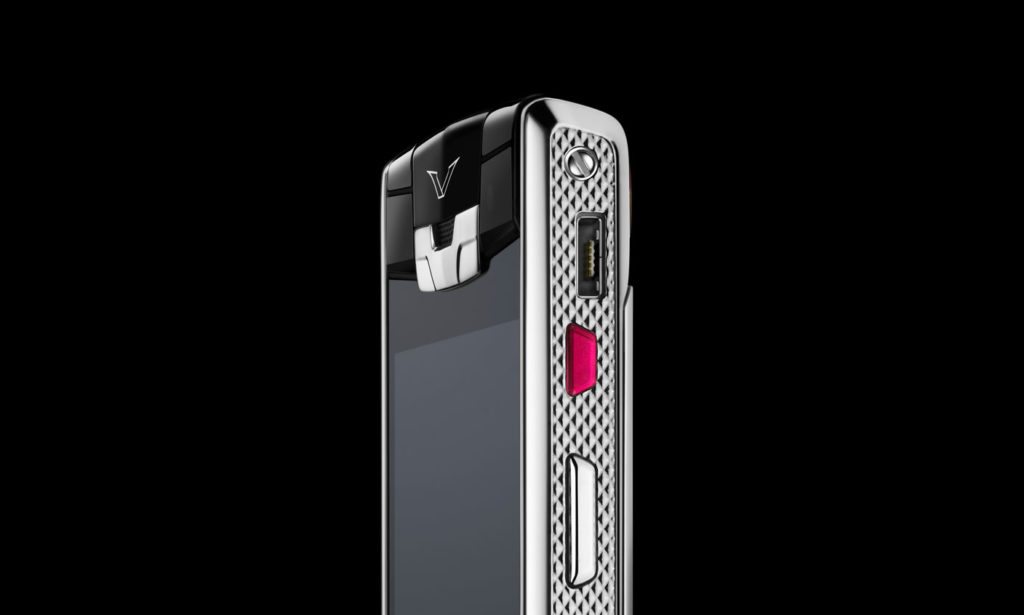 Vertu Bentley phone has the same Boldy digital virtual sound inbuilt. Back side has a 13 Mp Hassleblad camera which hasn't served very good pictures in Vertu's earlier luxury phones. Same ruby key on the side takes user straight to Vertu special concierge services.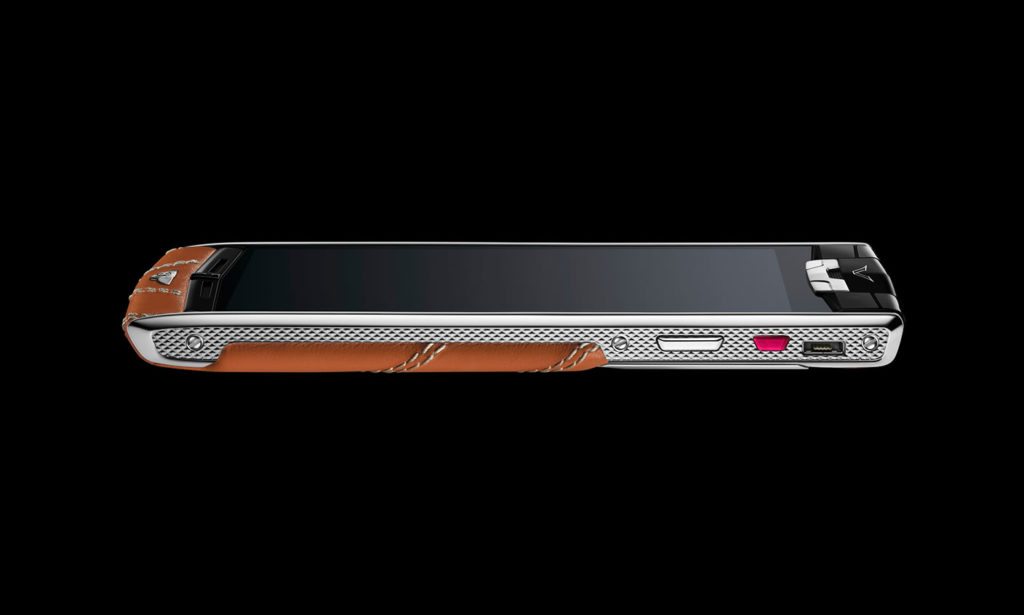 This is the first of the four luxury phones that Vertu with Bentley has promised to deliver through their exciting tie-up. Vertu Bentley phones first edition is limited to 2000 pieces only. Vertu Bentley Phone price USD 15864. Vertu Bentely phone price in India is INR 970000 approximately.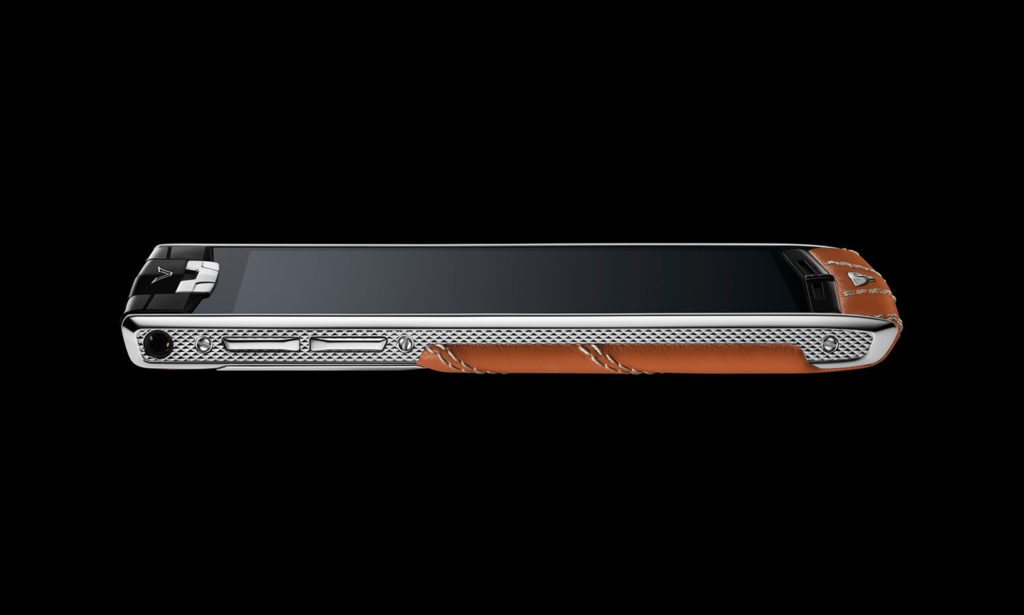 Vertu Bentley phone has a special Vertu for Bentley application. This app provides customers with access to official Bentley articles, exclusive experiences, recommended routes and dealer information, as well as a shortcut to the Touch Screen Remote features for Bentley Flying Spur drivers. Exclusive Bentley experiences and the latest Bentley content for owners and enthusiasts, plus Bentley dealer and service centres is also offered. In addition, the 'Vertu for Bentley' smartphone will feature custom start-up animation, 3D clock, 3D wallpaper and Bentley wallpapers.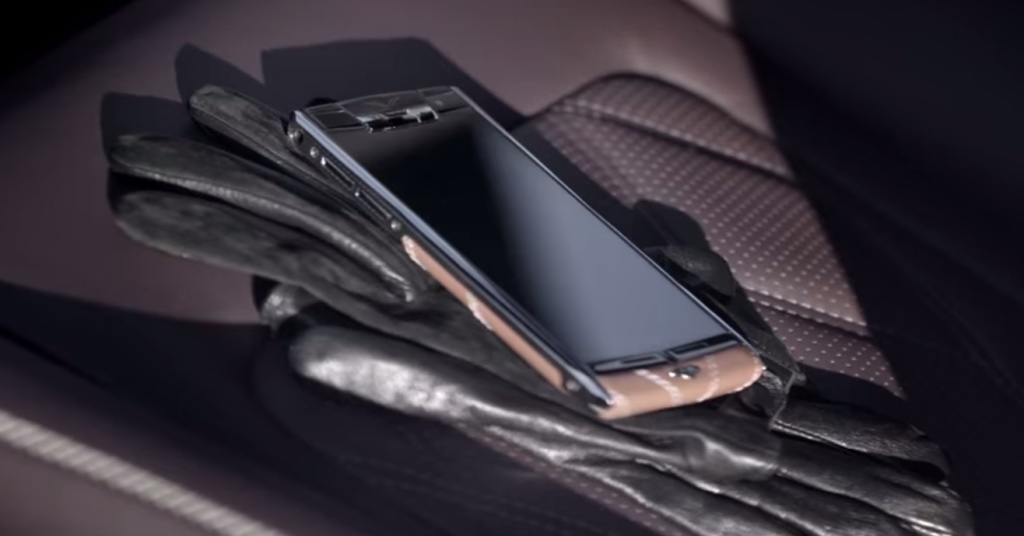 VERTU BENTLEY PHONE SPECIFICATIONS 
PHYSICAL SPECIFICATION
Length: 145mm, Width: 69mm, Depth: 10.65mm
Weight: 192g
 SERVICES
Vertu LIFE. Vertu CERTAINTY. Vertu Concierge, Exclusive Bentley Content available on-device
OPERATING SYSTEM
Android 4.4 (KitKat)
HARDWARE CHARACTERISTICS
Qualcomm Snapdragon 801 2.3GHz Quad-core processor
4.7" 1080p, brilliant, high contrast display at 473dpi, protected by sapphire crystal
13 MP main camera with autofocus and twin LED flash
2.1MP Skype compliant front camera
64GB of internal memory
Stereo High-fidelity 11mm x 15mm loudspeakers with Dolby® Digital Plus surround sound decoding support
A-GPS + Compass
Gyro and accelerometer for orientation and game play
Qi Compatible Wireless Charging
Battery:Internal 2275mAh Li-ion
Talk time: Up to 15 hrs 30 mins (WCDMA)
Stand-by: Up to 380 hrs
 CONNECTIVITY
Quadband GSM 850/900/1800/1900 MHz
WCDMA Bands I, II, IV, V, VIII
DC-HSPA+ Release 8, Cat24, 42Mb/s Downlink, Cat6 5.76Mb/s Uplink
LTE Bands 1-5,7,8,17,20 & 25
LTE FDD Cat4,150Mb/s Downlink, 50Mb/s Uplink
Dual-band WLAN 802.11 a,b,g,n,ac inc. WAPI for PRC
MicroAB USB system connector with USB On-The-Go support
3.5mm audio socket
Bluetooth v4.0 + LE
CSR aptX high quality encoded audio support
NFC including support for embedded and SIM based secure elements
WiFi hotspot (tethering & portable hotspot)
APPLICATIONS
Vertu applications, including Life, Certainty, Recommended apps & Remote assist
Google Mobile services, including Google Play, Gmail, Google Chrome, Google+, Google Maps, Google Drive cloud storage, YouTube and other services.
Calculator, Calendar, Camera, Clock, Downloads, Email, Gallery, Messaging, Movie Studio, Music, People, Phone, Settings
Selected Baidu mobile applications and AutoNavi Maps
USER INTERFACE DISPLAY LANGUAGES
Arabic, Bahasa Indonesia, Czech, English (GB), English (US), French, German, Italian, Japanese, Korean, Portuguese, Russian, Simplified Chinese, Spanish (ES), Spanish (US), Thai, Traditional Chinese (Twn), Turkish, Ukrainian, Vietnamese
WITH THE PHONE
Vertu for Bentley phone
Vertu for Bentley slip case
Wired stereo headset with remote
Wall charger with regional plug heads
microUSB cable 1200 mm
Polishing cloth
NanoSIM card adapter
Collateral pack, including Quick Start Guide, Warranty Booklet and Authenticity Card