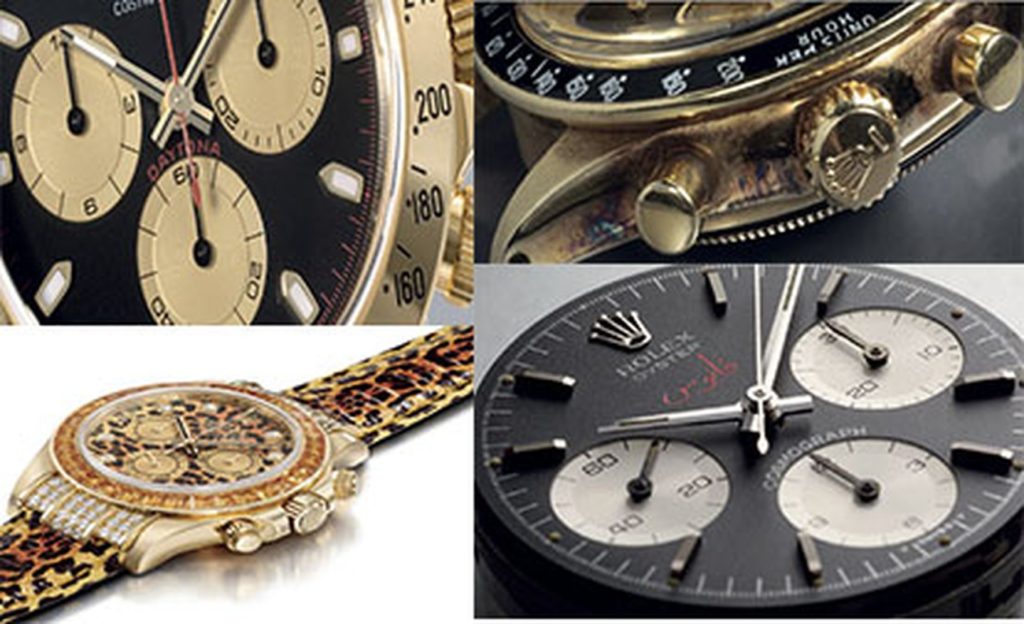 An auction for every Rolex fan. 50 of the most sort-after Rolex Daytona watches from 1960s to the current century, went under the hammer at Christie's Geneva, on November 10. Timepieces including the Paul Newman series and Leopard print dials, this is the auction to bid in and win a wishful piece of horology history. The auction sold all of the watches and collected about Nine million euros or 13 million dollars – $13,248,167,  €9,866,937
LuxuryVolt ticks 10 most admirable pieces from the Rolex Daytona collection, on the occasion of its Golden jubilee.
Stainless Steel Chronograph with Paul Newman Dial, Ref 6239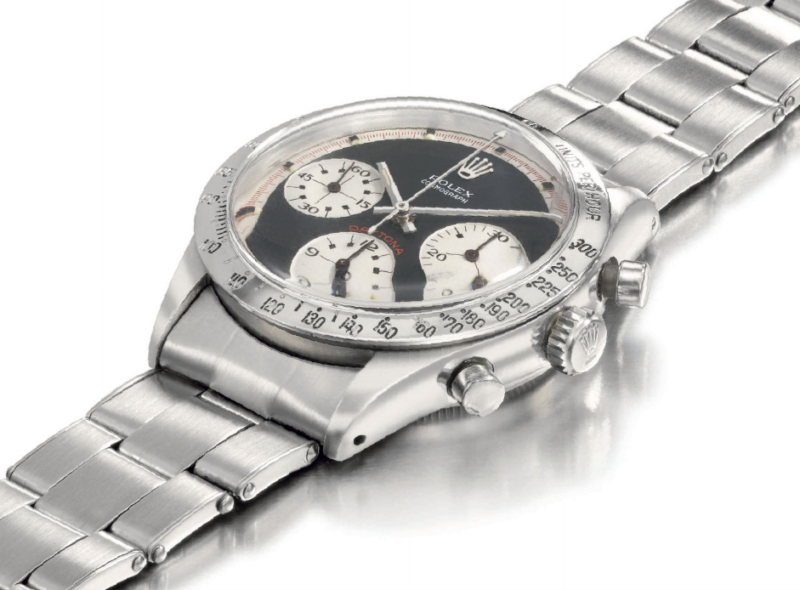 Astronaut R Walter Cunningham originally owned this watch. He is said to have worn it while in space, travelling on Apollo VII. This Paul Newman dial watch was built in 1966. It has Oyster bracelet case and dial. Luminous markers on the watch look hardly fainted despite the watch being almost half a decade old. It is one of the early versions of a Paul Newman Dial. SOLD for astonishing figure, $ 269,819.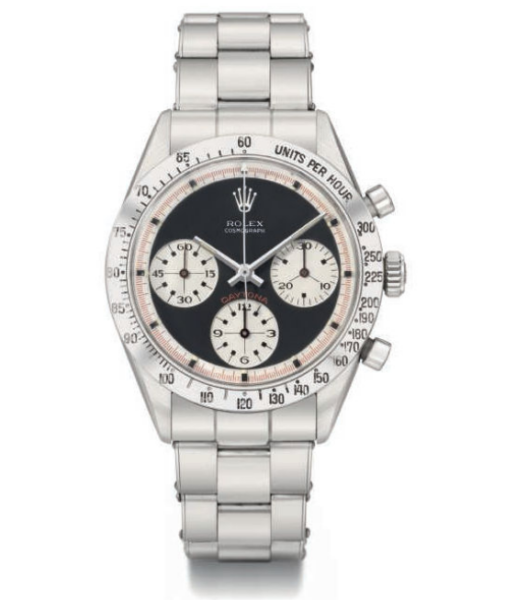 Vintage look – Black dial, white pointers, outer red fifth's and three engine turned white dials reflect a pure 60's aura on the 36.5 mm dial.
The Paul Newman series holds a special place in Rolex's history. Newman dial is named after popular Hollywood actor & professional racer Paul Newman. He is said to have owned 5 of the most unique Rolex watches and was an avid admirer of Rolex horology. This dial's tridimensional depth is uncommon. The subsidiary registers and the chronographic seconds track are both indented .
Price: €64,000 – €130,000 SOLD for astonishing figure, $ 269,819.
A Royal Daytona Stainless Steel Chronograph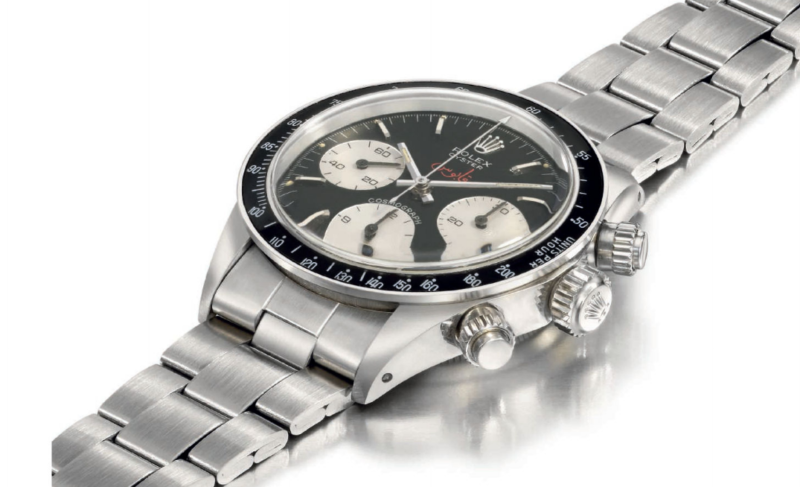 Originally manufactured in 1974 for the Sultan of Oman, this Rolex Daytona bears the signature of Quabaas Al Said Bin Said. Graphics of the Daytona were moved to make space for the Sultan's signature placed in the middle of the black dial. Hands are made luminous, 30 minutes and 12 hours registers in a water resistant type case.  Cal.727 mechanical lever movement powers this cosmography. SOLD FOR $ 864,521, under the hammer, at Christie's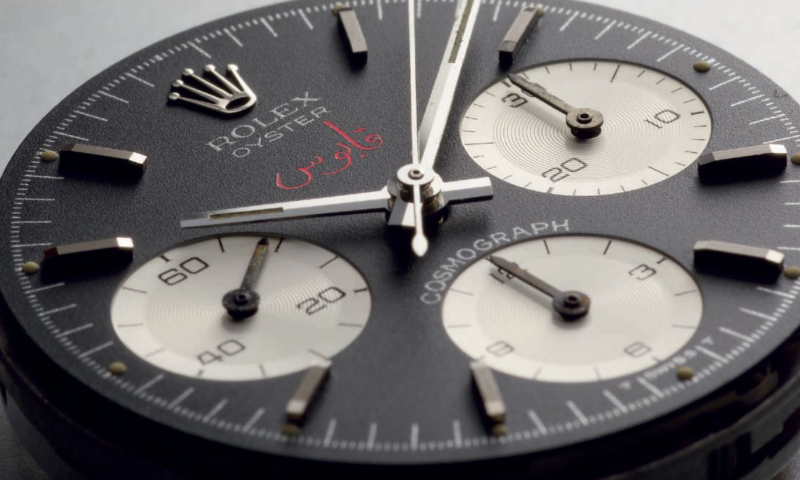 The sultan studied in India under the guidance of former President Dhayal Sharma.
This exquisite Oyster Cosmograph has a custom made box for the royal customer of Rolex. Green in colour and adorned with the Oman emblem – two swards and a 'Khanjar'. The Sultan probably made this watch to gift to a high-ranking officer in his team. What a win it would be at an expected auction price of €240,000 – 480,000
Automatic Chronograph with Leopard Print Dial.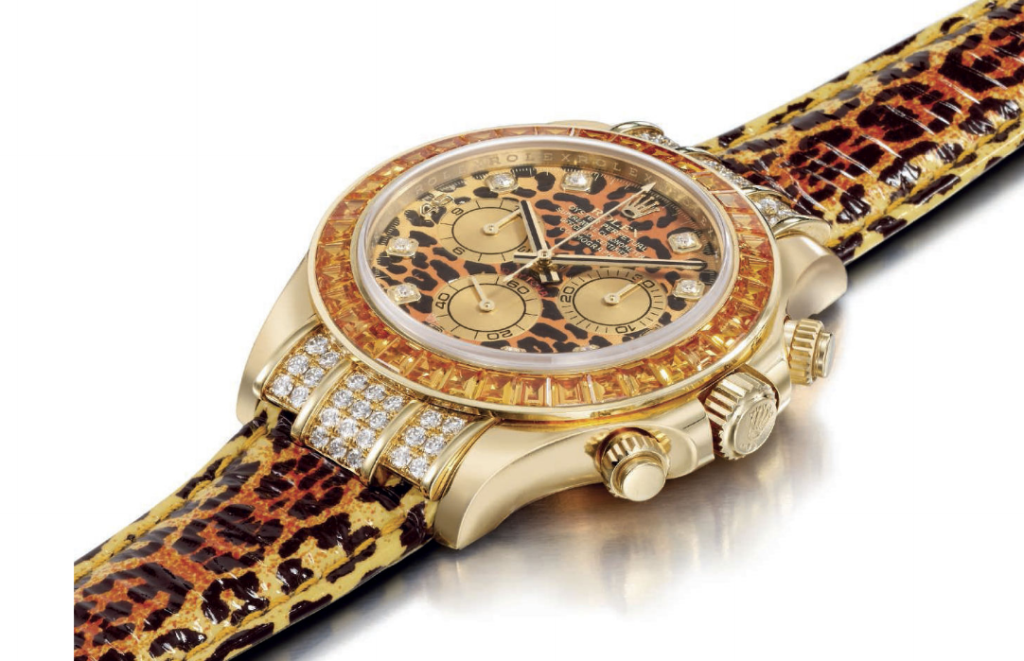 A shockingly flamboyant chronograph built not too long back, in 2005, has 44 jewels embedded in it. Set on a rather unusual choice for a Rolex dial – Leopard print is given two shades and bejewelled with 36 yellow sapphires on the bezel. 8 diamonds represent hours. The deployment clasp and dial case are made in 18K gold! Straps continue the shaded Leopard print on a leather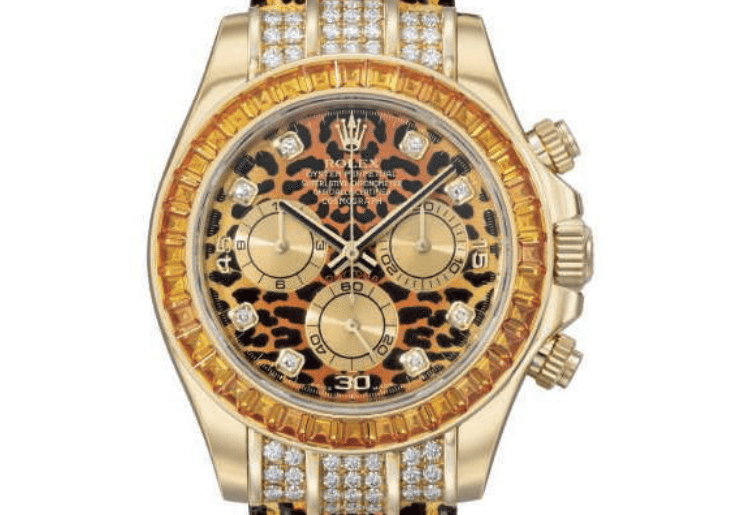 This piece of jewellery is powered by Cal 4130 automatic movement. Its an oyster, perpetual calendar Cosmograph Daytona. A fancy attraction like this could fetch between US$22,000- 42,000. Crossing expectations, Rolex Daytona automatic chronograph in Leopard print sold for whopping $82,598.
Eric Clapton's Rolex Daytona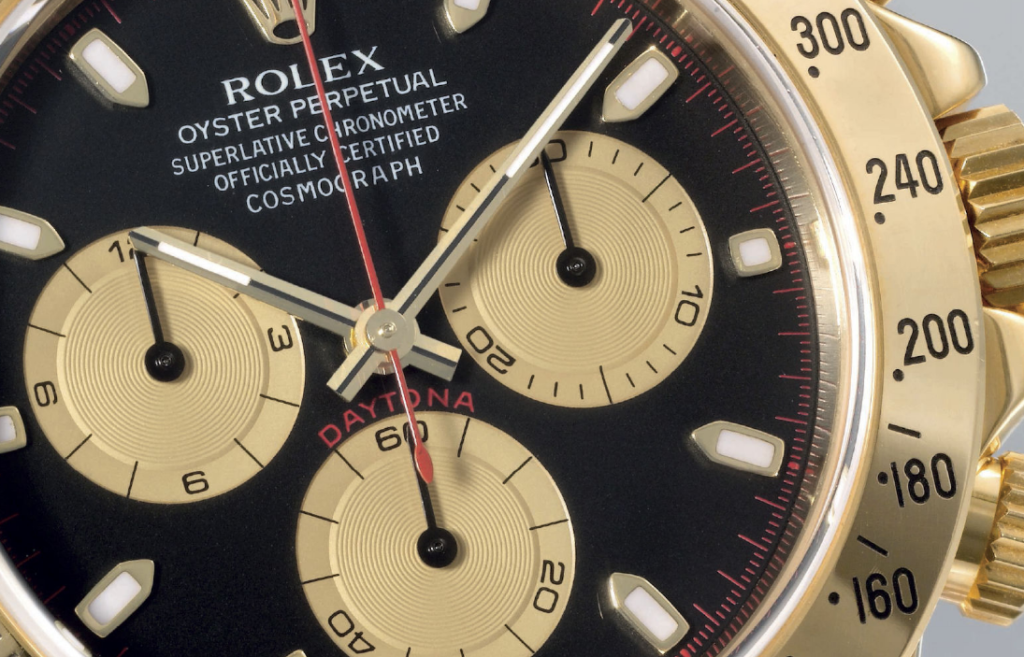 Expected to command between US$13-19,000 or €9600 – 14,000, the 18K Gold oyster bracelet watch originally belonged to rock star Eric Clapton. Manufactured in 2002, this watch was purchased by Eric in 2003. A contrasting black dial with the gold case is powered by an automatic movement. The 40 mm dial has luminous baton numerals, three champagne dials for seconds,30 minute and 12 hours registers. Red seconds divisions are a perfect combination with the gold and black dial & bezel.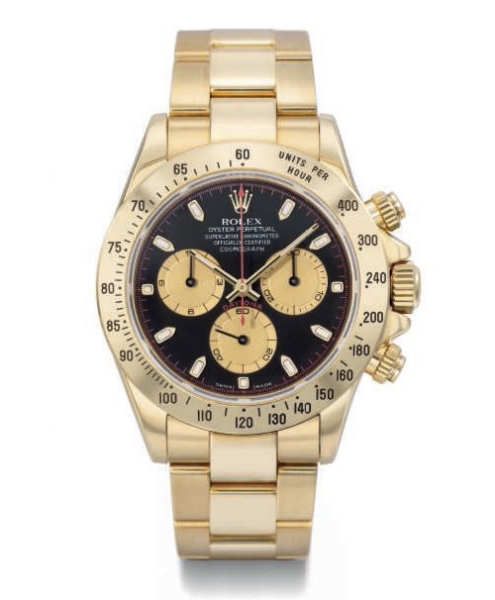 The multi award winning rock icon's watch is from his illustrious collection of chronographs. This swiss watch watch was manufactured in 2002. Its a steal at €9600 – €14,000.
Chrysophrase and 18K White Gold Rolex Daytona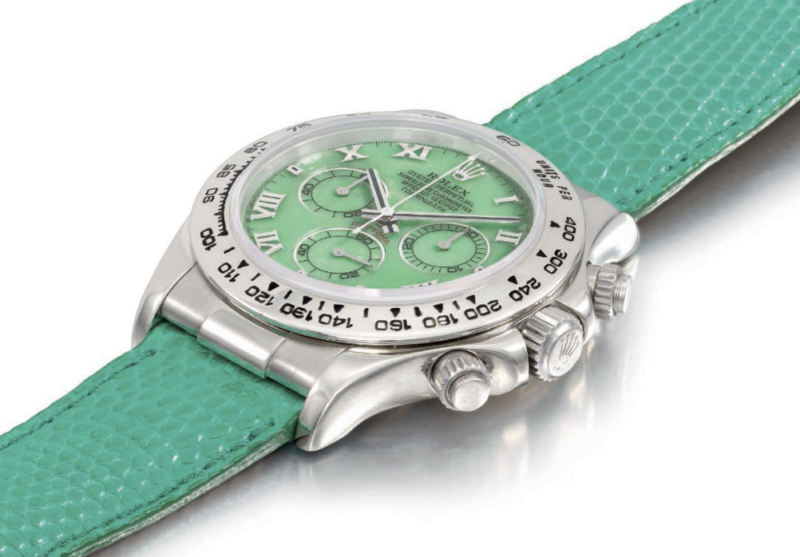 Automatic Cosmograph produced in 2001 is a rare mesmerising piece from Rolex. It's dial is made with Sea green Chrysophrase stone surrounded by a white gold bezel. The hours encompassed in the bezel are set in roman numerals. This unique watch could command as much as €12-24000.
An interesting observation on this watch is that the register dial at 6 and 9 o'clock are identical. It's a make that makes this piece more desirable for a Rolex collector.
Gold Rolex Daytona Watch with Blue Dial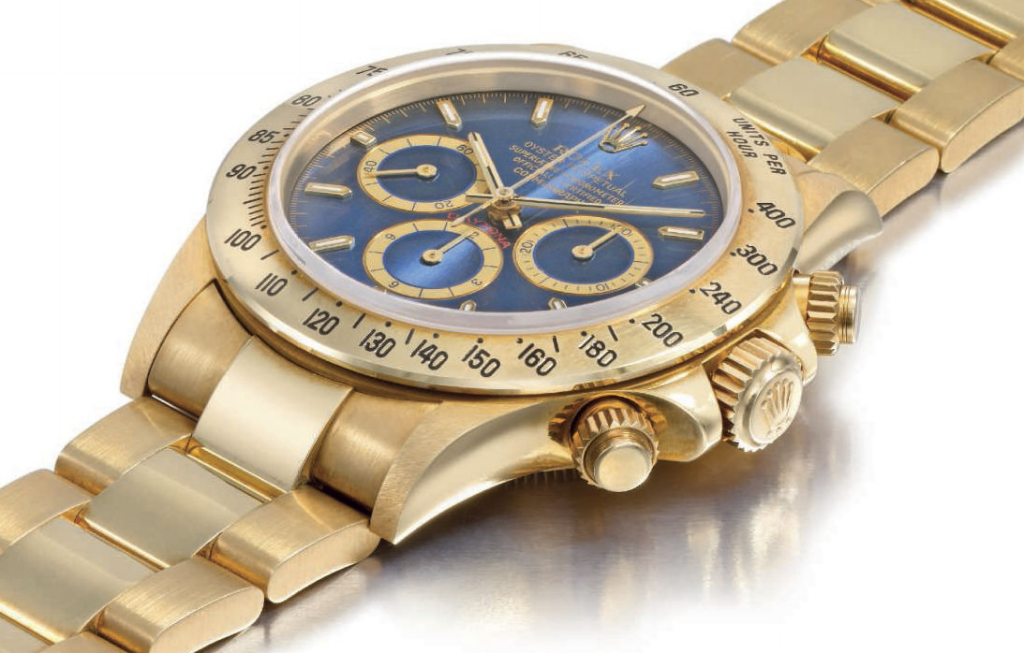 18K Gold baton numerals stand beautifully atop a galvanic blue dial on this lust-worthy Rolex Daytona automatic chronograph. It's gorgeous 1990 aesthetics could fetch as much as €40-80,000 at Christie's auction in Geneva of select 50 rare Rolex Daytona watches. This watch stands out, also, because of its large dial of 39 mm compared to other similar Daytona Cosmographs.
Diamond set, 18 K Gold Cosmograph from Rolex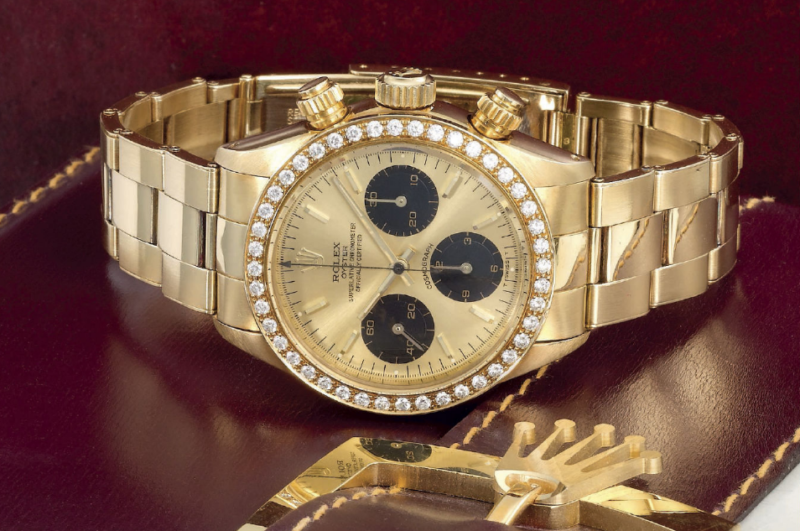 Time travel to the 1980s with a vintage Rolex encircled with a diamond studded bezel. A Calibre 727 mechanical movement powered wristwatch was a stunner in its time of origin. Baton numerals and black dials still have a charm about the simplicity and bearable bling on the watch.
The presence of a gold dial on a Ref 6269 watch is rare. Buyers in those days preferred buying more flamboyant designs than simpler ones. Don't be surprised at what it could command at the auction of rare swiss watches – €150,000 – 290,000 !!!
Diamond studded Dial and Bezel on a Rolex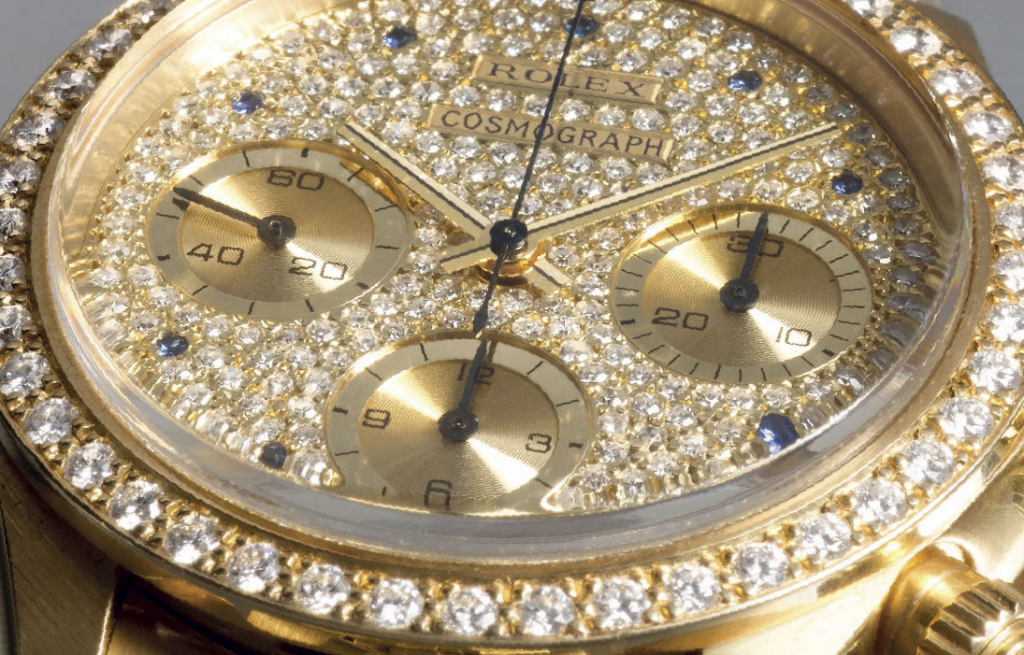 Constructed way back in 1986, this Daytona design set a new fad for Rolex watches. Bling that attracted more Rolex collectors than expected. This 37.5 m diameter watch has sapphire set numerals and fetch as much as the watch mentioned above. The Rolex Daytona watch sold for $507,700.
Paul Newman 1969 Rolex Daytona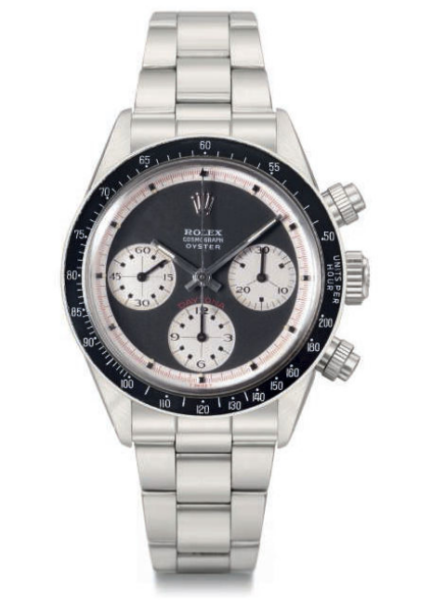 It is among the most highly priced watches at the Christie's auction.  Manufactured in 1969, this gorgeous black dial watch could command between €160,000-320,000. A rare Paul Newman stainless steel model is surely a collector's pride. This watch earned the highest price at the auction and was sold for over a million dollars – $1,089,186
1977 Gold Rolex Daytona with Leather Strap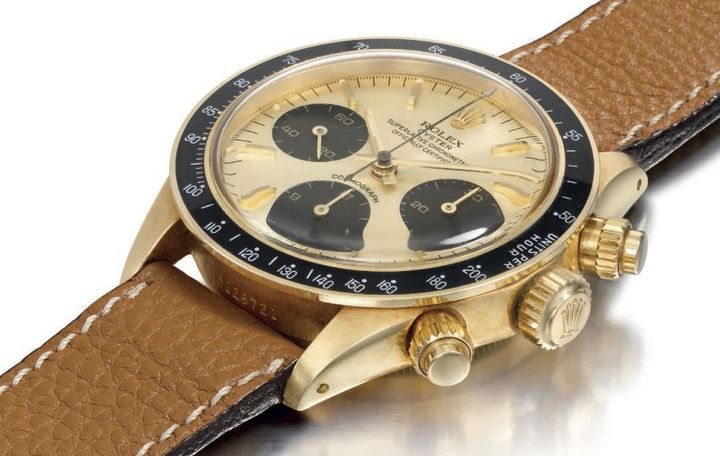 Calibre 727 mechanical machine powers the gold Daytona manufactured in 1977. It has a magnificent champagne dial. It is part of the era when Rolex started making 14K and 18 K gold watches for its elite customers.
Images: Christie's, Geneva